Big Bang Dublin!: Stomptown Brass
0 followers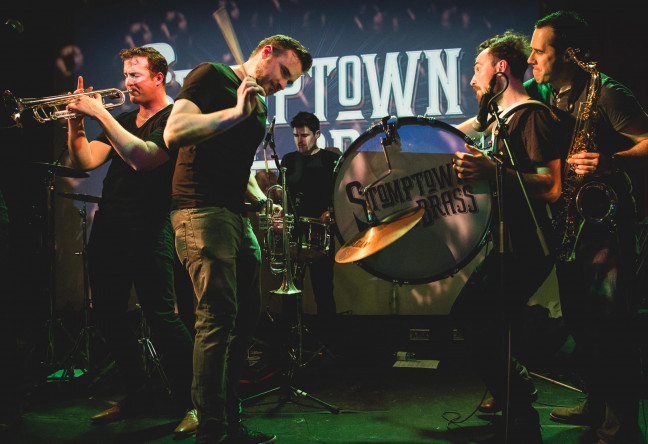 11A Eustace St, Temple Bar, Dublin, D02 A590, Ireland
Apr 7, 2019 3:30:00 PM - Apr 7, 2019 5:00:00 PM
Repeat: Daily untill Apr 7, 2019
Suitable for:
Facilities:
Stomptown Brass is one of the most unique acts in Ireland in recent times. Blending the sounds of funk and blues with powerful driving rhythms, the band make the most of their impressive line-up: two Drummers, two Trombones, two Trumpets, one Saxophone and a Tuba! Their music is bursting with bluesy vocals, infectious grooves, disco beat breakdowns, and funky rhythms all delivered with their signature enthusiasm and showmanship.
To celebrate the end of BIG BANG Dublin 2019, this free outdoor performance for family audiences brings the band's joyful, loud and upbeat brass street performance to Meeting House Square.
Stomptown Brass are: Liam Ryan – Trumpet, Rob Grant – Trumpet, Luke Byrne - Tenor Sax, James O'Leary – Trombone, Finnian Kelly – Trombone, Brian Larkin – Tuba, Brendan Doherty – Drums, Darragh McGrath – Drums.
This show has been programmed with the approval of the children on the BIG BANG Dublin Festival Ambassador team!
TICKETS
This event is free but ticketed.
DATES & TIMES
Sun 7 April 2019 @ 2.30pm-4pm
AGE RANGE & DURATION
2.30pm-4pm. For Ages 5+.
ARTISTS
Stomptown Brass
BOOKING INFORMATION
Free Entry. Limited capacity so pre-booking is recommended.