Croke Park Easter Egg Hunt Stadium Tour
0 followers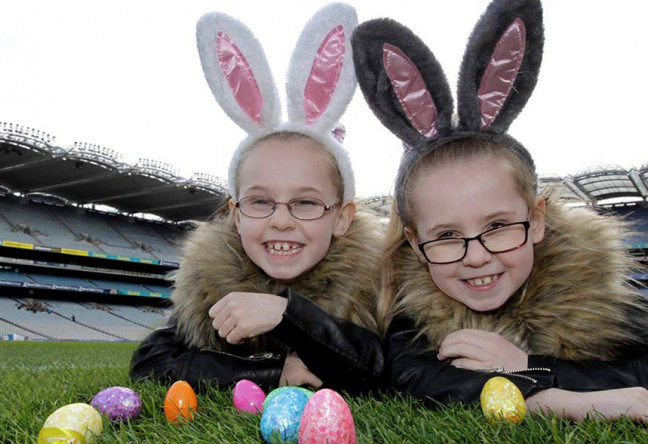 Croke Park, Drumcondra, Dublin, Ireland
Apr 19, 2019 12:30:00 AM - Apr 18, 2019 5:30:00 PM
Repeat: Daily untill Apr 22, 2019
Adult
- EUR 9.00
Child
- EUR 11.00
Family
- EUR 35.00
Suitable for:
Facilities:
Have a cracker of an Easter at Croke Park
Hatch a plan to go on the Croke Park Stadium Tour this Easter, from 18-22 April, and take part in an 'eggs'tra special Egg Hunt!
Your little chickens are guaranteed a basket load of fun as they follow clues around the iconic Stadium. They will have to keep their eyes peeled and listen closely to the guide's fascinating stories of Croke Park and the GAA if they want to complete the hunt successfully and earn their reward of a delicious Cadbury's Easter egg at the end.
The unmissable Easter 'eggs'perience includes a guided tour of the famous stadium, a fun Easter egg hunt, and a visit to the GAA Museum!
During the tour your little 'eggs'plorers will get behind-the-scenes access to the Players' Lounge, the team dressing rooms, the warm-up area, and the media centre for a bird's eye view of the stadium. They will also get to run out pitch side through the players' tunnel to the sounds of cheering crowds!
Following the Stadium Tour, your family will hop on over to the GAA Museum, where you can all follow the Junior Explorer route, which highlights some of the most fascinating and famous exhibitions for younger GAA fans, including the original Sam Maguire and Liam MacCarthy cups! Your children's heads will be jam packed with fun facts and exciting memories long after the chocolate stains have been wiped off their little faces!
Finally, the entire family will have lots of 'egg'citement in the Museum's Interactive Games Zone, where you can test your hurling and football skills - see how fast you can react, check your passing skills and practice a fingertip save or the art of the high catch!
Tours run daily from Thursday 18th April to Monday 22nd April between 11.30 and 14.30. Check online for tour times as they vary.
Hop into action now and book online to secure your 'eggs'clusive place on this very special tour, which last 1.5 hours, as the tours completely sold out in 2018. The Easter Egg Trail, which includes a GAA Museum visit and Cadbury's chocolate egg (children only) costs the same as a standard Stadium Tour and can be booked now at www.crokepark.ie/easter
Prices are as follows:
Child: €11
Adult: €9
Family (2+2): €35
Family (2+3): €40
Children U3: Free