Junior Explorer Tour
2 followers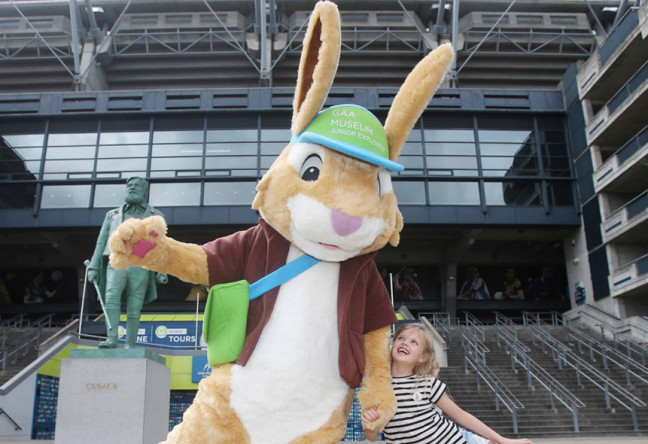 Croke Park, Drumcondra, Dublin, Ireland
Feb 15, 2018 10:30:00 AM - Feb 15, 2018 12:00:00 PM
Feb 16, 2018 10:30:00 AM - Feb 16, 2018 12:00:00 PM
Feb 17, 2018 10:30:00 AM - Feb 17, 2018 12:00:00 PM
Feb 24, 2018 10:30:00 AM - Feb 24, 2018 12:00:00 PM
Mar 3, 2018 10:30:00 AM - Mar 3, 2018 12:00:00 PM
Mar 10, 2018 10:30:00 AM - Mar 10, 2018 12:00:00 PM
Mar 24, 2018 10:30:00 AM - Mar 24, 2018 12:00:00 PM
Apr 28, 2018 11:30:00 AM - Apr 28, 2018 1:00:00 PM
May 5, 2018 11:30:00 AM - May 5, 2018 1:00:00 PM
May 12, 2018 11:30:00 AM - May 12, 2018 1:00:00 PM
May 19, 2018 11:30:00 AM - May 19, 2018 1:00:00 PM
May 26, 2018 11:30:00 AM - May 26, 2018 1:00:00 PM
Adult
- EUR 14.00
Child
- EUR 9.00
Family
- EUR 38.00
Suitable for:
Facilities:
Are you looking for a Saturday morning activity that's a bit more exciting than a trip to the playground?
The family-friendly tour, created to bring to life the magic of the home of Gaelic games for younger visitors, was a sell-out success last year with the countries littlest GAA fans taking over the iconic stadium.
On arrival, your family will be greeted by the Museum's mascot, Cluasóg the Irish hare, who will pose for photos and get everyone excited about the adventure ahead.
Next you go behind-the-scenes and learn fun facts about the GAA and Croke Park. During the Stadium Tour, your intrepid little explorers will get to visit the team dressing rooms and warm-up area and run out pitchside through the players' tunnel.
Back at the GAA Museum, children will then receive a Junior Explorer Passport so they can follow clues throughout the Museum with their tour guide. They'll discover some of the museum's most famous exhibits including the original Sam Maguire and Liam MacCarthy cups along the way.
If the group find all the clues… all younger visitors will receive a special Junior Explorer badge and sticker pack!