King's College London- Medical Recruitment Open Day
1 follower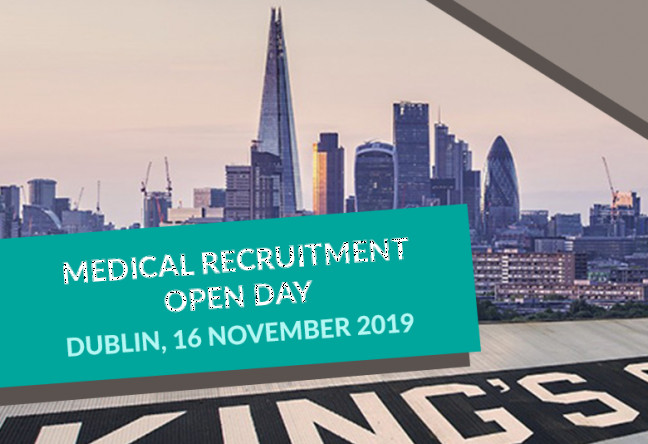 8-10 Merrion Street Lower, Dublin, Ireland
Nov 16, 2019 10:00:00 AM - Nov 16, 2019 4:00:00 PM
Repeat: Daily untill Nov 16, 2019
Suitable for:
Facilities:
King's College Hospital London are growing their Medical teams and are keen to hear from Junior Doctors, Specialty Doctors, Clinical Fellows and Consultants (Private Interviews available) across all specialties and are particularly interested in meeting medical professionals working in:
Acute Medicine, Allergy, Dermatology, Diabetes, Emergency Department, Endocrinology, Gastroenterology, General Medicine, Gerontology, Geriatrics, HIV, Immunology, Ophthalmology, Rheumatology, Respiratory and Sexual Health.
The King's College Dublin Medical Recruitment Open Day is an exciting and unique opportunity to progress your training and advance your career, in an NHS Trust that's driven by innovation and the desire to make a difference in its communities.
Meet face-to-face with representatives from their Medical and Workforce Teams who will be in The Davenport Hotel, 8-10 Merrion Street Lower, Dublin 2 on Saturday, 16 November from 10am to 4pm. Presentations will be given on the Trust at 10:30am and 1:30pm.
Register today at www.kingsnhsmedicalopenday.co.uk