The Moving Crib
2 followers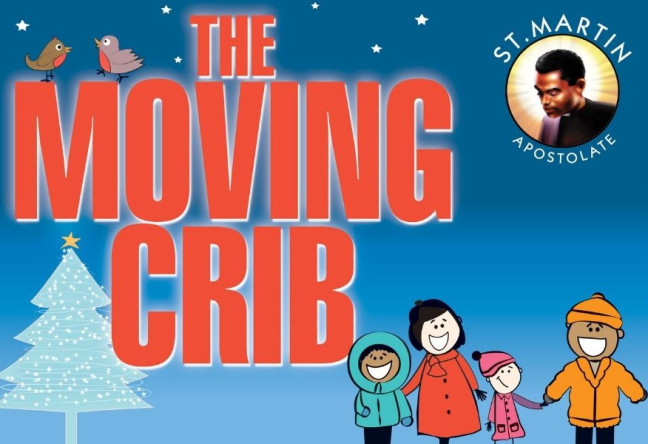 42 Parnell Square W, Rotunda, Dublin 1, D01 P5R7, Ireland
Nov 24, 2022 11:00:00 AM - Nov 24, 2022 5:30:00 PM
Nov 25, 2022 11:00:00 AM - Nov 25, 2022 5:30:00 PM
Nov 26, 2022 11:00:00 AM - Nov 26, 2022 5:30:00 PM
Nov 27, 2022 11:00:00 AM - Nov 27, 2022 5:30:00 PM
Nov 28, 2022 11:00:00 AM - Nov 28, 2022 5:30:00 PM
Nov 29, 2022 11:00:00 AM - Nov 29, 2022 5:30:00 PM
Nov 30, 2022 11:00:00 AM - Nov 30, 2022 5:30:00 PM
Dec 1, 2022 11:00:00 AM - Dec 1, 2022 5:30:00 PM
Dec 2, 2022 11:00:00 AM - Dec 2, 2022 5:30:00 PM
Dec 3, 2022 11:00:00 AM - Dec 3, 2022 5:30:00 PM
Dec 4, 2022 11:00:00 AM - Dec 4, 2022 5:30:00 PM
Dec 5, 2022 11:00:00 AM - Dec 5, 2022 5:30:00 PM
Dec 6, 2022 11:00:00 AM - Dec 6, 2022 5:30:00 PM
Dec 7, 2022 11:00:00 AM - Dec 7, 2022 5:30:00 PM
Dec 8, 2022 11:00:00 AM - Dec 8, 2022 5:30:00 PM
Dec 9, 2022 11:00:00 AM - Dec 9, 2022 5:30:00 PM
Dec 10, 2022 11:00:00 AM - Dec 10, 2022 5:30:00 PM
Dec 11, 2022 11:00:00 AM - Dec 11, 2022 5:30:00 PM
Dec 12, 2022 11:00:00 AM - Dec 12, 2022 5:30:00 PM
Dec 13, 2022 11:00:00 AM - Dec 13, 2022 5:30:00 PM
Dec 14, 2022 11:00:00 AM - Dec 14, 2022 5:30:00 PM
Dec 15, 2022 11:00:00 AM - Dec 15, 2022 5:30:00 PM
Dec 16, 2022 11:00:00 AM - Dec 16, 2022 5:30:00 PM
Dec 17, 2022 11:00:00 AM - Dec 17, 2022 5:30:00 PM
Dec 18, 2022 11:00:00 AM - Dec 18, 2022 5:30:00 PM
Dec 19, 2022 11:00:00 AM - Dec 19, 2022 5:30:00 PM
Dec 20, 2022 11:00:00 AM - Dec 20, 2022 5:30:00 PM
Dec 21, 2022 11:00:00 AM - Dec 21, 2022 5:30:00 PM
Dec 22, 2022 11:00:00 AM - Dec 22, 2022 5:30:00 PM
Dec 23, 2022 11:00:00 AM - Dec 23, 2022 5:30:00 PM
Dec 24, 2022 11:00:00 AM - Dec 24, 2022 3:00:00 PM
Dec 27, 2022 11:00:00 AM - Dec 27, 2022 5:30:00 PM
Nov 28, 2022 11:00:00 AM - Dec 28, 2022 5:30:00 PM
Dec 29, 2022 11:00:00 AM - Dec 29, 2022 5:30:00 PM
Dec 30, 2022 11:00:00 AM - Dec 30, 2022 5:30:00 PM
Dec 31, 2022 11:00:00 AM - Dec 31, 2022 3:00:00 PM
Jan 2, 2023 11:00:00 AM - Jan 2, 2023 5:30:00 PM
Jan 3, 2023 11:00:00 AM - Jan 3, 2023 5:30:00 PM
Jan 4, 2023 11:00:00 AM - Jan 4, 2023 5:30:00 PM
Jan 5, 2023 11:00:00 AM - Jan 5, 2023 5:30:00 PM
Jan 6, 2023 11:00:00 AM - Jan 6, 2023 5:30:00 PM
Jan 7, 2023 11:00:00 AM - Jan 7, 2023 5:30:00 PM
Jan 8, 2023 11:00:00 AM - Jan 8, 2023 5:30:00 PM
Suitable for:
Facilities:
The timeless charm of The Moving Crib at 42 Parnell Square, Dublin 1 lives on and has become a nostalgic centrepiece of the Christmas season for many and admission is still FREE!
From 24th November to the 8th January, enjoy a medley of Biblical, historical and fun stories, competitions, an illusion wall all wrapped up in a blanket of Christmas magic. It is guaranteed festive fun for all ages and admission is FREE!
The Moving Crib is one of Dublin's oldest treasures and has been captivating generations of families for over six decades.
It will be open 7 days a week in the run up to Christmas (closed Christmas Day, St Stephen's Day & New Year's Day) from 11am - 6pm daily (closing at 3pm Christmas Eve & New Year's Eve).
Booking is not necessary for individuals or families*
*Groups must book HERE - groups bookings available from 9.30am daily.
For enquiries or more information click here or call us on 01 874 5465 or email [email protected]