Ireland is bracing itself for days of snow as the 'Beast from the East' is set to send temperatures plummeting to -10C.
Met Eireann have issued a five-day-long nationwide Status Yellow weather alert as the severely cold weather is set to hit during the week.
From Tuesday until Saturday, the Met Eireann forecast is for 'exceptionally cold weather with significant wind chill and severe frosts'.
The weather warning may be upgraded as the so-called 'Beast from the East' is expected to bring freezing temperatures, severe frost and disruptive accumulations of snow nationwide.
The forcast is for 'air and ground temperatures to be 5 to 10 degrees below normal, with significant wind chill and penetrating severe frosts. Snow showers, mainly affecting eastern areas on Tuesday, will progressively become more widespread and heavier through midweek, with significant and disruptive accumulations'.
Monday will be mostly dry but with temperatures falling between -1 and -5 degrees.
During Tuesday, cloud will increase from the east with patchy sleet and snow moving in to affect parts of east Ulster, Leinster and east Munster.
Snow showers will become fairly frequent across eastern counties during Tuesday evening and overnight with temperatures falling to between -3 and -7 degrees.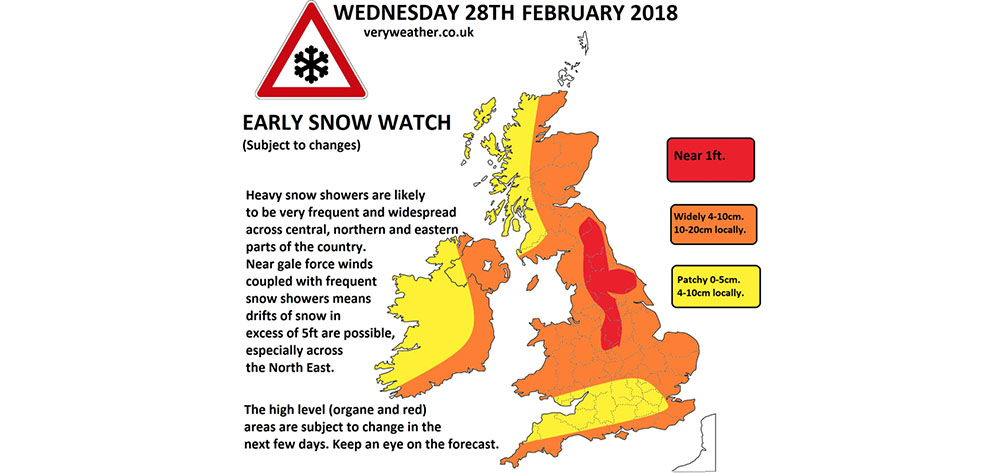 Wednesday will be extremely cold with the heaviest snow showers across the eastern half of the country. There will be more snow showers overnight, mainly across Ulster, Leinster and east Munster with temperatures again reaching -7 degrees.
Thursday will be another bitterly cold day with scattered snow showers.
A more persistent spell of snow is expected to move up from the south during Thursday night, with significant accumulations in many areas. Fresh to strong easterly winds will lead to drifting in places.
Early indications are for further falls of snow for a time on Friday, but clearer conditions, with scattered snow showers, will extend gradually from the south.
Met Eireann meteorologist Joanna Donnelly shared an image on Sunday morning showing temperatures falling as low as -10 degrees in places!
Ok so y'all remember when I tweeted that picture of the reddest chart I'd ever seen in work? And everyone lost their minds? Well... #cold #snow #weather Watch out for those in need; #elderly #Homeless #AnimalWelfare pic.twitter.com/uYs6ET15m2

— Joanna Donnelly (@JoannaDonnellyL) February 25, 2018