Outdoor Cinema
0 followers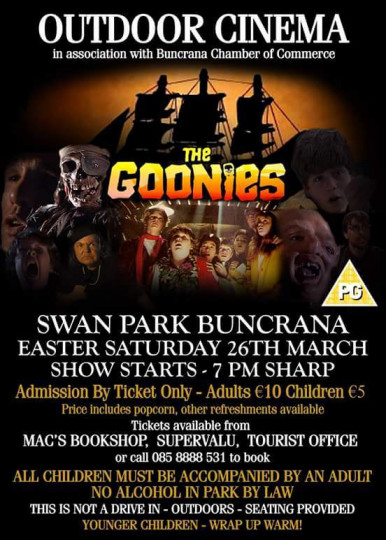 Cahir O'Doherty Ave, Co. Donegal, Ireland
Mar 26, 2016 7:00:00 PM - Mar 26, 2016 10:00:00 PM
Adult
- EUR 10.00
Child
- EUR 5.00
Suitable for:
Facilities:
Buncrana Chamber of Commerces' 1st Outdoor Cinema Event of 2016
Outdoor Cinema @ Swan Park Buncrana - The Goonies (PG) - Easter Saturday 26th March 2016
Tickets are avaiable from Mags Bookshop, Supervalue, tourist office and price includes popcorn. Other refreshments will be available
Show starts @ 7pm sharp, all children must be accompanied by an adult. No alcohol allowed.
This is not a drive in, there will be limited seating provided
Wrap up Warm!!!!!!