Bealtaine Workshop at Glasnevin Cemetery Museum
0 followers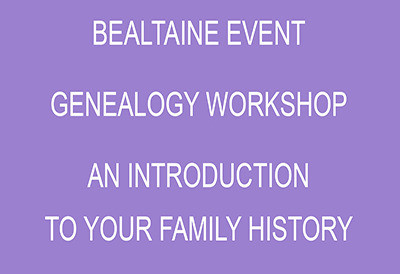 Glasnevin Cemetery Museum, Finglas Rd, Botanic, Dublin 11, Ireland
May 25, 2019 3:00:00 PM - May 25, 2019 4:00:00 PM
Suitable for:
Facilities:
Bealtaine Workshop: An Introduction to Your Family History
Do you want to get started on your family tree but don't have a clue where to begin? Are you in the process of piecing the history of your ancestors together and need a little guidance on some best practice? Our genealogy workshops are the perfect place to do just that. Here at Glasnevin, we are in possession of 1.6 million burial records belonging to each and every person who has been buried here since 1832. Lynn Brady, our resident genealogist, has overseen the digitisation of these records and helps people from as close as Cabra and as far away as Canberra uncover their family story using this incredible resource on a daily basis. She will host this workshop where you will learn the following:
• How to assess the elements within the Glasnevin Trust records
• How they can help you with your own research • How to navigate our online genealogy database when you are doing your work at home
• How to access our records
• How to assess birth, marriage and death records
• How to access and assess census records In this workshop, you will also learn about details to watch out for in the various records that you won't find on the internet, the kind of knowledge that only a seasoned genealogist such as Lynn can depart!
Your ticket includes:
• A genealogy resource pack
• A guide to the Glasnevin records
• A complimentary voucher worth €10.00 to use on the Glasnevin database
The workshop lasts for about an hour with time for Q & A afterwards.
This event is free but booking is essential.