Big Bang Dublin!: Music Rooms Discovery Trail
0 followers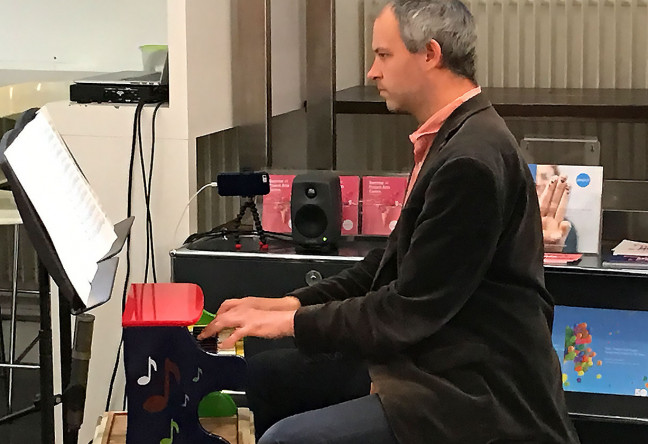 11A Eustace St, Temple Bar, Dublin, D02 A590, Ireland
Apr 6, 2019 1:15:00 PM - Apr 6, 2019 2:15:00 PM
Apr 6, 2019 2:45:00 PM - Apr 6, 2019 3:45:00 PM
Apr 6, 2019 4:15:00 PM - Apr 6, 2019 5:15:00 PM
Repeat: Daily untill Apr 6, 2019
Adult
- EUR 6.00
Child
- EUR 6.00
Suitable for:
Facilities:
Get a taste of 3 fresh family music performances at an early stage whilst getting to see a number of behind-the-scenes buildings and spaces in Temple Bar. This is a great chance for music lovers of all ages to try something new together.
We have asked a number of musicians who play different types of music to come up with a new idea for a music performance for children and this is your chance to see what they've come up with! On the trail you'll get to see all three mini-performances as well as some interesting spaces in The Ark's neighbourhood so it will be a walking musical adventure.
We are delighted to be working with our neighbours The Gallery of Photography, National Photographic Archive and Temple Bar Gallery + Studios and to present these 3 fun and fresh mini-concerts as part of a walking music discovery trail through Temple Bar.
TICKETS
€6 per person.(20% off for Members)
DATES & TIMES
Sat 6 April @ 12.15pm, 1.45pm, 3.15pm
AGE RANGE & DURATION
For Ages 6+. Approx 60 mins.
PRODUCTION INFORMATION
Toy Piano
Johnathan Nangle (musical director) and David Bremner (toy piano). Music composed by David Lang, David Bremner and Jonathan Nangle.
Buzzy Bees Duo
With Robbie Walsh (bodhrán) and Áine McGeeney (fiddle and vocals)
Smashing Red Kite Blues
With Emilie Conway (Vocals), Scott Flanigan (Piano), Damian Evans (Bass), Ann Lorraine Mack (Narration/ flute/vocals).
Credits
BIG BANG Dublin is presented by The Ark in collaboration with Zonzo Compagnie with the support of the Creative Europe Programme of the European Union.
BOOKING INFORMATION
In the interests of the best possible experience for the audience and performers, we ask that you respect the age guide of the show. If you have any questions about the age guide then do contact our box office team via email or 016707788.