Interactive Installation: Pneumaphones
0 followers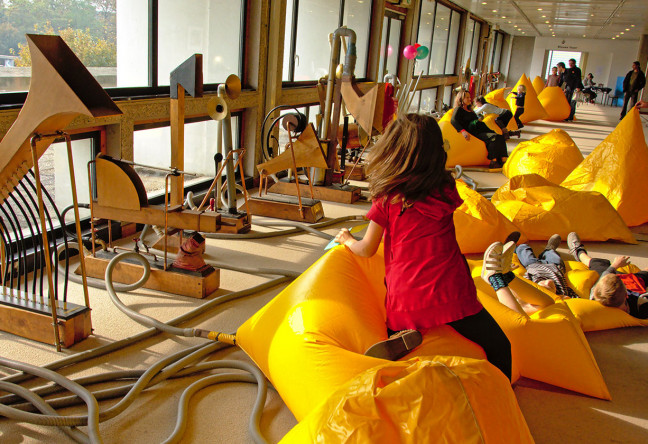 11A Eustace St, Temple Bar, Dublin, D02 A590, Ireland
Apr 6, 2019 12:00:00 PM - Apr 6, 2019 4:30:00 PM
Apr 7, 2019 12:00:00 PM - Apr 7, 2019 4:30:00 PM
Repeat: Daily untill Apr 7, 2019
Suitable for:
Facilities:
Sit, lie or roll on one of the yellow air cushions to activate these fascinating sound sculptures - Each one of them is a strange and unusual wind instrument!
Pneumaphone is a music installation by Godfried-Willem Raes. It is made up of several pneumatically (or air) driven sound sculptures named after ancient Greek and Roman mythological wind gods.
Each sculpture is attached to an air filled pillow that when pressed pushes air through flutes, single reeds, double-reeds, sirens, horns, whistles, membranes or cavity resonators in the sculpture to make sound.
By sitting, rolling or lying on one of the inflated tetrahedron shaped air cushions, you can adjust the air flow and in this way change the musical pitch and intensity of the sound of each sculpture.
This installation has been programmed with the approval of the children on the BIG BANG Dublin Festival Ambassador team!
TICKETS
Free Entry
DATES & TIMES
Sat 6 & Sun 7 April @ 11am-3.30pm.
Last entry 3pm.
AGE RANGE & DURATION
Ages 4+.
Free, Drop-in Activity.
ARTISTS
Logos Foundation, Belgium
PRODUCTION INFORMATION
Credits
BIG BANG Dublin! is presented by The Ark in collaboration with Zonzo Compagnie with the support of the Creative Europe Programme of the European Union.
Artist/Designer
Godfried-Willem Raes
BOOKING INFORMATION
This is a drop-in activity. Please note during busy periods some waiting may be required. Children must be accompanied by an adult.