A selection of events, pumpkin patches , parties and activities to do in Ireland during Halloween 2019
Scarefest is a brand new Halloween themed festival taking place in County Carlow during Halloween. This is only the second year of the festival and it has already goriwn to feature a wide ranging programme, from paranormal investigations and witch trials, to family fun activities and a Halloween night street parade with lights, music, dance and scares!
Venue: Various venues Carlow
When: 25th - 31st October, 2019
Another popular day out this Halloween with featuring a kiddies disco and entertainment with the fantastic Damien from So Fresh Entertainment. There will also be Bouncy Castles, competitions, spot prizes and a bonfire to toast some marshmallows. The farm is also open as normal.
Venue: Wallaby Woods, Donadea, Kildare
When: 26th & 27th October, 2019 | 12pm - 4pm
The Ark Playcentre at Puddenhill celebrates their first anniversary with a spectacular Halloween. Chidlren can pick their own pumpkin, get their face painted as well as enjoy the indoor soft play area, outdoor playgrounds and animal farm.
Venue: The Ark Play Centre at Puddenhill
When: October 27th, 2019 - 11am - 17:00
Halloween Experience at Delta Sensory Gardens

Delta Sensory Gardens host their annual Halloween Experience with lots of wicked and wonderful things that will make you jump in the gardens.
There will be plenty of Halloween activities to entertain the whole family including face painting, glitter tattoos, arts & crafts and a scavenger hunt down in the gardens. Book your preferred time-slot in advance.
Venue: Delta Sensory Gardens, Carlow
When: October 26th, 2019
Wizard Party in the Enchanted Forest
This event is NOT SCARY, but rather full of fun and laughter for all ages both big and small featuring Train to Enchanted Forest, Ghoulish Hunt, Wizard Party in the Forest, Halloween Arts & Crafts, Halloween Disco & Cinema.
Venue: Hidden Valley Holiday Park, Wicklow
When: 26th, 27th & 28th October, 2019
Halloween at Red Mountain Open Farm
During the Halloween Experience you can play in the spooky barn, visit the witches' den and have fun in the hay maze. There will also be a ghost carriage, the blue barrel express and horse and carriage rides available for extra. Book tickets online for your preferred day.
Venue: Red Mountain Open Farm, Corballis, Co. Meath
When: October 26th - November 3rd, 2019
Halloween Fun at Clonfert Pet Farm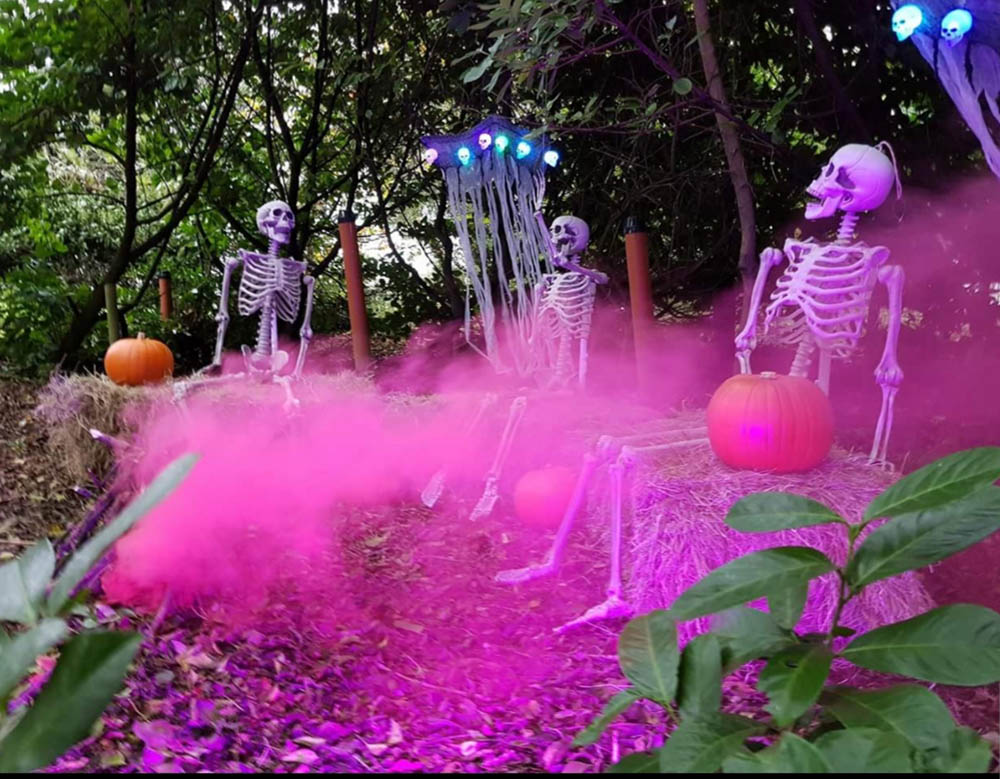 A fantastic, fun-filled day out with the Haunted house, spooky walks, story telling, reptile room and more! Tickets selling fast. Book your preferred slot in advance to avoid disappointent.
Venue: Clonfert Pet Farm, Kildare
When: October 26th - 31st, 2019
Hallowe'en Bonfire and Storytelling
It's that time of year again, when the veil between this world and the other is at its thinnest. And at this special time of year, you would be well advised to disguise yourself so the ghouls won't find you! So dig out your costumes for an afternoon of Spooky Arts & Crafts, Chilling Stories with master storyteller Rab Fulton, notions, potions and lotions with the Wacky Witch, Hunting for the Púca and the grand finale, everybody's favourite - a Bonfire to celebrate Samhain.
Venue: Brigit's Garden, Rosscahill, Co. Galway
When: October 27th - October 28th, 2019
Samhain Festival at EPIC Irish Emigration Museum
Prepare for a scare at EPIC Irish Emigration Museum this Halloween. On the 28th October the otherworldly will descend upon the vaults of the CHQ building in historic Dublin Docklands, as spirits big (and small) will gather for the inaugural family Samhain festival featuring traditional ghostly tales from Ireland's most famous storyteller Eddie Lenihan, spine-chilling fun with turnip carving, creepy creative workshops, traditional Halloween games and a whole host of characters such as the Banshee, the Morrígan, some naughty fairies and the Púca!
Venue: EPIC Irish Emigration Museum, CHQ Building, Dublin
When: October 28th, 2019
The Cabinet of Curiosities | Airfield Estate
Immerse yourself in the world of the Victorian Curiosities and Medicinal Remedies at Airfield Estate this mid-term. Follow the trail sheet where you'll discover the secrets of cures made from local herbs or dragon's blood.. alongside even more sinister alternatives. Meet the Keeper of Curiosities who ensures the fire burns and cauldrons bubble in the apothecaries' storehouse. See first hand the old worldly fascination for collecting the bizarre or swing into the era of Victorian clothing where you'll be able to snap a photo in a gown or top hat alongside our spooktacular Victorian hearse!
Venue: Airfield Estate, Dundrum, Dublin
When: 26th October - 3rd November | 9.30am - last admission 3.30 pm.
Family Halloween Festival and Party at Slieve Aughty Centre
Family Halloween Festival Galway It a spooky time at Slieve Aughty during the Halloween Festival, with ghosts and goblins, haunted houses, The Enchanted Forest, Halloween tricks and treats, scary stories, costumes and face painting, and pony rides. You can also get dressed up and join them for Halloween themed party games, crafts, disco dancing and trick or treating on 31st.
Venue: Slieve Aughty Centre, Loughrea, Co. Galway
When: October 2th - November 3rd, 2019 | Halloween Party on October 31st 17:00 - 19:00
Halloween at Russborough House
Brambles annual cookie creations and stories have become very popular with the young children at this time of year!
Venue: Lady Beit's Pantry, Russborough House & Parklands, Blessington, Co. Wicklow
When: October 26th - 29th, 2019
The newest Halloween Adventure in Ireland is in medieval Carlingford and includes a forest walk, laser combat, zipline adventure, axe throwing and smores from a bonfire. There are different grades for different ages from Family to Dead Scary!
Venue: Carlingford Adventure Centre, Co. Louth
When: October 25th - 31st, 2019
Halloween Kids Outdoor Activity Camp
Multi Activity Camp including activities such as: Archery, Climbing Tower, Zipline, Bushcraft, Orienteering, Kayaking, Stand Up Paddle Boarding, Canoeing, Hillwalking and more.
Venue: Russborough House & Parklands, Blessington, Co. Wicklow
When: 10am to 3pm daily | Tuesday Oct 29th to Fri November1st 2019
Halloween at National Botanic Gardens
View the Halloween Harvest Display and Decorated Pumpkin Exhibition and discover all about Magical Plants when you visit the witches in their garden
Venue: National Botanic Gardens, Glasnevin, Dublin
When: 12:00 - 16:00 | Sunday, October 20th, 2019
This Halloween you can pick your own pumpkin from their pumpkin patch as part of normal farm entry - with free pumpkin per family. Get creative and carve your pumpkin on the farm, or you take it home with you! There are also evening activities for all the family from the 28th - 31st Oct with torch a light treasure hunt, bonfire with toasted marshmallows and a scare maze.
Venue: Nore Valley Park, Annamult, Co. Kilkenny
When: Starts Saturday 19th October. Does not open Sundays
Halloween Party at Playtown Tullamore
Playtown Tullamore Is a family run imagination based miniature town play centre with over 21 real life themes such as a fire station, Garda station, salon & supermarket etc. over two levels . On Saturday 26th, there is a parent and tolddler party while on Bank Holiday Monday, there will be two hours of fun at the Halloween Boo Bash.
Venue: Playtown Tullamore, Co. Offaly
When: Saturday October 26th & Monday October 28th, 2019
Wicked Adventures at Tayto Park
Gather around the cauldron for spooky stories and spell casting. Capture the imagination of the young and old with fun interactive games and play for all ages. Continue your journey through the mysterious passageways and prepare to venture past the pumpkin walkthrough where you are in for a treat…. or trick. Suitable for Ages 3-12 years
Venue: Tayto Park, Ashbourne, Meath
When: 11:30 - 16:00 | Saturday 19th, Sunday 20th & from 26th October -1st November, 2019
Halloween at National Wax Museum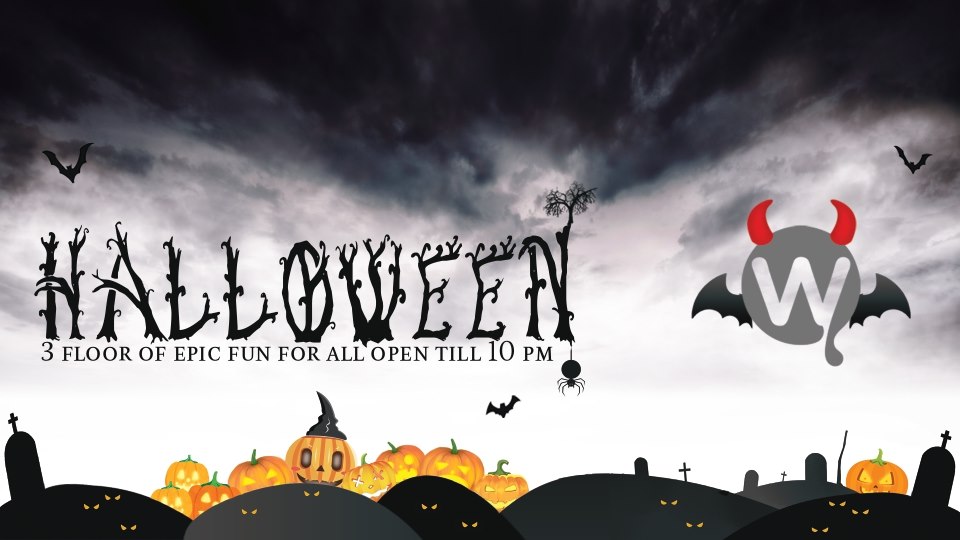 Beware of The Wax Museum this Halloween!
The Museum has been turned into a haunted house for the Halloween and taken over by all sorts of monsters, ghouls and ghosts! People have spotted evil clowns, gruesome witches, the evil grim reaper and even the pumpkin king! There's only one way to get rid of these monsters! The pumpkin king has dropped little pumpkins all around the museum and if you can count all of them you may just help us get our museum back.
Venue: National Wax Museum, Dublin
When: Until October 31st, 2019
Lismore Castle Arts | Halloween Film Night
The popular Halloween Film night returns to Lismore Castle with a showing of The Witch. Enjoy popcorn and refreshments to make a night of it in the atmospheric Pugin Hall.
Venue: Lismore Castle, Waterford
When: October 30th, 2019
Halloween at Ghoulsley's Manor
This is a Halloween experience where you become part of the story that unfolds! Interact with the creatures and ghoulish inhabitants of our Manor. This Hallowe'en Dr. Frankenfarter returns to bring a new Monstrous creation to life in time for MONSTERVAL – the highlight of the monster calendar – a celebration of all things creepy and crawly. Children from the ages of five get to experience a truly spellbinding theatrical performances by a creative and fun-loving acting crew from East Cork
Venue: Cobh, Co. Cork
When: October 25th - 31st October, 2019
Creepy Creator Tours at the GAA Museum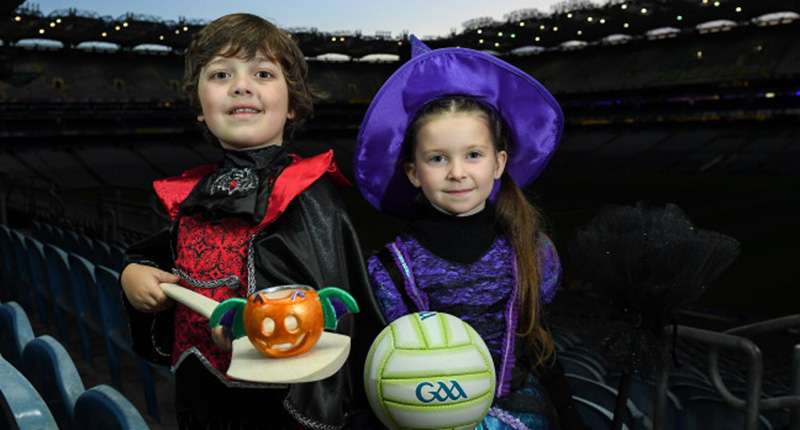 Get Crafty with Cluasóg at the GAA Museum at Croke Park this midterm for their fun new family-friendly Creepy Creator Halloween Tours.
Families will be greeted by the GAA Museum's mascot, Cluasóg the Irish hare, before taking part in a child-friendly stadium tour which brings to life the magic of the home of Gaelic games for younger visitor. All younger visitors will also have the chance to create their own Halloween masterpiece by decorating a ceramic pumpkin or bat candle holder to take home.
Venue: GAA Museum, Croke Park, Dublin
When: October 25th to 31st, 2019
Are you ready to scare yourself silly this Halloween?
Westport House will be hosting its annual Halloween Fest in the Basement with plenty of ghoulish delights, scary stories and creepy fun that all the family will be able to enjoy. Your ticket to Halloween Fest also includes full use of the Pirate Adventure Park where you will enjoy thrilling and exciting rides. You can also make a short holiday out of it and stay over in Hotel Westport on Westport House estate.
Venue: Westport House, Westport, Co. Mayo
When: October 26th - 31st, 2019
The Cauldron of Smithfield is back and it is guaranteed to thrill and terrify! Featuring a 1,000ft zip line, giant climbing wall, magic shows, puppet theatre, circus acts, food ftalls, art workshops, bouncy castle, live music, 'House of The Damned' Scare Tent and 'Night Creatures' Parade.
Lullymore Halloween Happenings
Halloween Happenings returns to Lullymore Heritage & Discovery Park with lots of ghastly ghouls and terrifying treats in store including Haunted Holograms, Terror Train Trips (be prepared for Zombie Attacks!!), Terror Treasure Hunts and freaky fun in the devilish den of play—the Funky Forest.
Venue: Lullymore Heritage Discovery Park, Kildare
When: 10:00 - 18:00, 26th October - 1st of November 2019
A safe family Halloween event with a spectacular fireworks display in three Dublin venues. Arrive in your fancy dress (bring a torch) and enjoy the live entertainment before the main event.
Families will get their clues at reception and find their way around this Halloween themed trail. Once completed, each family gets a little treat as a reward…what a super way to get exercise, fresh air and quality time together. This event runs the whole of the October Mid Term Break. As part of Savour Kilkenny there is also Family Foraging with Blackstairs Eco Trails and an Autumn Street Food Festival in the Estate Yard on Bank Holiday Monday.
Venue: Discovery Park, Castlecomer, Kilkenny
When: 26th October - November 3rd, 2019
This year's Dockers & Demons III Festival, - The 7 Deadly Sins - explores the demons inside us all. What are you guilty of? Pride, Envy, Wrath, Gluttony, Lust, Sloth or Greed? The festival finale is 'The Circus of Sin' in Ringsend Park on Halloween night featuring theatre, music, circus acts, dance, horror and magic !
Venue: Various Ringsend
When: 18th - 31st October, 2019
The Rink @ D12 is Dublin's premier family fun centre combining roller disco, dance and fitness under the one roof. This Halloween, the huge roller disco is perfect for a spooktacular night out. There will be prizes for the best fancy dress and skate hire is included in admission.
Venue: The Rink @ D12, Dublin
When: 20:00 - 22:30, 1st October, 2019
Ascarium | Halloween Spooktacular at SEA LIFE, Bray

Get ready to be spooked this Halloween in Bray with Ascarium. Immersive in-tank trail, celebrating the creepy creatures of the deep – help the Sea Witch find the magic potion ingredients and claim your treasure.
Venue: Sea Life, Bray, Wicklow
When: 19th October - 3rd November, 2019
Halloween at Luggwoods is a great way for all the family to celebrate the season together. With its rustic old-world charm, Luggwoods Enchanted Forest is the ideal backdrop for you to experience a fun family-friendly Halloween where you can also pick & decorate your own pumpkin and have lots of fun Halloween games.
Venue: Luggwoods, Saggart, Dublin
When: October 26th - 31st, 2019
Griffins Annual Pumpkin Festival
Choose and carve your very own Pumpkin lantern, enjoy traditional Halloween games, face painting and harvest your pumpkins seeds to grow your own pumpkin.
Venue: Griffins Garden Centre, Cork
When: October 27th & 28th, 2019 SOLD OUT
Toy Soldier Factory Halloween Workshop
Cast and paint your very own Halloween monster this mid-term. You can choose from a Cackling Witch, Petrifying Pumpkin, Erie Cat. Spooky Ghost, Frankenstein Monster, Laughing Vampire, Howling Werewolf and Pirate Skull.Make them, paint then and take them home...if you dare!
Venue: Toy Soldier Factory Workshop, Cork
When: Saturday 25th October – Sunday November 3rd, 2019
Ken's Hallloween House of Horrors
For the past twenty years, Ken Carraher has built a Halloween crypt in his garden in Killiney and has raised over €40,000. The crypt is open for Halloween again this year and donations are welcome.
Venue: Bayview Court, Killiney, Co. Dublin
When: 27th - 31st October 2019
Dracula's Disco with DJ Will Softly returns with all the latest hits for you to enjoy complete with confetti cannons to inspire some seriously deadly dancing! This fun-packed and energetic DJ set will be perfect for young zombies, ghosts and all music-loving monsters. So get your boo!-gie on and have a blast! For ages 5+
Venue: Meeting Place Square, Temple Bar, Dublin
When: Bank Holiday Mon 28th October @ 2-4pm (last entry 3.45pm).
Get your broomsticks at the ready and join us for a week of fun filled Spooktacular adventures this Halloween! There are plenty of activities to keep your little monsters entertained throughout the Halloween mid-term including a daily kids fancy-dress mini disco, spooky scavenger hunt, your favourite Halloween themed movies and much more! Entry to the grounds is €10 per car.
Venue: Wells House, Wexford
When: Friday 25th until Wednesday 30th, 2019
Halloween Train at Wells House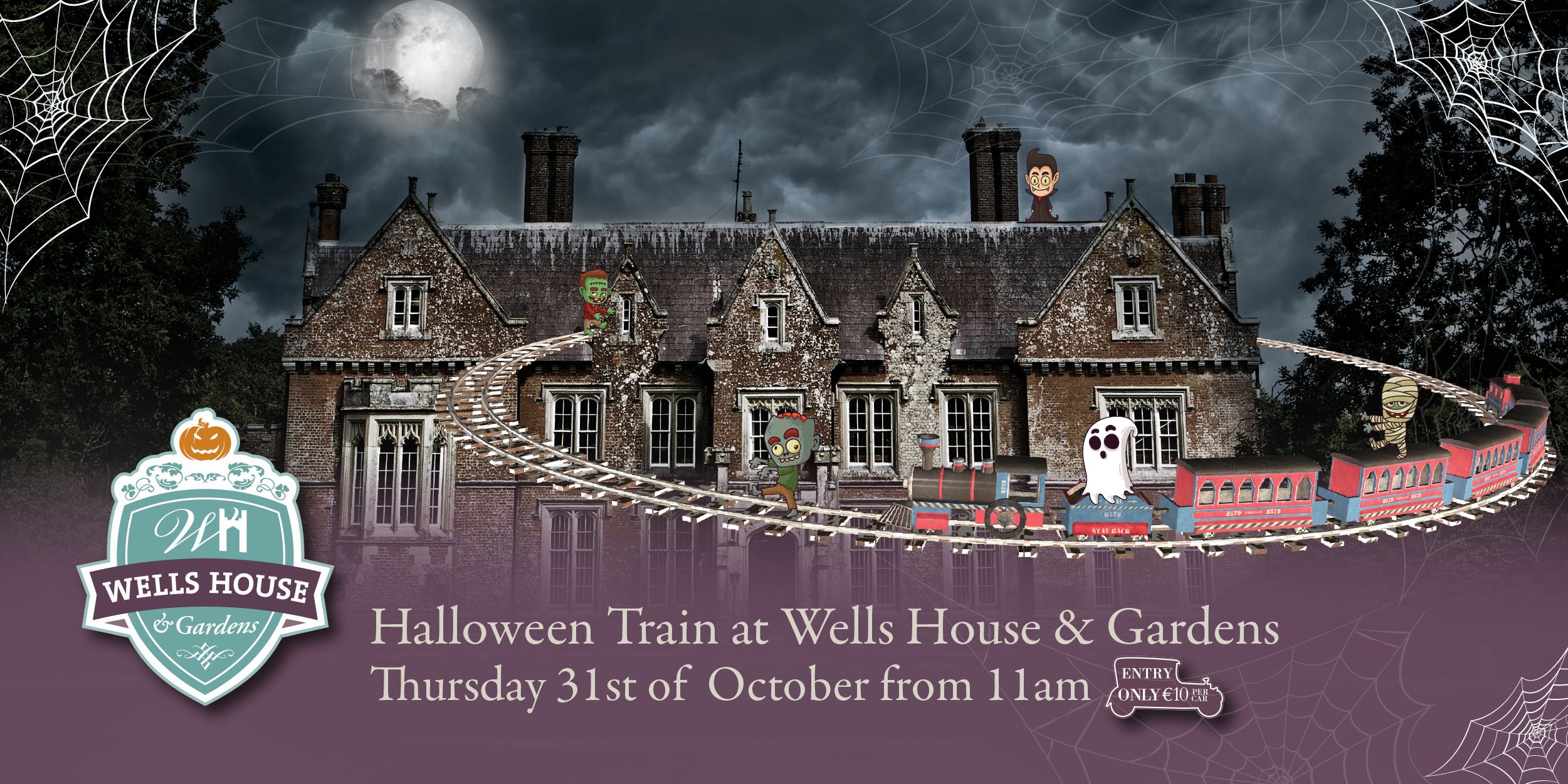 Create a fun and memorable Halloween experience with our brand new child-friendly Spooktacular Ghost Train Ride Adventure! Take a ride through the enchanted grounds and watch out for the spooky interactive characters who might just climb aboard and give you a fright! Entry to the grounds is €10 per car.
A Spooktacular Halloween for the whole family to enjoy.
Venue: Wells House, Wexford
When: Thursday 31st October, 2019
Kia Ora Mini Farm will be transformed into a spooky farm for the whole week. Try the electric chair, visit the spooky wake and meet many monsters as well as feeding the animals, taking a trip on the fire brigade, play in the sandpit, milk the cow, operate real diggers and more.
Venue: Kia Ora Mini Farm, Wexford
When: October 26th - November 3rd, 2019
Halloween is a special time of year at Causey Farm. Ghouls, goblins, and ghostly goings-on are just waiting to send a silly shiver down your spine at Pooka Spooka. Enjoy Birds of Prey display, traditional games and crafts, scarecrow corn maze, mirror maze, hayride, broomstick ride, storytelling and more.
Venue: Causey Farm, Girley, Co. Meath, Ireland
When: 26th, 27th, 28th, 30th & 31st October, 2019
The Bram Stoker Festival returns for the seventh year with four days mixing family-friendly adventures with late-night frights. Events include Spooky Stories at Marsh's Library, Dracula's Disco, Dracula on the BBC: A First Look, scary seances in complete darkness and family fun at Stokerland, a pop-up Victorian day out in St. Patrick's Park on 26th & 27th October.
Venue: Various, Dublin
When: October 25th - 28th, 2019
Spirit of Meath Halloween Festival - Meath
The birthplace of Ireland's Ancient East is bringing you Ireland's biggest and scariest Halloween festival. A festival of spooky fun across the Boyne Valley including Halloween hunts, fancy dress, haunted houses and pumpkins galore. With 'Fun by Day' events (for the kids) and 'Fright by Night' events there's something for everyone!
Venue: Various, Meath
When: October 6th - November 3rd, 2019
Different fun and educational events take place at Dublin Zoo over the holidays including Junior Autumn Workshops, Dinosaur Discovery and Young Palaeontologist.
Venue: Dublin Zoo, Phoenix Park, Dublin
When: Various, Mid-Term 2019
Halloween Spooktacular at the Irish National Stud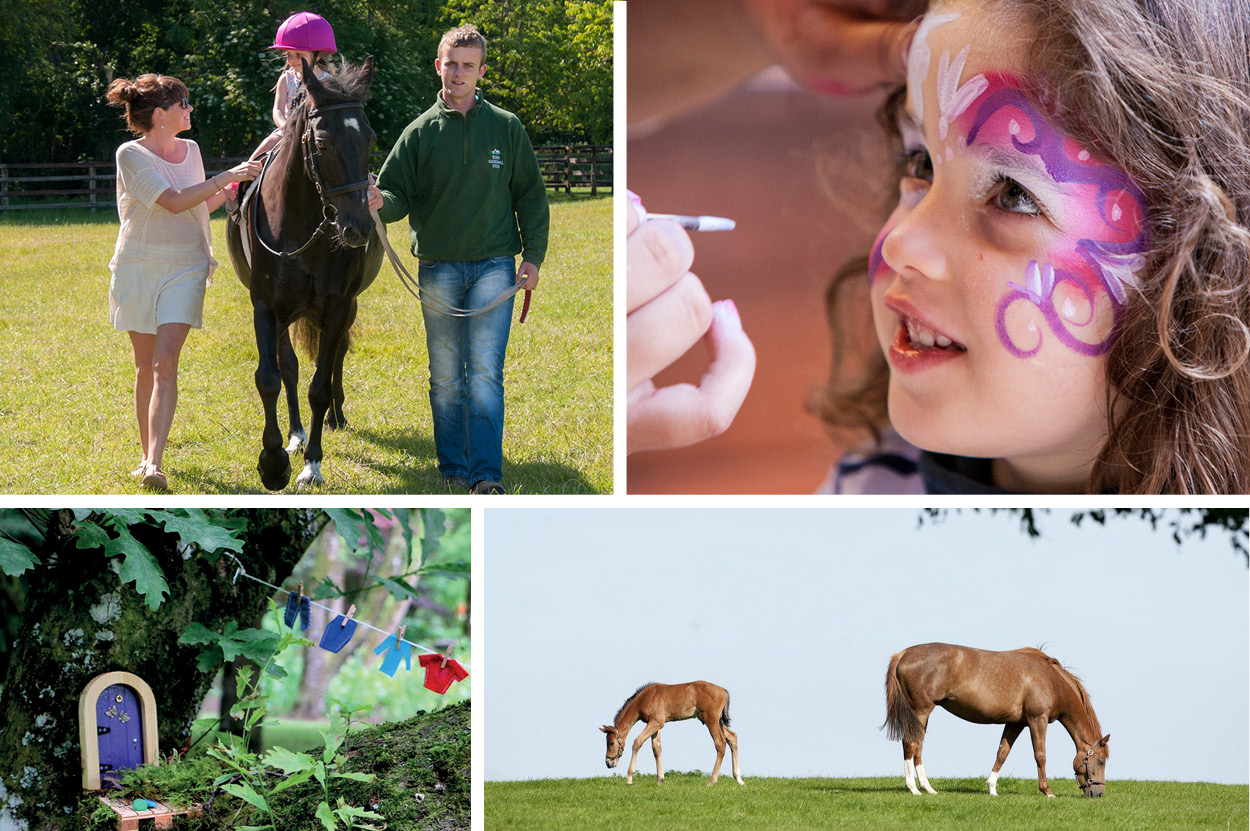 Fancy dress, free pony rides, face painting, magic shows, monster slime workshops, a spooky tunnel experience as well as all the regular attractions make this a fun outdoor family day out this Halloween.
Venue: Irish National Stud, Tully, Co. Kildare
When: 26th - 31st October 2019
Macnas will bring their epic storytelling to the streets of Galway again when their annual Macnas Halloween Parade returns to entertain over 70,000 people young and old out.. The 2019 event – titled 'Danse Macabre' promieses to unleash curiosity, fear, grief, love, laughter and party onto the streets of Galway.
Venue: Starts from NUI Galway campus and will weave its way through the heart of Galway city.
When: Sunday 27th October,, 2019 | 5.30pm
Wicklow's Historic Gaol are opening the Gates of Hell with a virtual reality experience featuring some of the Gaol's most notorious prisoners will feature & there may even be a guest appearance from one of the Haunted Gaol's famous ghosts!
Venue: Wicklow's Historic Gaol, Kilmantin Hill, Wicklow
When: Daily
Haunted Spooktacular Horror Farm
The Haunted Spooktacular returns to Grove House for the 15th year this October.
Whether you're a Horror movie fanatic, or a Halloween junkie, love to be petrified or just enjoy the detail of a highly interactive one-of-a-kind experience, Haunted Spooktacular has something for everybody. 16+
Venue: Grove Gardens, Kells, Co. Meath
When: 18th, 19th, 24th 25th, 26th, 27th, 28th, 29th, 30th & 31st October 2019
Carrowmena's "Field of Screams" is set to be the best Halloween event in the north west of Northern Ireland. With special effects and characters, will you be brave enough to make it the whole way through the maze?
Venue: Carrowmena Activity Centre, Limavady, Derry
When: 25th, 26th, 27th, 28th, 29th & 30th October 2019
Glendeer's Spooktastic Halloween Event
Cast spells with our scary witch, toast marshmallows over an open fire, enter the eerie maze but be warned, it's as your own risk. Follow Pumpkin Passage through the Forbidden Forest and see lots more skeletons, ghosts and ghouls at Glendeer Pet Farm this Halloween!
Venue: Glendeer Pet Farm, Roscommon
When: 26th October - 3rd November 2019
Sligo Folk Park host the annual Scare in the Park is on 30th October from 4 to 7pm. it's packed to the gills with scary skeletons, ghosts, ghouls and (slightly) frightening fun for everyone, particularly 2-12 year olds. It's a chance for the whole family to dress up in their most creative costume (there's prizes) and enjoy scares, dares and fearsome fare in Riverstown. New this year is the Scarecrow Competition.
Venue: Sligo Folk Park, Sligo
When: 30th October, 2019 | 16:00 - 19:00
Halloween at Moher Hill Open Farm
Halloween at Moher Hill Open Farm is the time of year when the witches and ghouls come out to scare. There will be a special children's magic show featuring 'Pegani' The Great Magician, play traditional Halloween fun and games, face-painting, bouncing castle, go karts, ball pool and more.
Venue: Moher Hill Farm, Clare
When: 27th October, 2019 | 14:00 - 16:30
Halloween Art Camp | Kilruddery
During the Halloween children will draw inspiration from their natural surroundings such as the live farmyard animals, astounding trees, flowers and vegetable gardens. The camp will cover a wide variety of media, including painting, print, collage and clay workshops.
Venue: Kilruddery House
When: Mon 28th October to Fri 1st November 2019 | 10am - 2pm
Halloween at Pirates Cove Wexford
Lots of fun & spooky activities such as Gooey Slime Making, Scary Mask Making, Gory Cupcake Making and a Pirate Treasure Hunt.
Venue: Pirates Cove, Courtown, Wexford
When: Tuesday 29th - Thursday 31st October, 2019 | 10am - 2pm
Belvedere House, Gardens and Park is great to visit at any time, but the Halloween Treasure Hunts are particularly wonderful for families. Expect lots of fun and treats.
Venue: Belvedere House
When: Saturday, Sunday and Monday, October 26 to 28, 2019
Boo at Ballymaloe – an interactive Halloween experience for kids in search of a frighteningly-fun adventure – will take over the famous Ballymaloe Grainstore in Shanagarry, Co. Cork over the mid-term. It is designed to suit children from two and over with the themed event taking place from 10am to 6pm each day.
Venue: Ballymaloe House Shanagarry, Midleton, Co. Cork, Ireland
When: 25th - 31st October, 2019
The third annual pumpkin patch is guaranteed to be a fantastic family day out not to be missed featuring bouncy castles, inflatable obstacle courses, a fantastic playground, massive family maze (new for this year) pumpkin picking and carving, face painting and maybe a few extra surprises!
Venue: Ladyrath Lane, Co. Meath
When: 9th, 20th, 26th, 27th & 28th October 2019 | 9:00 or 13:30
Halloween @ Cork City Gaol - Cork
Cork City Gaol should be a definite on your list of things to do with the kids this mid-term break. Arrive in your fancy dress and enjoy the Black Cat Treasure Hunt, face painting, balloon making and storytelling all in the historic surrounds of Cork City Gaol.
Venue: Cork City Gaol,
When: Saturday 26th October - Friday 1st November, 2019 | 10am - 4pm.
Make your way through the magical maze to find the patch. Pick your own from the different sizes, shapes and colours!
Venue: Allright Pumpkin, Fordstown, Meath
When: 12th, 13th, 19th, 20th, 26th & 27th October, 2019
Pumpkin Picking | Tinahely Farm Shop
Come to Tinahely Farm and take the tractor and trailer to collect your own pumpkin from the field. Then come back to the Activity Barn and get your hot chocolate and enjoy indoor Halloween activities.
Venue: Coolruss, Tinahely, Co. Wicklow
When: 25th, 26th, 27th & 28th October, 2019
Halloween at Ballycross Apple Farm
Calling all ghosts & goblins….enjoy some Hallowen fun down on the farm! Enjoy a tractor & trailer ride to the Pumpkin Patch.
Venue: Ballycross Apple Farm, Wexford
When: Weekends in October and daily during mid-term
Scalpwood Nurseries Pumpkin Festival
Get into the Halloween spirit at Scalpwood with their annual festival with loads of activities including the outdoor spooky maze, indoor crafts and, of course, the pump​k​in patch!
Venue: Scalpwood Nurseries, Kilternan, Dublin
When: 19th, 20th, 26th, 27th, 28th, 29th & 30th October, 2019
The new Púca Festival, opens on 31st October and will capture the ancient spirit of Samhain across three breathtaking nights of music, food, light and spectacle in Athboy, Drogheda and Trim.
Venue: Athboy, Drogheda and Trim.
When: 31st October - 2nd November, 2019