Astro Park | Coolock
5 followers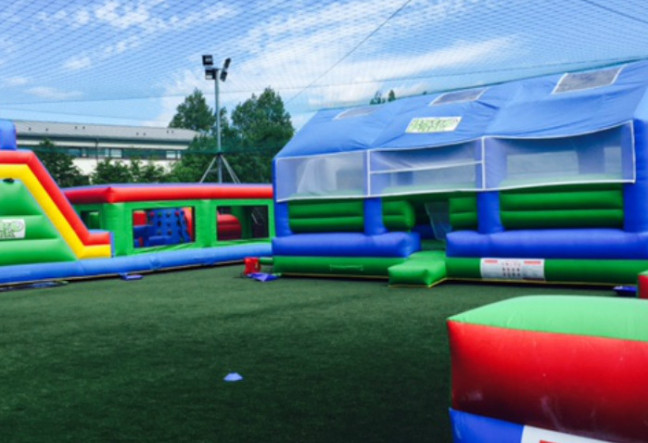 Oscar Traynor Road, Kilmore, Dublin, Ireland
Suitable for:
Facilities:
Astropark is the home of 5-a-side football in Ireland with great new services like Bubble Football and AstroBounce.
Astropark is a 5-a-side football company with 25 five a side pitches based in Tallaght and Coolock. We are the leading venue for leagues, social 5-a-side, kids birthdays/camps, Bubble football, Nerf Wars, Combat Archery, corporate events, one day tournaments and much more.
We are a one stop shop that offers incredible value combining sport, food & drink with our Sports Bar.
Football
Astropark is the home of 5aside football and Ireland's largest state-of-the-art floodlit astroturf facilities and Sports Bar. We offer the very best soccer leagues, social weekly bookings, corporate events, kids parties and camps, sports and social events, hen and stag activities, and great club training
Our multiple state-of-the-art artificial turf, floodlit, and partitioned 5-a-side soccer pitches are available to rent or hire by the hour. We currently have two venues in Dublin, Tallaght and Coolock.
Astropark is a total 5aside football experience, with some fantastic new family friendly activities and company event options. Looking for a new fun experience for your team mates, friends, colleagues then look no further than some of our new activities like Bubble Football, AstroBounce, or Goggle Football. We offer the best experience and best value in Dublin.
No matter what age you are, you will have an enjoyable experience playing, competing or socializing at Astropark. So grab some friends and get playing football at a level and a place that's just right for you!
Birthday Parties
Looking for the best kids birthday parties in Dublin? Astropark is the location for exciting great value parties for all ages.
We have 4 exciting options for kids parties. All parties last 2 hours with one hour supervised activity, followed by hot food (sausage/nuggets with chips & cordial drink) in one of our party rooms, and an extra 30 minutes football after the food.
Bubble Football Party – the best venue in Dublin with kid size bubbles suitable from age 9 up.
AstroBounce Party – just like your own private Play Zone with 3 massive inflatables, and suitable from age 4 up.
Nerf Wars Party – imagine your own private nerf battle zone complete with bunkers, target, a battle supervisor/coordinator, various blasters & dart sizes, and a birthday experience the kids will never forget.
Football Parties – for the football mad kids. The party will start with a warm up and game of 5 or 6-a-side soccer for 1 hour with a referee/supervisor provided. All the running, tackling and kicking will get all the participants good and hungry. The game will be concluded with a penalty shoot out or cross bar challenge, or they can see whose got the fastest shot with our amazing speed radar.
Kids Camps
We run brilliant multi activity kids Summer Camps for guys & girls at Astropark. We also run at Easter, Halloween, and some mid-terms.
At Astropark Camps, you get the best of both worlds. On top of great football coaching and games, kids experience our amazing inflatable games each day, including our giant obstacle course, the target zone, Bouncy dodgeball, Nerf Wars (NEW), a kick speed radar, goggle football, fun races and more. Each day after a morning focusing on football, there's a different fun activity in the afternoons.
School Tours
AstroBounce School Tours are a fantastic day out for Schools and classes of all ages. We are a one stop shop with inflatable activities and innovative fun sports games.
Includes some or all of:
Bouncy Inflatable Dodgeball or Football
Nerf Wars (NEW)
Inflatable Obstacle Course
Target Zone
Bubble Football
Speed Radar
Crazy Sports Day style races & games
Goggle football
Combat archery (NEW)
Activities vary depending on the age of the kids and the duration of school tour that you wish to do.
Various packages and duration available, with full day options. Minimum numbers of 24 apply for school tours but we have other options for smaller groups.