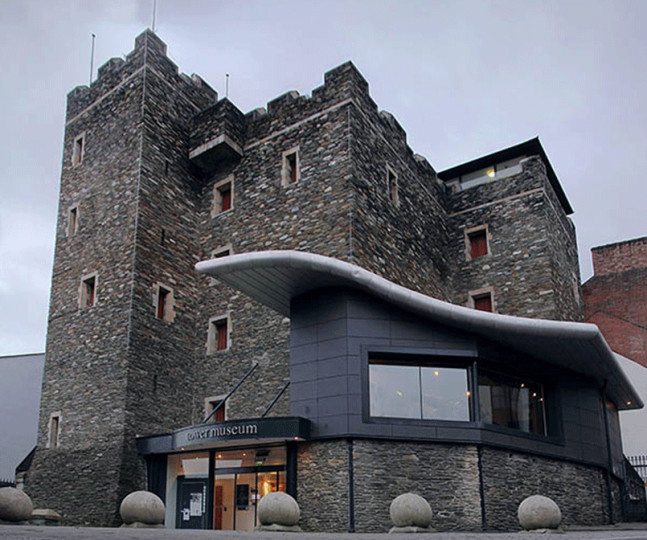 Union Hall Pl, Derry, BT48 6LU, UK
Daily 10:00 - 17:30 | Closed Christmas
Adult
- EUR 4.00
Child
- EUR 2.00
Family
- EUR 9.00
Suitable for:
Facilities:
The award winning Tower Museum is located within the city's historic walls at Union Hall Place.
Specialist Features:
Lecture room seating 70 people for talks and lectures
Education Programme for formal and informal learning.
Education Room seating 30 people for specialist lessons and lectures
Travelling / Temporary Exhibitions are on display throughout the year
Permanent exhibitions at the museum include The Story of Derry and the An Armada Shipwreck – La Trinidad Valencera.
The Story of Derry exhibition narrates the story from Monastic times, the Plantation of Londonderry, the Siege of Derry, through to the growth of Derry during the 18th and 19th centuries. Life during the 20th century is also included with the build up to the Civil Rights Movement and the impact of the Troubles. And our city's regeneration.
An Armada shipwreck – La Trinidad Valencera exhibition tells the story of La Trinidad Valencera, one of the largest ships in the Armada Fleet. In 1588 it foundered in Kinnegoe Bay in Co. Donegal during a violent storm and was discovered nearly 400 years later by divers from the City of Derry Sub Aqua Club.
An array of exciting artefacts on loan from the Ulster Museum, recovered from the ship includes cannons, textiles, pottery, wooden bowls, pewter dishes, goblets, coins and shoes along with many other items.
ADMISSION CHARGE
Adult £4.00
Child £2.00
Concessions £2.40
Family £9.00 (2 adults & 3 children)
Learning group rate £1.50
Group rate (groups 15+) £2.00
Last Admission at 4.00pm
We recommend that you allow approximately 1 hour and 30 minutes for your visit.