Tribstock | Scarefest Carlow
0 followers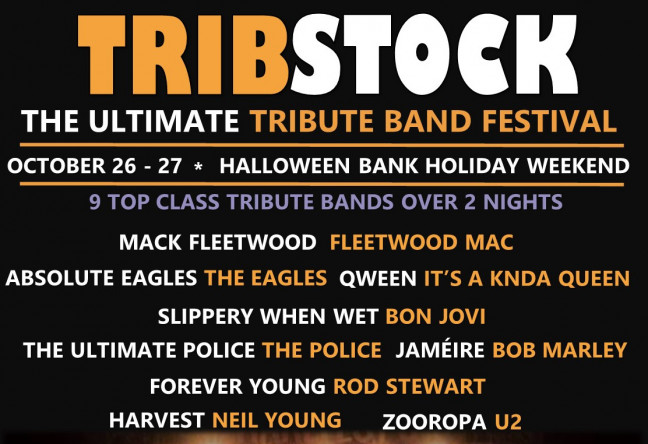 Flat 10, Burrin Bridge House, Burrin St, Graigue, Carlow, Ireland
Oct 26, 2019 6:00:00 PM - Oct 27, 2019 12:00:00 AM
Oct 27, 2019 5:00:00 PM - Oct 27, 2019 11:00:00 PM
Suitable for:
Facilities:
As part of Scarefest, Tribstock, Carlow's first tribute band music festival, will showcase National and International Tribute bands, covering songs from some of the greatest bands in history.
Sing along to your favorite tunes of the 80's and 90's. You will be exposed to some of the best musicians and performers on the scene today, while celebrating the music of your favourite bands with Hit after Hit!
Perry's warehouse in the centre of Carlow town shall serve as the perfect venue for this celebration of music. An Indoor venue with all Tribute bands performances held on the main Tribstock stage
From early in the evening until late at night on both days you will hear and experience the best tribute bands on today's scene.
The festival features a fantastic food and beverage menu. Beer and wine as well as non-alcoholic beverages will be served. Please come join us and celebrate the 80's & 90's music over the Bank holiday weekend of October 26th & 27th 2019. Saturday 6pm - 12am / Sunday 5pm - 12am
This event is sure to become a firm favourite on the Carlow social calendar and is sure to be a massive hit!
Saturday Only Ticket:
https://ticketstop.ie/event/2777/tribstock-carlow-tribute-band-festival-saturday
Weekend Ticket:
https://ticketstop.ie/event/2612/tribstock-tribute-band-festival-carlow