THE KABIN STUDIO - THROWING SHAPES LIVE – Presented by The Everyman
0 followers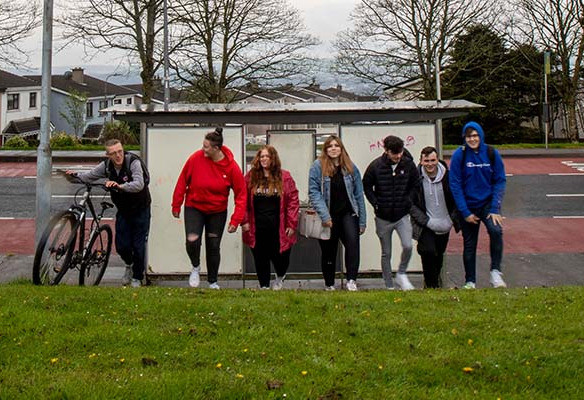 Reed's Place, Barrack Street, The Lough, Cork, Ireland
Jul 30, 2021 7:30:00 PM - Jul 30, 2021 8:30:00 PM
Adult
- EUR 12.00
Child
- EUR 12.00
Suitable for:
Facilities:
The Everyman Live at Elizabeth Fort
A showcase of music and spoken word from The Kabin Studio
The Everyman presents Throwing Shapes Live by The Kabin Studio as part of The Everyman Outdoors at Elizabeth Fort programme.
The Kabin Studio in Knocknaheeny is the community hub for young rappers, writers, singers and musicians in Cork's northside. This diverse group have joined together to create a powerful and moving collection of music and spoken word to be performed live at Elizabeth Fort.
Throwing Shapes Live is a showcase of music and spoken word from The Kabin Studio. The show will feature live performances from the group of young adults in the Throwing Shapes project (a film directed by Rosie Barrett for Cork Midsummer Festival), as well as from junior and teenage rappers and singers in the Kabin Crew as they find creative ways to express themselves through Hip Hop. These young people are central to the Kabin Studio and have spent many years creating this original material for the purpose of performance.
The project has evolved from an experiment in creative writing into a play, to then become a film broadcast as part of Cork Midsummer Festival 2021 and is now turning into a live performance for The Everyman Outdoors at Elizabeth Fort. Navigating self-expression, dealing with loss, having the craic, making beats and throwing shapes, the performance is a musical reflection on what it's like to be young in Cork City today.
Featuring music from Alex Pacino Brady, Gatch Ava Collins, Katelyn O'Sullivan, Kayleigh Russel, Ricky Salmon Anson, Jester, Jamie The King, MC Tiny, MC Sparky, Sully, Cara, Sophie & Chloe and more.
Young musicians and performers supported by Music Generation Cork City, Garry McCarthy (GMCBeats Workshops), Ophelia McCabe and Niall Cleary (Graffiti Theatre).