Big Bang Dublin! Early Years Music Show: Smile
0 followers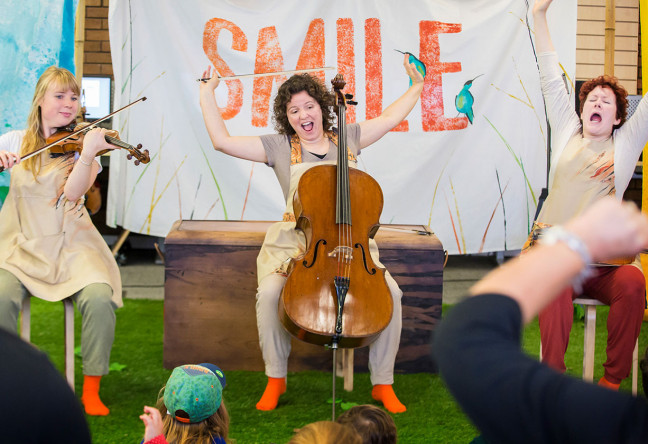 11A Eustace St, Temple Bar, Dublin, D02 A590, Ireland
Apr 5, 2019 11:30:00 AM - Apr 5, 2019 12:15:00 PM
Apr 5, 2019 1:00:00 PM - Apr 5, 2019 1:45:00 PM
Apr 6, 2019 11:30:00 AM - Apr 6, 2019 12:15:00 PM
Apr 6, 2019 1:00:00 PM - Apr 6, 2019 1:45:00 PM
Repeat: Daily untill Apr 6, 2019
Adult
- EUR 12.50
Child
- EUR 12.50
Suitable for:
Facilities:
Join us for a delightful performance of magical chamber music for little ears performed by three exceptional musicians.
Filled with fantastic music by well-known classical composers including Bach, Bartok, Ravel, Copland and more played on cello, violin and viola, Smile will take you on a delightful musical adventure to help Augustus the Tiger find his smile again.
Smile is a show by MishMash Productions from the UK and is based on Catherine Rayner's book Augustus and His Smile.
This show has been programmed with the approval of the children on the BIG BANG Dublin Festival Ambassador team!
TICKETS
Public: €12.50/€9.50*. (20% off for Members).

Schools: €6.50 or €5.00 Early Bird (if booked by 15 Mar).

To make a schools booking, please use our schools booking form or call 016707788
DATES & TIMES
Fri 5 & Sat 6 April @ 10.30am & 12pm
AGE RANGE & DURATION
For Ages 2-6. Approx 40 mins
ARTISTS
MishMash Music (UK)
PRODUCTION INFORMATION
Performers
Sophie Rivlin (Musical Director and Cellist) Flora Curzon (Violinist) Charlotte Fairbairn (Violinist/Viola Player
Creative Team
Liz Muge (Creative Producer) Janet Wallace (Stage Manager) Martin Berry (Director) Helen Fownes-Davies (Designer)
Augustus and His Smile
Written and illustrated by Catherine Rayner and published by Little Tiger Press www.littletiger.co.uk
BIG BANG Dublin! is presented by
The Ark in collaboration with Zonzo Compagnie with the support of the Creative Europe Programme of the European Union.
BOOKING INFORMATION
In the interests of the best possible experience for the audience and performers, we ask that you respect the age guide of the show. If you have any questions about the age guide then do contact our box office team via email or 016707788.

*The Concession price is available for Children accompanying third-level students, senior citizens and those in receipt of social security. Concession tickets can only be booked directly through the box office.