Carlingford Adventure Centre
8 followers
Day Out
1, Old Quay Court, Old Quay Ln, Liberties of Carlingford, Carlingford, Co. Louth, Ireland
Adventure Centre
,
Walking & Hiking
,
Climbing Walls
,
High Ropes
,
Kayaking
,
Laser Tag
,
Canoeing
,
Orienteering
,
Stag/Hen
,
Corporate
,
Team Building
Office Hrs 9am - 6pm
Suitable for:
Facilities:
Lots of FUN Outdoor Activities for you to try. You do not have to be part of a group to visit us. We have an wide range of activities on Land, Sea & Sky'.
Carlingford Adventure Centre offer an extensive range of exciting outdoor adventure activities ideal for tiring the kids out for a day (or week), a family adventure holiday in Ireland, a Summer Camp or just to try something new. You can also now pay in advance per activity and pay as you go at our new Skypark destination check out www.skypark.ie
Family Fun
Carlingford Adventure Centre is dedicated to providing excellent Adventure Summer Camps for Kids, teens and families in Ireland with a huge variety of activities and accommodation set in a beautiful location. All of our camps have residential and Holiday Home packages to suit your length of stay and type of holiday!
We are passionate about delivering Children's Summer Adventure Camps that will boost your child's confidence in a fun, safe and professionally run environment. They will try experience new things, discover different skills and make friends from around the world. Creating favourite memories to last a lifetime!
Youth Groups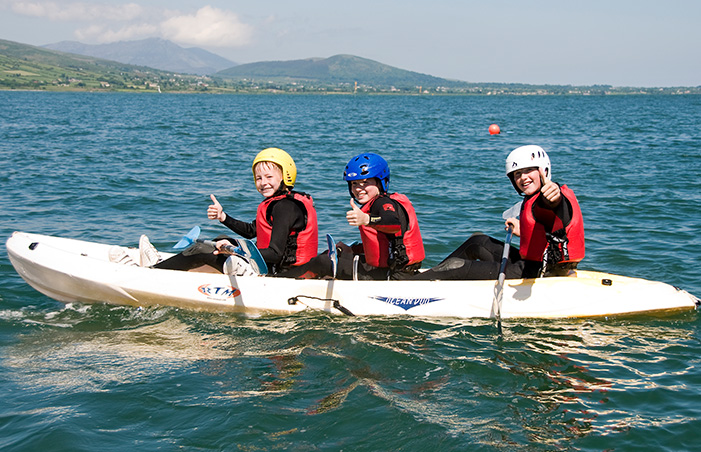 Carlingford Adventure Centre offer amazing programmes with enthusiastic leaders that will inspire young people to test themselves and push the boundaries. It will introduce them to something new and will create brilliant memories.
Programmes are designed around improving teamwork, building confidence and having FUN.
We pride ourselves on offering the largest choice of LAND, SEA and SKY activities in Ireland all delivered by our team of experienced, qualified & fun-loving instructors. Our chefs prepare fresh homemade meals daily and can cater for any food requirements.
Corporate
With a proven track record of success with companies such as Coca-Cola, Facebook and eBay, Carlingford Adventure Centre offer a range of challenging activities designed to encourage teams to take risks, build trust and communicate.
Carlingford Adventure Centre offers a unique location to get away from your regular training and provides an excellent opportunity for team building. Developing a strong TEAM is the key to your success.
Availablle activities include:
Kayaking
Single Kayaks
Can be booked as an activity as part of your Adventure Day at Carlingford Adventure Centre.
Take the paddling into your own hands and explore Carlingford Lough in our fun and easy to use open top kayaks, with fantastic views of Slieve Foy Mountain and the Beautiful Mourne Mountains.
Double Kayaks
Double the fun with a double open top kayak, explore Carlingford Lough with a friend, find the magic waterfall where your wish will come true.
Stand Up Paddle Boarding (SUP)
Stand Up Paddle boarding is our exciting new activity and is the perfect sport to explore Carlingford's beautiful harbour and coastline.
We will coach you the skills you need to go on excursions, play games and or why not try some yoga!
A brilliant fun, water-based activity that is easy to master and is fast becoming one of the most popular activities with all age groups and fitness levels.
Archery
The Cuchulainn Archery Challenge, who will be the best archer in the land! Take up your bow and arrow; steady your aim and fire
We encourage safety awareness from the outset as we teach the basics. It's a great individual and team challenge, which needs accuracy, control, concentration and a steady hand.
For groups that want to take it further, we can offer the 'Target Archery Award' to develop and test levels of skill which needs accuracy, control, concentration and a steady hand
Orienteering
Orienteering requires navigational skills using a map or compass to navigate from point to point.
You will be taught basic map reading skills in order to find markers on a course. The aim is to read the map to get to a location to reach a marker. The markers all have letters that you must collect.
The orienteering course at Carlingford Adventure Centre offers interesting terrain around the side of the Slieve Foy Mountain and through the forest.
It is designed to encourage team building and map reading skills. It will bring out the competitive side in anyone.
Rock Climbing
Rock climbing is an activity in which participants climb up, down or across natural rock formations or artificial rock walls.
Rock climbing is a physically and mentally demanding sport, one that often tests a climber's strength, endurance, agility and balance along with mental control.
Carlingford Adventure Centre offer you the opportunity to test your rockclimbing skills on a real rock face with 8 different climbs of varying difficulty. The highest climb is 45ft.
Our professional staff are there with you every step of the way. A brilliant activity that will leave you with a great sense of achievement.
Stags & Hens - We can build an experience and list of activities to suit your needs just contact us for more details.
Please note certain activities are only available on certain days during July and August.