Bloomsday at Glasnevin Cemetery
0 followers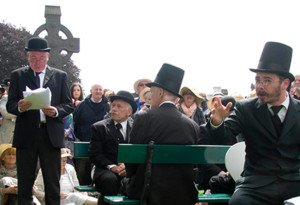 Glasnevin Cemetery Museum, Finglas Rd, Botanic, Dublin 11, Ireland
Jun 16, 2019 11:00:00 AM - Jun 16, 2019 4:00:00 PM
Suitable for:
Facilities:
Glasnevin Cemetery Museum has been celebrating Bloomsday since 2010 when its visitor centre first opened to the public with the introduction of its museum and guided tours. The numbers attending the Bloomsday event have gone from strength to strength over the years and it's now a firm and much anticipated event on the venue's calendar. Episode 6 - Hades in Ulysses depicts the funeral procession of Paddy Dignam at the Hibernian necropolis – Glasnevin Cemetery. This scene will be a central focal point for a re-enactment performed by the 'Joycestagers' at Glasnevin Cemetery this Bloomsday. There will also be a Joycean tour of the cemetery which boasts a wide range of literary connections. Joyce's parents are both buried at Glasnevin.
10am - 3pm: Special Joycean Breakfast and Lunch in the Tower Café.
11.30am: Re-enactment of the funeral procession of Paddy Dignam from the 'Hades' episode of Ulysses.
12.15pm: A Joycean Tour of the heart of the Hibernian necropolis, Glasnevin Cemetery, which has many significant links to Joyce's life and writing.
Tickets from €10.20