DLR Winter of Heritage
0 followers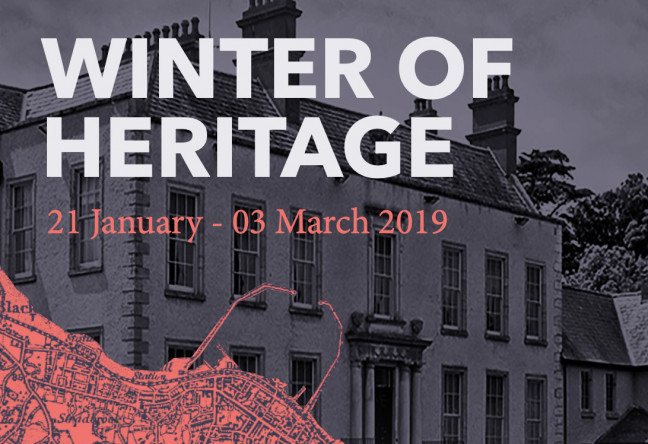 Dún Laoghaire, Dublin, Ireland
Jan 21, 2019 12:00:00 AM - Mar 3, 2019 12:00:00 AM
Suitable for:
Facilities:
The Winter of Heritage event, is part of a series of Free guided tours run by the Heritage Office of Dún Laoghaire-Rathdown County Council.
They are suitable for schools, students, families, community groups, active retired, historic groups, and tourists interested in our heritage.
They are a great way of informing and educating people about the true historical value of an area, building, or object.
These free guided tours and talks create interest and build excitement by guiding the visitor througha heritage site, uncovering the fascinating historyof a place that an audience member may have lived in, or passed by their whole life, yet might not have had the opportunity of entering it before.
Cabinteely House
Tuesday and Sunday: 11am - 3pm | Tours on the Hour | 4 per day
Take a guided tour of Cabinteely House, a stunning eighteenth-century country house. Hear the colourful story of the house including, its original owner Robert Nugent and his rise up the social and political ladder, as well as Joseph McGrath, revolutionary and key figure in the Irish Sweepstakes.
James Joyce Tower
Monday to Sunday | 10:30am & 2.30pm
The James Joyce Tower & Museum at Sandycove is staffed by volunteers from the Friends of Joyce Tower Society.
The tower is open from 10am until 6pm every day. Each day, at 10.30 am and again at 2.30 pm, for the duration of the 'Winter of Heritage' programme, one of these enthusiastic and knowledgeable volunteers will show you around the most famous building in world literature where James Joyce's masterpiece begins.
Tour Duration: 60 minutes Not wheelchair accessible. Access to roof is very restricted.
Marley House
Thursday and Saturday | 11am - 3pm | Tours on the Hour | 4 per day
Take a guided tour of this wonderful country house. Hear the story of how the original 17th Century house, called The Grange was purchased in 1764 by David La Touche of French Huguenot origin, extended, and renamed Marlay, and was then sold in 1864 to Robert Tedcastle, the well known Dublin coal merchant. The Tedcastle family lived at Marlay until 1925. In 1925 Philip Love (a market gardener, who at one time was the largest tomato producer in Ireland) acquired the House.
Duration: 60 minutes Limited Wheelchair Access. Please phone in advance if you require wheelchair access. Max Capacity: 30 people Group booking essential via email [email protected]
The Oratory
Wednesday and Saturday | 11am - 3pm | Tours on the Hour | 4 per day
The Oratory in Dún Laoghaire is a hidden gem of Celtic revival art. This tiny building is home to some of the most spectacular artwork from the first half of 20th Century Ireland, all produced by Sister Concepta Lynch.
This tour is not to be missed!
Maritime Museum
Monday and Wednesday
The Museum is housed in Dún Laoghaire's 180-year-old Mariners' Church, opposite the dlr LexIcon. Experienced guides will bring you on a voyage of discovery enthralling you with stories of discovery, heroism, war and disasters at sea. You will learn about maritime history, exploration, navigation, radio, deep-sea cable technology, nature and art inspired by the sea and relevant to the school syllabus.
See the revolving Bailey Optic, try the electrified steam engine and pause to reflect at the Titanic exhibit, the Royal Navy prisoner's docks and the war memorial. Try sailor's knots, learn how they lift heavy weights, be photographed with the pirate and much more.
Must be pre-booked. Tour Duration: 60 minutes Wheelchair accessible Max Capacity: 30 people