Family Halloween Spooktacular Cycle
0 followers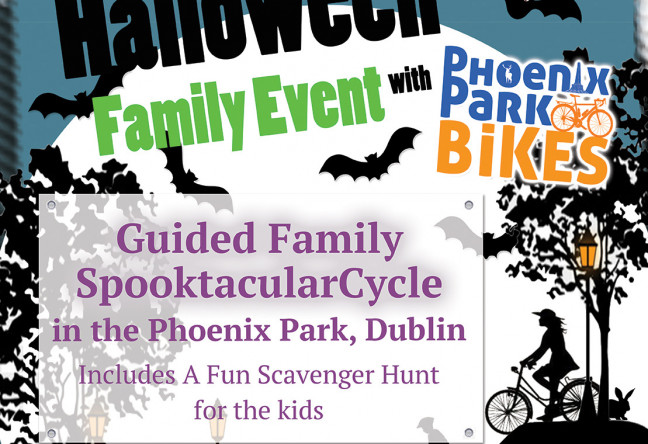 8 Chesterfield Ave, Phoenix Park, Dublin 15, D15 H2AR, Ireland
Oct 28, 2018 3:30:00 PM - Oct 28, 2018 5:00:00 PM
Oct 29, 2018 11:30:00 AM - Oct 29, 2018 1:00:00 PM
Oct 30, 2018 3:30:00 PM - Oct 30, 2018 5:00:00 PM
Oct 31, 2018 2:30:00 PM - Oct 31, 2018 4:00:00 PM
Nov 1, 2018 3:30:00 PM - Nov 1, 2018 5:00:00 PM
Nov 2, 2018 3:30:00 PM - Nov 2, 2018 5:00:00 PM
Suitable for:
Facilities:
A Guided Spooktacular Family cycle including Tales of the unexpected, Kids question hunt and scavenger hunt.
Time : 1.5 hours
Dress up ADVISED to add to the fun..
Location: Starting from Phoenix Park Bikes (Located at the main entrance on the left when coming from City Centre - 5 minute walk from Hueston Station)
Days and times:
Sunday 28th: 3.30 – 5pm
Monday 29th: 11.30 1pm
Monday is bank holiday. The tour is on early today to give families the option to head up to the visitor centre after for lunch and Pumpkin carving at 3pm… Pumpkins are grown in the Walled garden for this event.
Tuesday 30th: 3.30 - 5pm
Wednesday 31st: 2.30 - 4pm
Thursday 1st: 3.30 - 5pm
Friday 2nd: 3.30 - 5pm
Price: €10pp
Pre book essential to save dissappointment of no kids bikes or carriages on arrival.
Can be booked directly online: https://www.phoenixparkbikes.com/groups-tours/