National Heritage Week
0 followers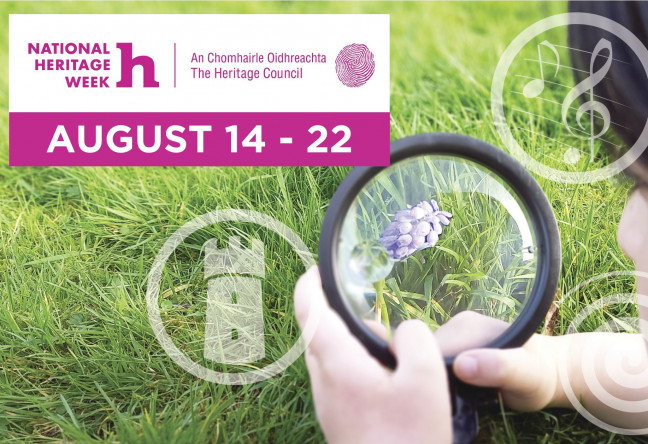 10 Church Ln, Gardens, Kilkenny, Ireland
Caves, Caverns & Cliffs
,
Arts & Crafts
,
Music
,
Castles & Gardens
,
Parks
,
Gardens, Plants, Orchard
,
Gaelic
,
Arts Centre
,
Storytelling
,
Talks & Discussion
Aug 14, 2021 1:00:00 AM - Aug 22, 2021 1:00:00 AM
Suitable for:
Facilities:
National Heritage Week, an initiative by the Heritage Council, celebrates all things heritage. It brings together communities, families, organisations, cultural institutions, academics and enthusiasts, to build awareness about the value of heritage and support its conservation.
With the continuation of ongoing restrictions on social gatherings due to COVID-19, we are once again inviting you to organise a heritage project. This year we are looking for projects that focus on getting as many people to enjoy heritage as possible.
To help you think about what aspect of heritage you might want to explore, we have developed three broad approaches which can be considered for projects.
Heritage newcomers: A general invitation to individuals, families and communities who have never engaged in National Heritage Week to work on a heritage project.
Heritage sharing: Encouraging existing National Heritage Week organisers to connect with a group / individuals in the community who may not feel included in local heritage; or an opportunity to explore an aspect of local heritage that is seldom considered / celebrated.
Heritage for all ages: National Heritage Week project organisers are encouraged to include different age groups in heritage projects.
Have a look at our news section for some project ideas under each of these headings.
The results of your project should be presented in a format that can be shared widely, for example an online talk or exhibition; a video; podcast or oral history recording; a PowerPoint presentation or blog; through your community's or organisation's newsletter; via an interview with a local radio station or newspaper; or through a dedicated website or social media account. If public health restrictions allow social gatherings to take place during National Heritage Week, organisers may host in-person events if they are fully compliant with prevailing restrictions.