FREE Community Health & Wellness Day
0 followers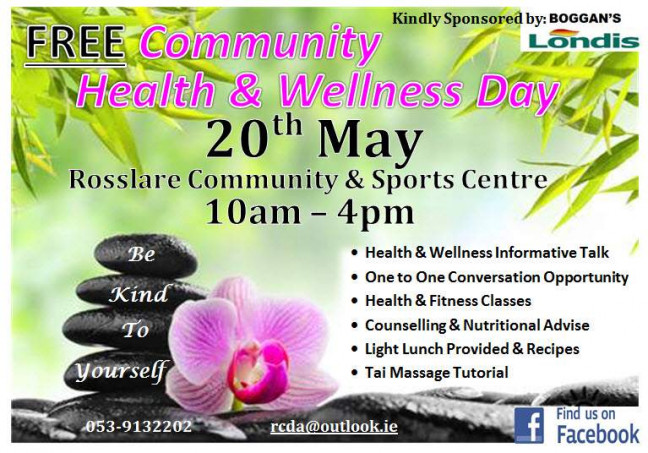 Rosslare, Co. Wexford, Ireland
May 20, 2016 11:00:00 AM - May 20, 2016 5:00:00 PM
Suitable for:
Facilities:
FREE Community Health & Wellness Day - It has never been more important to look after your own personal health and wellness. With daily lives become so hectic we want to give you the skills to be kind to yourself.
All Welcome to join us for this FREE event in Rosslare Community & Sports Centre on Friday 20th May from 10am-4pm. We will have various talks from fitness, nutrition advise and councellors. Why not try some meditation, yoga, pilates, tennis, tai chi or mindfulness while you are here. We will also have healthy light lunch provided and recipes will be available. Rosslare's Mens Sheds and Rosslare's Womens Sheds will also be here.
Special Thanks to Boggan's Londis for sponsoring this event!