Upperlands Linen Tour
0 followers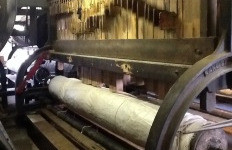 The Burnavon Theatre, Burn Rd, Cookstown BT80 8DN, UK
Aug 12, 2017 3:00:00 PM - Aug 12, 2017 7:00:00 PM
Adult
- GBP 8.00
Child
- GBP 8.00
Suitable for:
Facilities:
Bus departing the Burnavon at 2:00pm, picking up in Magherafelt at 2:20pm.
Step back in time with a journey through the Upperlands, Ireland's oldest linen village. Learn about the fabric of local history by dropping by the Flax Coffee Shop and Visitor Centre. Located in an old industrial building just across the road from the last surviving linen beetling machines (a process which dates from the 1730s). You'll also be given free rein to explore the Flax Visitor Centre and its permanent display on the heritage of the linen industry and model Irish village and railway.
Visit Gorteade Cottage, the boyhood home of one of the American founding fathers, Charles Thomson. Chiefly remembered for his role as Secretary to the Continental Congress, he served as Secretary of the United States in Congress. He was also one of only two original signatories of the Declaration of Independence.