Carrrowmena Summer Camp 2018
0 followers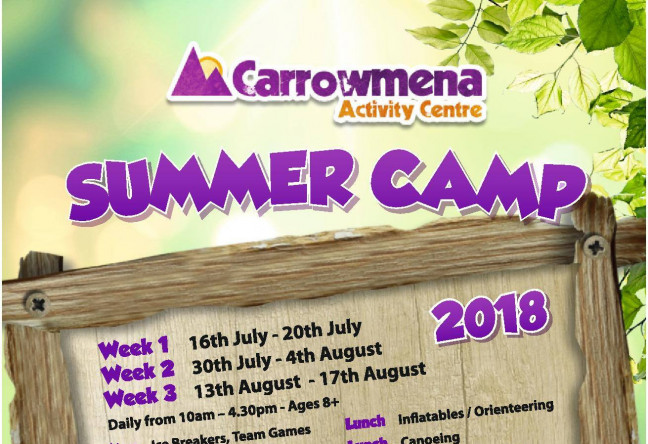 Unnamed Road, Limavady BT49 9EB, UK
Jul 16, 2018 11:00:00 AM - Jul 20, 2018 5:00:00 PM
Jul 30, 2018 11:00:00 AM - Aug 3, 2018 5:00:00 PM
Aug 13, 2018 11:00:00 AM - Aug 17, 2018 5:00:00 PM
Suitable for:
Facilities:
BOOK BEFORE 25TH MAY 2018 FOR EARLY BIRD DISCOUNT

The BEST Summer Camp Experience along with North Coast, meet NEW friends & take on NEW Challenges.

Experience all the fun and adrenaline that Carrowmena has to offer.

Available in 3 OR 5 Day blocks from 10am - 4.30pm.

3 x Separate weeks to choose from!
- Week 1: 16th July -20th July
- Week 2: 30th July – 4th August
- Week 3: 13th August -17th August

Ages 8 – 16 years.

Kids will get the chance to sample a full range of outdoor activities that Carrowmena has and unlike other venues offering Summer schemes we offer BOTH land and water adventures.

All activities are challenge by choice and full encouragement from our highly qualified and professional team of instructors is second to none.