It might be different in 2020, but it's still starting to look a lot like Christmas.
There are so many different Christmas events all over Ireland to suit every family interest that it is hard to know where to start looking.
Also, not every event has to include a man in red, somethings you just want to have fun spending time with your family.
Things may be a little harder to find this year due to the Covid pandemic but there are still some plenty of ideas to create some wonderful memories.
We've tried to make it a little bit easier for you by putting together a handy guide to some of our favourites taking place over the festive season.
You'd have to have a heart as cold as Scrooge if this list doesn't fill you with the spirt of Christmas.
Ho! Ho! Ho!
Wild Arctic Experience
Wild Ireland, Donegal | Daily until December 23rd, 2020
Experience Wild Ireland this Christmas with a special family event. Visit the sanctuary and all the animals including some new festive visitors. Enjoy the lights as you walk around in your own family pod before your visit to Santa. Booking in advance only.
Book Now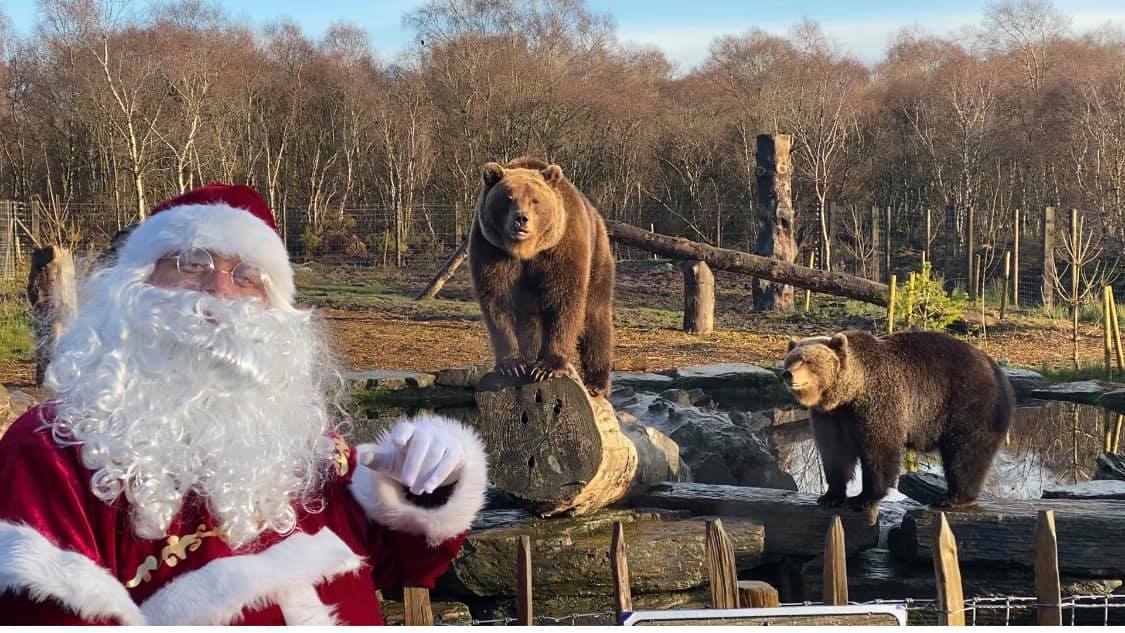 Charity Santa Drive-Through
Moher Hill Open Farm, Clare | December 13th, 2020
Santa will make a special trip to Moher Hill Open Fam on Sunday the 13th of December, to deliver an early Christmas treat to all the animals. It will be a flying visit this year as Santa is so busy, but he will be able to wave a hello to all the boys and girls from the safety of their cars.
All proceeds to Cahercalla Hospice.
Santa's Virtual Workshop
Aillwee Caves, Clare | Online | until December 23rd, 2020
Santa Claus takes up his annual residence at Aillwee Cave in Ballyvaughan with Mrs Claus and his team of happy elves but this year, all visits will be virtual. Embark on a journey with Holly the Head Elf, through Aillwee, in search of Santa's Workshop. Join Santa LIVE as he personally chats to each child about their likes and achievements throughout the year.
Glór | Magical Online Christmas Shows
Glór Irish Music Centre, Clare | Online | December 2020
Some of the Christmas cheer has moved online this year and Glór will stream some fantastic family shows including The Nutcracker, A Christmas Carol and Rockin Christmas Rhymes, a musical treat for all the family with a merry mix of festive favourites and rocking rhy
The Moving Crib
Saint Martin Apostolate & Chapel | Until January 10th, 2021
The Moving Crib has been a feature of Christmas in Dublin for over sixty years.
This year The Moving Crib will be 64 years old! It has been a key feature of Christmas in Dublin for so long that parents and grandparents, who visited The Moving Crib as children, are now bringing their children and grandchildren to enjoy and re-live this amazing Christmas experience.
Booking is Essential for all visitors this year – Please arrive on time and only arrive for your booked time slot. Maximum stay is 30 minutes.
Christmas at Delta Sensory Gardens
Delta Sensory Gardens | December, 2020
Delta are switching on the lights in the gardens until December 20th, with late opening until 7pm each night. There is no need to book in advance but there may be a wait to enter if it is busy; but it's worth the wait! Children are free and adults are priced at a reasonable €6. HTe Cafe Thyme will be takeaway only.
Have your own Zoom Call with Santa!
EPIC The Irish Emigration Museum | Online | 5th, 6th, 11th, 13th, 18th, 19th & 20th December
Santa has joined Zoom and this December will be hosting online visits live from the North Pole!
You can chat with Santa, take part in an online festive workshop and you will have a Christmas gift delivered to your home. Share this special experience with your family no matter where in the world they are!
Bloody Sunday Tour | The GAA Museum
Croke Park | Monday to Friday only until the 23rd December.
Why not try something different this Christmas. More than just a stadium, it's the home of Gaelic games and it holds a special place in the hearts and minds of Irish people. The exhibition honours the victims, tells their stories, and provides visitors with a place to reflect and learn more about the events surrounding the darkest day in GAA history.
National Museums of Ireland
National Museums of Ireland | Until December 31st
Throughout December, you can pop into the National Museum of Ireland - Archaeology, the Decorative Arts & History at Collins Barracks or County Life, Turlough Park that have all recently reopened as per the latest health guidelines. Please note the Natural History museum remains closed to facilitate on-going works.
YourDaysOut is a SaaS platfrom that lets you create and sell tickets online, for less!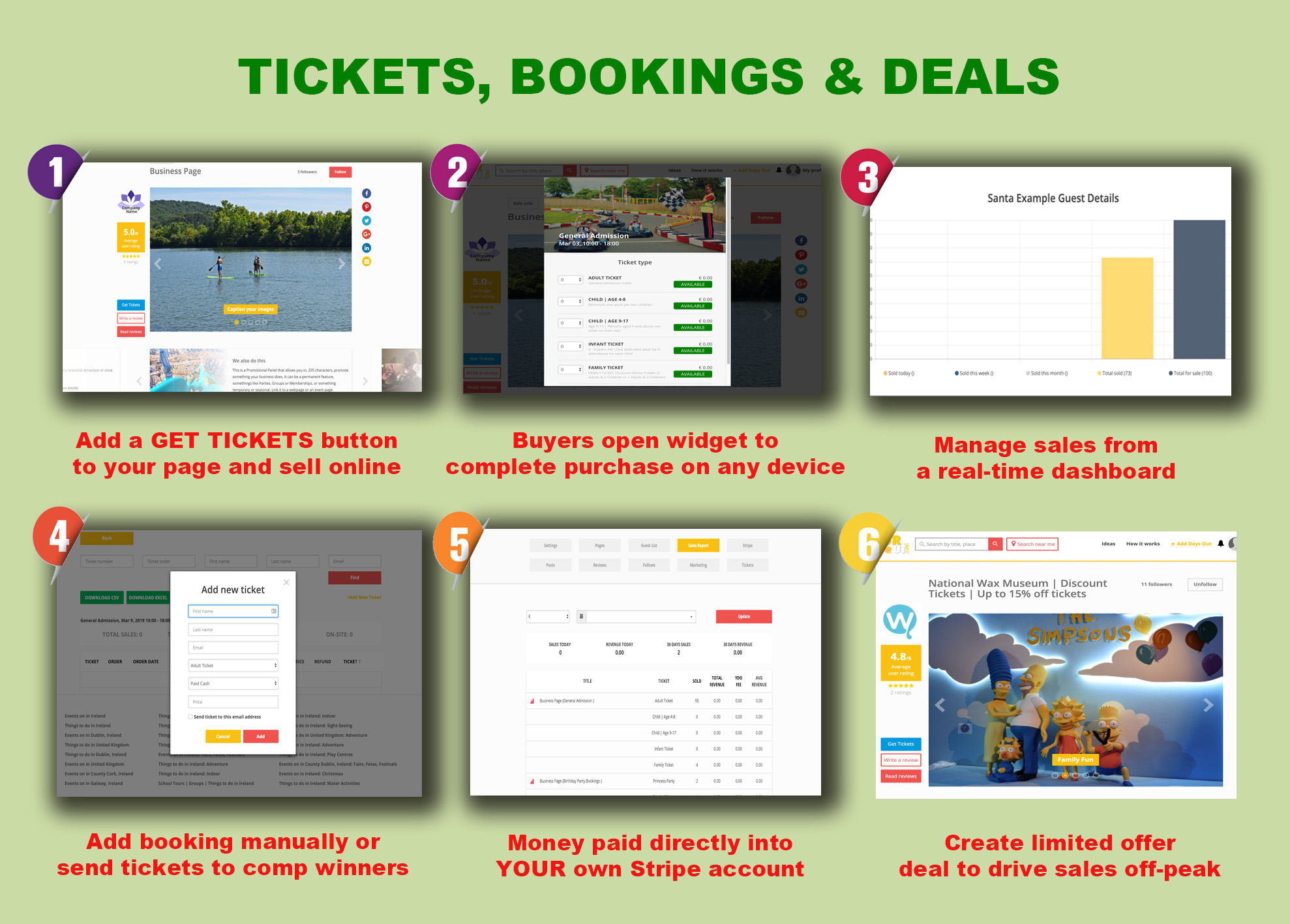 Christmas Festival
Slieve Aughty Centre | Until January 5th, 2020
The 2020 Christmas Festival offers a festive day out for families without Santa.
Open Saturdays and Sundays throughout December and every day from December 23rd to the 6th of January 2021, 12-4pm. This year's Christmas Festival in Galway is designed to help us all get back to what really matters - finding joy, love and time for those we care about. Enjoy a day out, away from all the stress of COVID, unplugging and spending quality time with family during the holidays.
The 2020 Christmas Festival invites you to get outdoors, explore, and rejuvenate.
Elf Town
Ballybrit, Galway | Online | until December 20th, 2020
Elf Town is now offering virtual zoom calls with Santa. Your children will be able to chat in real-time with Santa live from Santa's Grotto. Starting with a magical entry video through the snowy forest right up to the front door in Santa's Grotto where your family has a chat with Santa
Christmas at Castlecomer Discovery Park
Castlecomer Discovery Park, Kilkenny | December 2020
While Santa won't stop off at the Discovery Park this year the Christmas lights will still be up for everyone to enjoy. The Junior Woodland Adventure Course will be open weeknds and during the holidays and you can take an evening stroll with the family and finish off with a hot chocolate or treat at the Canopy Cafe.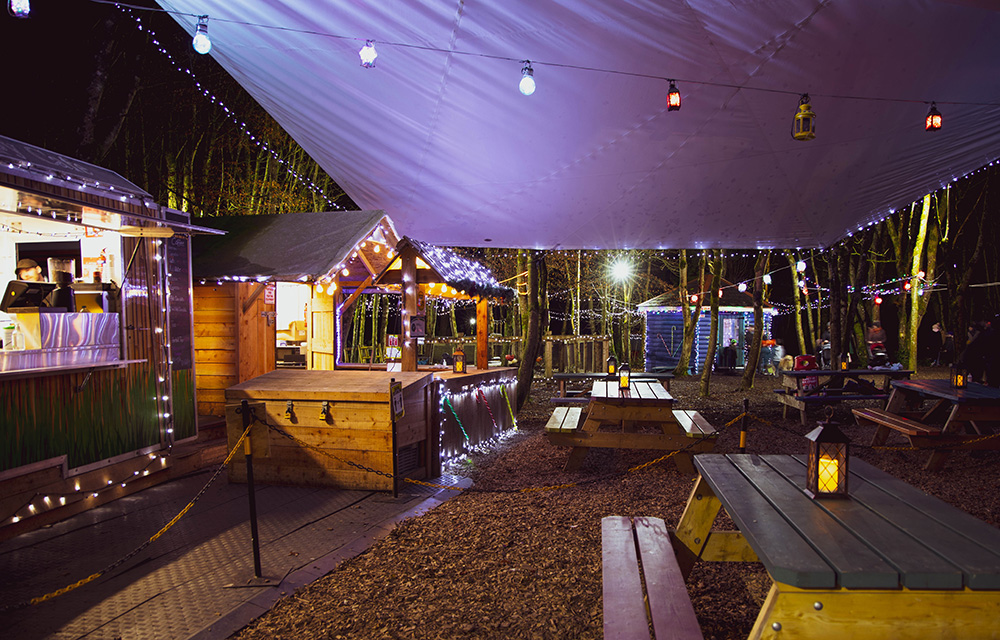 University Concert Hall | Online | December 26th - December 30th, 2020
It's the news you've all BEAN waiting for. This year's UCH Panto, Jack and the Beanstalk is going online, bringing the magic of Panto direct to your living room with the daring adventures of Jack, some magical beans and a not so friendly Giant. Round up the family, get your coziest PJs on, snacks at the ready and enjoy the magic of the UCH Panto from the comfort of your couch this Christmas.
Clanard Court Hotel, Kildare | December 3rd - 22nd
This year's event will be a little different to help keep everyone safe but still promises to be a fun Christmas experience with lots of characters including Lazybones, Holly Berry and her team of elves, Mrs. Claus and Santa as well as a safe family show after dinner.
Lime Tree Theatre | Christmas Shows
Lime Street Theatre, Limerick | Online | December, 2020
Lime Street theater is lifting the Christmas spirits in Limerick this month with online shows for the whole family to enjoy including Seasonal stories, A Christmas Carol and Rocking Rhymes.
Rollerskating
Rollerjam Limerick | December, 2020
Recently reopened after latest government health advice, burn off some of the Christmas treats as you try to stay on your feet, or watch the smaller, more flexible members of your family show you how it's done. Booking in advance advised.
Winter Wonderland Westport House
Westport House | Until 23rd December, 2020
After selling out in 2019, Winter Wonderland at Westport House is all set to be yet another magical Christmas experience brimming with festive cheer that will leave the kids starry-eyed and the whole family believing in fairy-tales.
Due to the Covid 19 pandemic, the experience will be slightly different to allow for social distancing and to comply with public health advice.
But the one thing that will be the same as the last 10 years is…the MAGIC!
Tayto Park | Retro Movies
Tayto Park, Meath | 19th & 20th December, 2020
Enjoy Retro drive-in movies at Tayto Park on Saturday 19th and Sunday 20th of December with 5 festive favourites to choose from including Home Alone and the Polar Express.
Christmas @ Playtown
Playtown, Tullamore | December, 2020
Tullamore's multi-award winning play experience and creative rooms are open throughout December including fantastic Creative Christmas Experiences.
Along with a personalised video from Santa for each child, they will also get to experience Playtown Tullamore & The ICE Rooms where they will get to complete a take home Christmas Item. They also receive a personal letter and gift left by Santa while each family has their own private space to help everyone stay safe..
Waterford | Until December 23rd, 2019
It may be different from previous years, but there is still plenty of festive fun to be had at Winterval this year including The Waterford Eye, Windows Of Winterval, Polar Bear Family Photo Station, Christmas Nutcracker Trail and more. Please check before travelling as events and activities can be cancelled or changed in line with latest health advice.
Enchanted Garden Winter Light Festival
Lafcadio Hearn Japanese Gardens | December 11th - January 10th, 2020 | Wed-Sun 4.00pm - 7.30pm
Now in its fifth year, the Enchanted Garden is quickly becoming recognised as one of the leading Winter Light Festivals in Ireland.
This year, the experience is a one way walk through the gardens and those attending are required to leave at least 10m distance between themselves and the people in front of them and time is limited to one hour. All tickets must be bought in advance.
These unique Japanese Gardens are lit at night by a sea of twinkling lights, animal sculptures and dramatic tree and foliage lighting, all creating a magical winter wonderland.
Covid-19 Guidelines will be in place throughout the gardens and all entry tickets must be pre book time slots in advance. Time slots up to Christmas are booked out, but there is availability for the first week in January.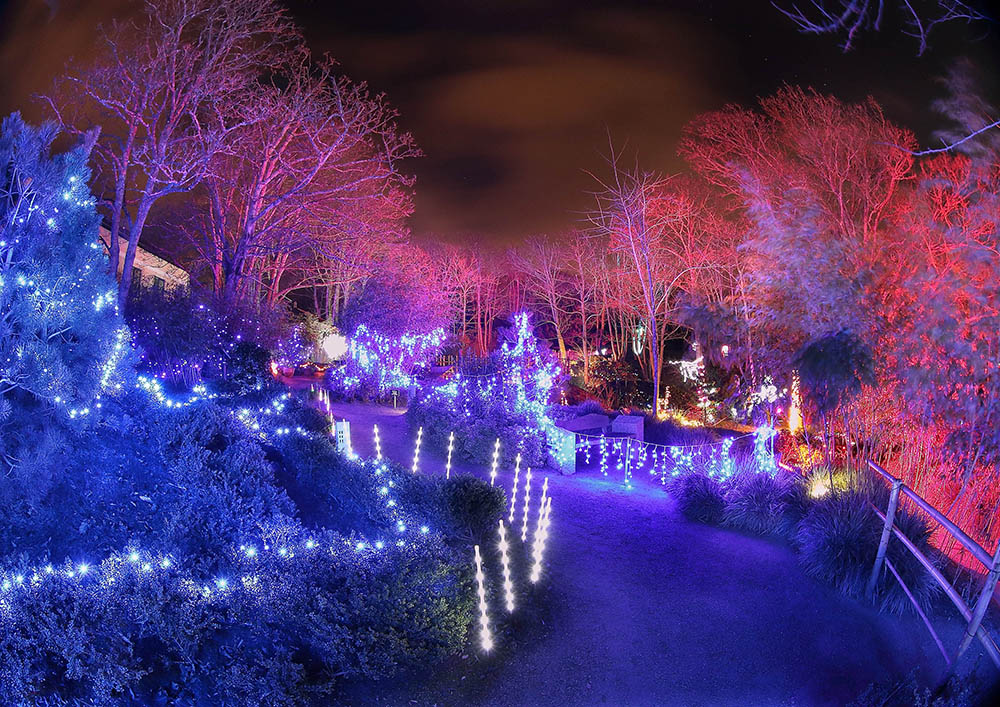 Magical Christmas Experience
Kia Ora Mini Farm | December 3rd - 23rd, 2020
From start to finish, a visit to Kia Ora Mini Farm during the festive season is filled with sparkle and wonder: Thousands of twinkling lights musical light show, live stable of Bethlehem, post your letter in Santa's post box, feed the reindeer and other animals, visit Santa & Mrs. Claus and lots more. Each family has their own private time with Santa Claus who will be behind a screen to help keep everyone safe.
Guinness Storehouse | Dublin | December, Wednesday – Sunday | 2pm – 8pm
For the month of December, the Home of Guinness will be transformed into the ultimate Winter Village, complete with an exciting line-up of local craft makers, artists and much more. In partnership with The Locals, Winter Village at the Guinness Storehouse will play host to Dublin's best artisan craft makers and artists who may not have space to sell their products this Christmas.
To help those shopping for loved ones this Christmas, guests can browse through stalls in search for unique stocking fillers or a festive treat. From crafts and jewellery to prints and quirky cards, apparel and homewares to confectionery and decorations, there is something for everyone. Among those setting up shop across the Winter Village include, Grand Grand, Fresh Cuts Clothing, Jam Art Factory, NIM and Potty Mouth.