Are you looking for things to do in Ireland at Christmas with your children and family?
There are now so many different Christmas events all over Ireland to suit every family interest including pantos, best Santa visits, ice-skating, shows, Christmas markets, tree-lighting and more, that it is hard to know where to start looking.
Also, not every event has to include a man in red, somethings you just want to have fun spending time with your family.
Well, we've tried to make it a little bit easier for you by putting together a handy county guide to some of our favourites taking place over the festive season.
You'd have to have a heart as cold as Scrooge if this list doesn't fill you with the spirt of Christmas.
Ho! Ho! Ho!
The Frozen Princess
Waterfront Hall | Until December 31st, 2019
The icy children's tale of adventure The Frozen Princess Pantomime comes to the Waterfront Studio this Christmas! A story of adventure, friendship and bravery, brought to the stage by the brilliant creative team behind other Belfast pantomimes such as; Beauty and The Beast, Aladdin & Sleeping Beauty.
Live Nativity Scene
Tannaghmore Animal Farm | December 8th - December 29th, 2019
Children discover the real meaning of Christmas with baby Jesus lying in a manger, sheltered with Mary, Joseph and the three Wise Men, complete with real farm animals. The farm has a wide range of animals including Irish Moiled, Dexter and Shetland cattle, Galway and Jacob sheep, award-winning Oxford Sandy, Black pigs along with a large number of poultry and waterfowl. The live manger will be on display every day (except Christmas Day) from 10am to 4pm. and admission is free.
Elves Workshop at Delta Sensory Gardens
Delta Sensory Gardens | December 7th & 8th, 2019
The Elves' Workshop at Delta Sensory Gardens in Carlow has lots going on including facepainting, arts & crafts, games, a selfie with Santa and entrance to gardens to see the lights display.
Sensory Santa Experience at Delta Sensory Gardens
Delta Sensory Gardens | December 14th & 15th, 2019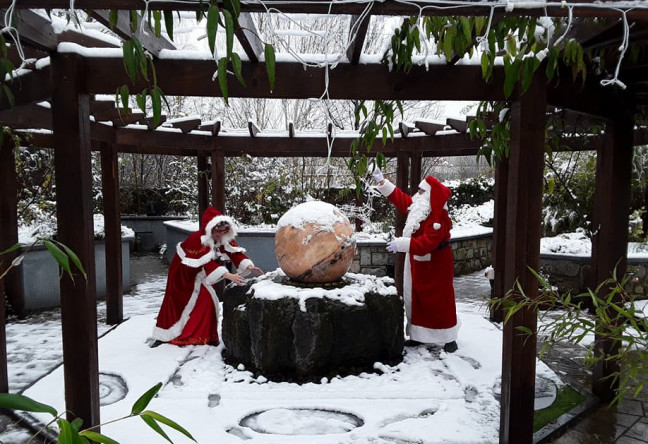 The multisensory unit transforms into an area full of Christmas cheer, but at the same time their experienced staff make it a calming relaxed Christmas Experience for children with special needs, autism and sensory disorders with rooms ull of Christmas spirit devoted to all the senses, soft lights and soothing music, Santa and entrance to gardens to see lights display.
Carlow Christmas Market
Old Perry Building | Nov 30th - Dec1st & Dec 20th - 22nd, 2019
Moving to a new venue on Kennedy Street, this year's event will also take place over two weekends giving all the last minute shoppers another chance to pick up something special.
Competition: Win tickets to Funderland Dublin
Cavan Christmas Dash
The Farnham Arms Hotel | December 26th, 2019
The Cavan Christmas Dash is a charity 5k run/walk in Cavan town and its environs. Over €72,000 raised for local charities across Cavan! Registration on the day opens at 10:30am at The Farnham Arms Hotel and closes at 11:45am and the race stats at 12 noon.
Santa's Workshop
Aillwee Caves | until December 22nd, 2019
Santa Claus has been taking up his annual residence at Aillwee Cave in Ballyvaughan with Mrs Claus and his team of happy elves. Santa ensures a very special personalised visit for each child with plenty of exciting entertainment for all the family including face painting, a puppet show and carnival entertainment.
Mother Goose presented by Pantaloons
Glór Irish Music Centre | December 21st - 31st, 2019
It wouldn't be Christmas without Panto, and Pantaloons – now in their 17th year, have firmly established themselves as a wonderful family tradition in Clare.
This is the story of Mother Goose who, about to be thrown off her land because she cannot pay the rent, gets a gift of Pricilla – the golden egg laying goose – from The Good Fairy. Mother Goose becomes rich, but the Demon King and his Bailiffs are on hand to tempt her with the things she doesn't have – youth and Beauty. Will Mother Goose enter the Fountain of Youth? Will everybody love her?
Ennis Christmas Village
Abbey Street | December 13th - 15th, 2019
The Ennis Christmas Market in 2019 will feature live entertainment, creative crafts, festive food and lots of Christmas cheer all under one Marquee.
Glow Cork Christmas Celebration
Cork | weekend until December 22nd, 2019
Cork City transforms into a festive extravaganza this month as GLOW, the annual Christmas festival returns to the Grand Parade.
Visit the festive installation in Bishop Lucey Park, soar high above Cork on a giant Ferris wheel and indulge in the festive market and entertainment on the Grand Parade.
Jack & the Beanstalk | The Everyman
Everyman Theatre | until January 12th, 2019
Cork's favourite panto is back – and it's full of beans. Oh, yes it is!
When you think of a huge beanstalk, magic beans, a giant and a golden goose – what have you got? This year's panto, Jack and the Beanstalk.
Peter Pan | Cork Opera House
Cork Opera House | until January 19th, 2019
Join Peter, Wendy, Hook, Tinkerbell, Nanny Nellie and many more in a spectacular show packed with amazing colour, fantastic costumes, live music, breath-taking dance, a tonne of belly laughs and lots and lots of pirates and fairies!
Cork on Ice
Mahon Point Shopping Centre | until January 26th, 2019
With a large main rink, a separate kiddies rink and a variety of events throughout the season (e.g. Kids Skating and Student Nights) there is something for everyone to enjoy.
Aladdin
Waterside Theatre | 6th - 18th December, 2019
The Grove Theatre Company return with their traditional style panto combining a blend of song, dance and humour, featuring a talented local cast of all ages.
Santa Express at Oakfield House
Oakfield House | until December 23rd, 2019
Board the Santa Express at the station and enjoy an enchanting train ride through Oakfield's magnificent woodlands to meet Santa and his special helpers. Enjoy a trip on a real train (not a tractor!) on 4.5km of narrow gauge railway via thousands of lights, installations and decorations.
YourDaysOut is a SaaS platfrom that lets you publish and promote your activities and events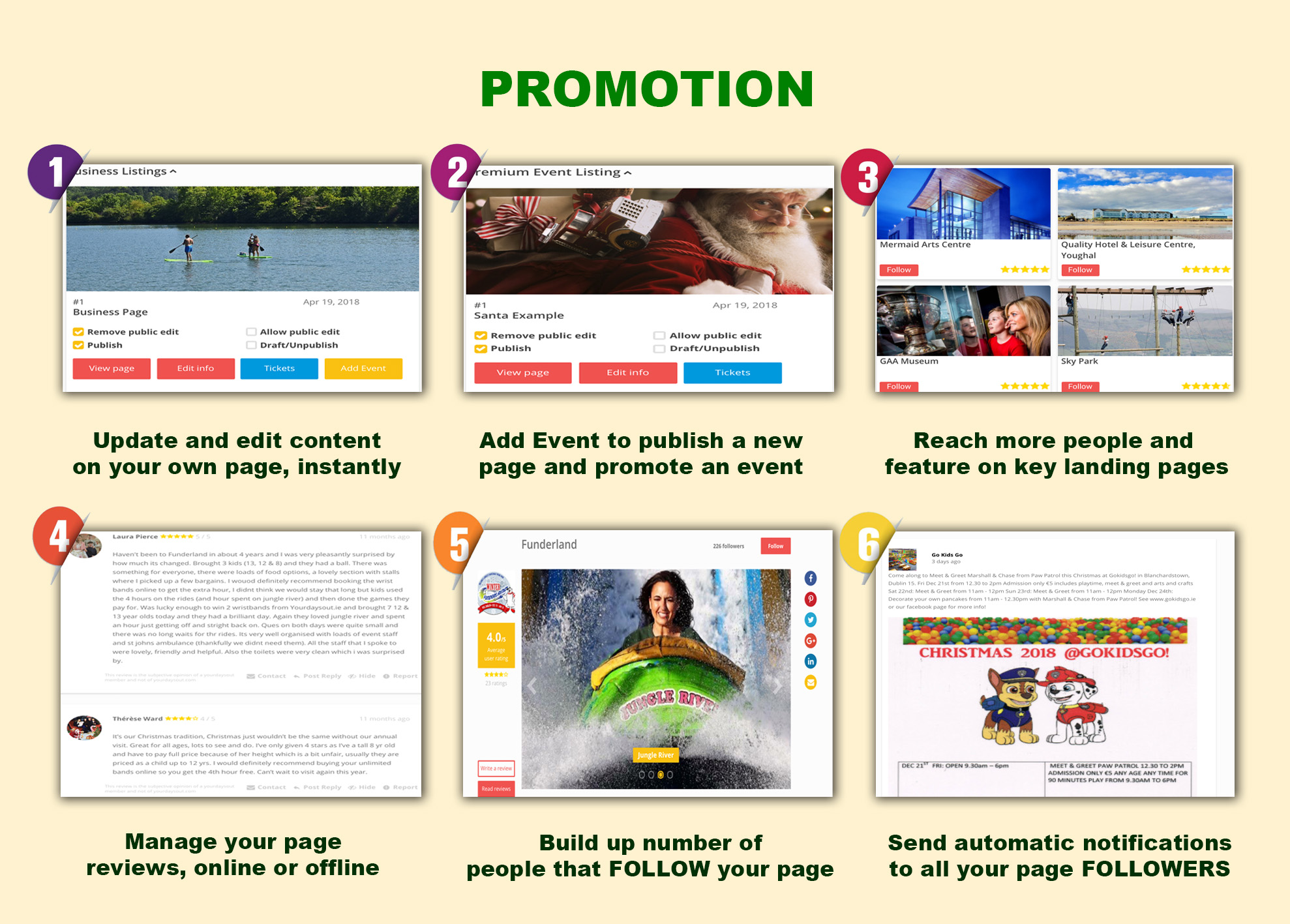 Lapland Express
Downpatrick & County Down Railway | weekends until December 22nd, 2019
Ireland's only full size heritage railway runs a festive Lapland train where you can enjoy a journey on the vintage train, hauled by a steam locomotive, and get a present from Santa in his workshop.
Brunch with Santa | Leisureplex
Leisureplex venues | Sunday December 8th, 2019 | 11am to 2pm
Come and meet Santa at Leisureplex with 1 hour of playtime, delicious Brunch buffet for parents a children and lots of goodies and treats for the little elves. All proceeds will be donated to Children's Health Ireland at Crumlin. Booking essential.
Airfield Estate Christmas Experience
Airfield Estate | until December 23rd, 2019
Airfield Estate will be running their popular Christmas experience until 23rd December. The True Spirit of Christmas Past will be a seasonal experience that reflects the original values of Christmas - family, charity, goodwill and happiness - and embraces and encourages an environmentally friendly festive celebration.
Immerse yourself in the festive atmosphere of the Log Cabin, meet Santa Claus, enjoy stories with the Elves, receive a sustainably sourced gift presented in a reusable cloth bag and lots more festive fun.
Meet Santa at Red Stables
St. Anne's Park | December 14, 15, 20 & 21 December, 2019
Visit Santa at the Red Stables in - in aid of LauraLyn, Ireland's Children's Hospice, with festive facepainting, Olive's Room elves will be on hand to help decorate gingerbread men and The Art Nest will create a festive decoration with each child. Adults are free, booking only for children.
Helix Panto | The Three Musketeers
The Helix | until January 19th, 2020
No festive season is complete without a trip to The Helix Panto! TheatreworX is back with this year's Helix Panto 'The Three Musketeers'. With all the wit, magic and fun that our audiences have come to expect from our hilarious panto!
Draiocht Panto | Robin Hood
Dariocht | January 4th - 19th, 2020
Join in the fun as Sir Robin of Locksley together with his Mother, Lady Rose Bud, draw swords and arrows with the money grabbing Sheriff of Nothingdoing, Sir Guy Sterling. Can Sir Robin rescue Maid Marion from the evil Sheriff? Fun and laughter are guaranteed with Robin's Merry Men, Friar Tuck and his Snoring Monks and the Singing Nuns of Mirth.
Olympia Panto | Cinderella
Olympia Theatre | December 20th - January 4th, 2020
With a glittering Celebrity line-up, traditional Panto values and the funniest script, this year will be as star studded and surprising as ever. There's something for everyone in this magical panto with stars of stage and screen and social media's biggest and brightest including Ryan Andrews, James Patrice, Erin McGregor, Al Foran and directed by Simon Delaney.
Gaiety Panto | Aladdin
Gaiety Theatre | until January 19th, 2019
This is no ordinary panto, it's the Gaiety Panto! An Arabian tale of true love, magic wishes and dastardly dealings, this year's Panto will excite and delight all ages with the extra helping of song, dance, slapstick and laughter that you would come to expect from the Gaiety's festive extravaganza.
NYE Dublin
Dublin | December 31st, 2019
Dublin City is set to light up with imagination and wonder for New Year's Festival Dublin.
Gather in the heart of Dublin with family and friends as iconic landmark The Custom House becomes the centre for NYE Dublin's spectacular countdown to 2020..
Cheerios Christmas Panto | Snow White
Royal Hospital Kilmainham | December 5th - January 5th, 2020
One of the most successful shows every year in Dublin and this year's show promises to be the most spectacular in their new purpose built Panto Dome at Kilmainham Hospital. Written by Karl Broderick, Cinderella features the return of Alan Hughes as Sammy Sausages and Rob Murphy as Buffy and promises a fun and festive family show.
I swear on my hair!
Moon Woke Me Up
The Ark | December 14th - 29th December, 2019
This festive season, escape into space in this fantastic interactive theatrical adventure for ages 3-5 from Little Bigtop in association with The Civic.
Room on the Broom
Pavilion Theatre | 18th December - 5th January, 2020
Jump on board the broom with the witch and her cat in Tall Stories' fun-filled adaptation of Room on the Broom, the best-selling picture book by Julia Donaldson and Axel Scheffler.
The witch and her cat are travelling on their broomstick when they pick up some hitch-hikers – a friendly dog, a beautiful green bird and a frantic frog. But this broomstick is not meant for five and – CRACK – it snaps in two... just as the hungry dragon appears!
Funderland Dublin
RDS | December 29th - January 12th, 2020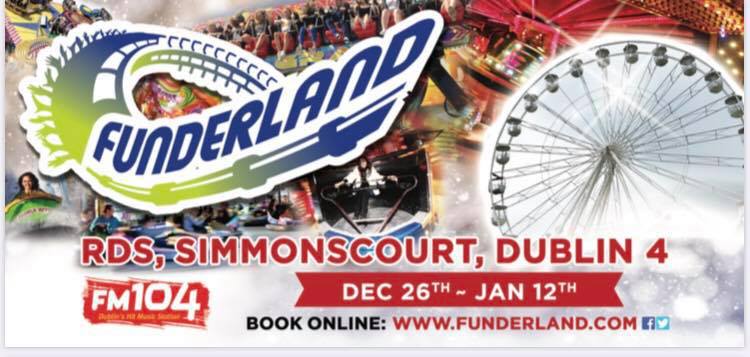 Featuring all the family favourites, Christmas just wouldn't be Christmas without a visit to Funderland in the RDS.
The Moving Crib
Saint Martin Apostolate & Chapel | Until January 5th, 2020
The Moving Crib has been a feature of Christmas in Dublin for over sixty years. Get into the Christmas Spirit with Carols, Gospel and Soul music from the Bray Gospel Choir at the Moving Crib on 15th Dec. FREE Admission!
Santa's Grotto at EPIC The Irish Emigration Museum
EPIC The Irish Emigration Museum | December 14th, 15, 21st & 22nd
Visit for an unforgettable Christmas experience with Santa's Grotto at EPIC The Irish Emigration Museum! Begin your magical journey in the atmospheric vaults of The CHQ Building in Dublin's City Centre. Your family will be welcomed by Mrs. Claus and Santa's elves before meeting Santa in his magical grotto. Tickets include admission to the museum.
Wild Lights at Dublin Zoo
Dublin Zoo | Until January 5th, 2020
Showcasing a brand new theme – Stories, Myths and Legends. With magical scenes from well-known stories like the Wonderful Wizard of Oz, Alice's Adventures in Wonderland, Peter Pan and the Jungle Book…to best-loved nursery rhymes and characters from Irish Mythology – all brought to life by dazzling, giant colourful silk lanterns!
Santa Experience @ Croke Park
Croke Park | November 23rd - December 23rd, 2019
Santa and his elite team of elves from the North Pole are using GAA HQ as their base ahead of the busy Christmas season before starting preparations for the big 'Final' on Christmas Eve.
Blanchardstown on Ice
Blanchardstown | Until January 19th, 2020
Ice skating sessions daily with separate kiddie rink- suitable for all ages and abilities.
National Museums of Ireland
National Museums of Ireland | Until December 31st
Throughout December, you can pop into the National Museum of Ireland - Archaeology or Natural History and complete their seasonal activity sheet or get in a festive mood at the Decorative Arts & History at Collins Barracks by taking the Family Christmas Trail.
Christmas at the Castle
Dublin Castle | December 12th - 22nd, 2019
The historic courtyard of Dublin Castle will be filled with over 30 traditional alpine market stalls, evening carol singing, vintage carousel and, at weekends, horse and carriage rides around the Castle grounds and gardens.
European Indoor Mix Market
Glasnevin | December 8th, 2019
Fun family market where children, family, and friends can meet Santa, buy cookies, gifts, hot food, decorations, cosmetics and get free magic reindeer food.
Festive Fairy Trail
Lusty Beg Island Resort | Until January 2nd
There is unique and magic tree within the grounds of Lusty Beg Island Resort that gives out a daily spray of magic fairy dust. However, Noah, the mischievous fairy, removed the box of dust and hid it somewhere in the grounds.
Can you help?
YourDaysOut is a SaaS platfrom that lets you create and sell tickets online, for less!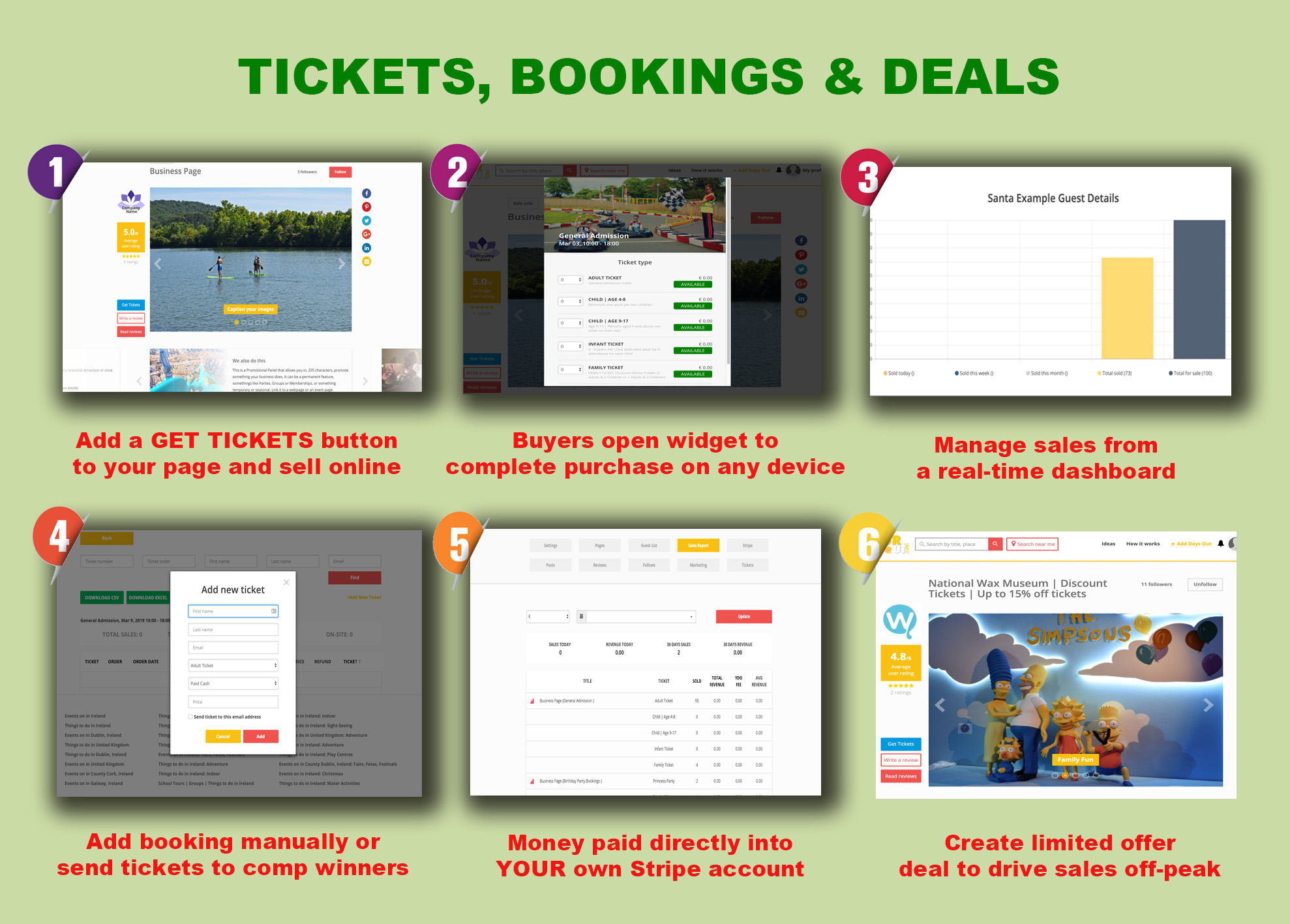 Aladdin
Town Hall Theatre | December 29th - January 12th, 2020
Renmore Pantomime's 41st Annual Pantomime 'Aladdin' will run for 20 performances between Sunday 29th Dec 2019 and Sunday 12th Jan 2020 at Town Hall Theatre, Galway.
Santa's Christmas Magic
Brigit's Garden | 8th, 14th, 15th, 2st1, 22nd & 23rd December, 2019.
Santa and his little elf, Elfalfa, will mesmerise children and their families at Santa's Christmas Magic Show at Brigit's Garden. Mrs Claus will also be in the Garden to add a touch of magic to the Santa Experience. This professional show promises to highlight the real charm and wonder of Christmas.
Christmas Festival
Slieve Aughty Centre | Until January 6th, 2020
A family day out is a great way to escape the busy season rush and get back in touch with the Christmas spirit. Unplug and visit the Enchanted Forest, pet the animals, make some Christmas crafts, try stilt walking or ride the go-karts and go to the playground and lots more.
Santa's Cottage
Milltown, Galway | 14th, 15th & 21st December, 2019
Santa's Cottage offers a traditional experience, full of Christmas spirit, in a warm and friendly atmosphere. It is a voluntary community project set up to provide a magical, affordable Santa experience and at the same time raise funds for local charities. All adults are free, making Santa's Cottage the perfect place to bring all the family and together make memories that will last a life time.
Elf Town
Ballybrit, Galway | until December 23rd, 2019
Santa and his merry band of elves are looking forward to returning to Galway and meeting all the wonderful boys and girls. This year's Christmas experience returns even bigger and better across all four floors with lots of new characters to guide you on your way as well as new exciting additions added, while keeping the best of last year!
Cinderella | INEC
INEC Killarney | January 4th, 2020
This Christmas you shall go to the ball with the spectacular rags to riches family pantomime Cinderella at the INEC Killarney. Brought to you from the creative team behind last year's smash hit Sleeping Beauty and starring George McMahon (Fair City) and RTÉ JR favourites Clara Murray and John Sharpson, Cinderella has all the traditional elements of a fabulous festive outing for all the family.
Christmas at Wallaby Woods
Wallaby Woods, Donadea | Weekends until December 23rd, 2019
Meet the elves, partake in some Christmas crafts, visit with Santa and Mrs Claus, get your pressie, watch a Christmas movie and the farm will also be open as normal.
Lullymore Christmas
Lullymore Heritage & Discovery Park | Until December 23rd, 2019
The 14th annual "Lullymore Christmas" runs until Sunday 23rd where a festive train trip will take you on a magical journey through the ancient woodlands with a memorable visit to Santa and a gift from the busy Elves in their workshop, Christmas Holograms in old style thatched cottage, Crib scene in Early Christian Centre and illuminated walkway to Fairy Bower.
Pantos at The Moat
The Moat Theatre | December, 2019
The Moat Theatre in Naas, Kildare has the Moat Club's Aladdin until December 14th, The Talisman Theatre Company Santa's Fairytale Christmas from 18th to 21st and Smash and Grab and The Seven Dwarfs from December 30th - 11th January.
Woodland Santa
Castlecomer Discovery Park | December 23rd, 2019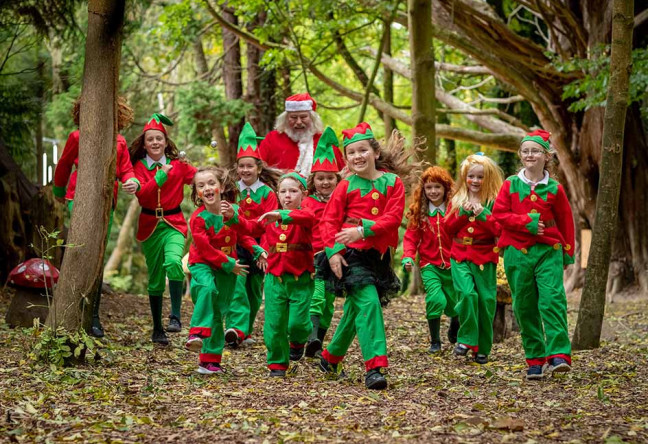 Castlecomer Discovery Park is being transformed into a virtual Winter Wonderland as the countdown to Christmas gets underway. Children and families can look forward to one of the most enchanting experiences on the festive calendar as the renowned Castlecomer Discovery Park unveils its Magical Woodland Christmas Experience.
Jump aboard the Santa Express, experience the magic of thousands of twinkling light displays emerging from the woodlands on your way to the Christmas Village. Once you arrive, you will have time to explore, make a Christmas tree decoration or play in the imaginative playgrounds featuring bouncing nets and a Junior Woodland Adventure Course, or perhaps just wrap your mittens around a hot chocolate.
Families will get to meet Mrs Claus and Santa in their cosy woodland igloos. Only 90 minutes from Dublin, this festive experience will create memories that last a lifetime
Watergate Theatre Panto
Watergate Theatre | January 1st-5th & 8th-12th, 2020
Loosely based on the Disney classic 'Beauty and the Beast' this 'tale as old as time' will warm your heart as you watch one of the world's greatest love stories unfold live at the Watergate!
However, be warned, the panto may have quite a few unexpected surprises!
Kilkenny On Ice
The Hub | January 5th, 2020
With 600 square meters of real ice this years event will be the coolest event this Christmas! Also making a reappearance this year is the very popular Bungee Trampolines and a new attraction, the Mammoth Ice Globes.
Family Christmas Shows
Dunamaise Arts Center | December, 2019
The Dunamaise Arts Center in Laois have a host of family Christmas shows on during December including Santas Fairytale Christmas by Talisman Theatre on December 14th, 'Twas The Night Before Christmas by Branar Téatar on December 17th, A Christmas Carol on December 18th and Elf on December 21st.
Winter Market
Dock Arts Centre | December 7th & 8th, 2019
The annual Winter Market at The Dock will be brim full of gorgeous gifts, yummy food and festive cheer. Start off the season by supporting local craft workers, artists and food makers!
Silent Santa
Breffni Family Resource Centre | December 12th, 2019
This is a special time to visit Santa which is reserved just for children with Autism. There will be less lighting, quiet surroundings and reduced distractions. Booking is required so Santa can give a special gift for each child before he is busy on Christmas Eve.
Aladdin
University Concert Hall | December 16th - January 5th, 2020
Featuring some of the funniest, wackiest characters in pantoland Aladdin at UCH, Limerick promises to transport you to a whole new world this Christmas.
Alice in Wonderland
Lime Street Theatre | December 27th - January 5th, 2020
A tale as old as time – the important message in Beauty and The Beast is never to judge the book by it's cover. Throw in a number of strange and interesting characters with sparkling comedy and high class musical numbers and this year's Panto offering from the Limerick Panto Society promises a great night's entertainment for all the family.
Skate with Santa
Rollerjam Limerick | December 15th, 2019 | 2pm - 5pm
Santa Claus is coming to RollerJam for his annual skate! Santa will meet all the kids on the rink, and parents can take photos of their little ones skating with Santa! There will also be a private meet and greet option available (for a small extra cost), where the child will get to sit and chat with Santa, and receive a special gift.
The Wizard of Longford
Backstage Theatre l 24th-26th January & 31st January-1st February, 2020
You can extend the Christmas spirit with this fun, family pantomime in Longford. A little girl went to sleep one night and woke the next morning to find her world had changed and she was transported to a strange land. You all know the story but even stranger things happen when our characters end up in Longford!
Christmas at Bellurgan Park
Bellurgan Park | until December 23rd, 2019
Bellurgan Park House, with it's original Georgian period features and the halls decked with thousands of sparkling lights, Christmas trees, holly wreaths and ivy from the estate, makes the perfect setting for a traditional Christmas, an enchanting experience for children and adults alike.
Drogheda Christmas Festival
West Street & The Quays | December 6th - 8th, 2019
On West Street visitors can expect to meet Mr. & Mrs Claus, enjoy a fabulous Christmas Market and stunning light show on St. Peter's Church while on the Quays there will be a fabulous Vintage Carousel, a Christmas Cinema, Live Music & Entertainment, a mini Christmas Village and a spectacular Fireworks display on the last night.
Winter Wonderland Westport House
Westport House | Until 23rd December, 2019
Winter Wonderland at Westport House is a magical family experience brimming with Christmas cheer that will leave the kids starry-eyed and the whole family believing in fairy-tales! Soak up the twinkling lights, lush green garlands and tinsel trimmings spilling festively from every corner of Westport House as the little ones enjoy a fun-filled Christmas experience that they are sure to remember forever.
Christmas at Red Mountain
Red Mountain Open Farm | weekends until December 22nd, 2019
Affordable festive family fun with Santa's sitting room, Santa's bedroom a visit the elves' workshop, make a wish in Santa's wishing well, live nativity scene, post a letter to Santa in Santa's giant post box and lots more. All Christmas activities are under one roof, so regardless of the weather, you're guaranteed to have a great time!
Discount Deal: Family of 5 admission to Christmas at Red Mountain for only €12
Tayto Park Christmas Experience
Tayto Park | weekends until December 22nd, 2019
The Christmas Experience includes entry to Tayto Park and the Attractions in the Eagles Nest Adventure Zone, Christmas Movie in the 5D cinema, Christmas themed arts, crafts and face painting, hop on board the Christmas train to visit Santa's Grotto, meet Santa and each child will get a special gift and enjoy storytelling with Mrs.Claus in the Winter Workshop
The Enchanted Forest Santa Experience
The Millhouse, Slane | December 4th - 22nd, 2019
Enjoy a wondrous journey, with magical elves to visit Santa deep in the Enchanted Forest, where you and your family will have a truly extraordinary Christmas Experience full of festive spirit.
Santa at The Ark Playcentre, Puddenhill
The Ark Playcentre | weekends December 22nd, 2019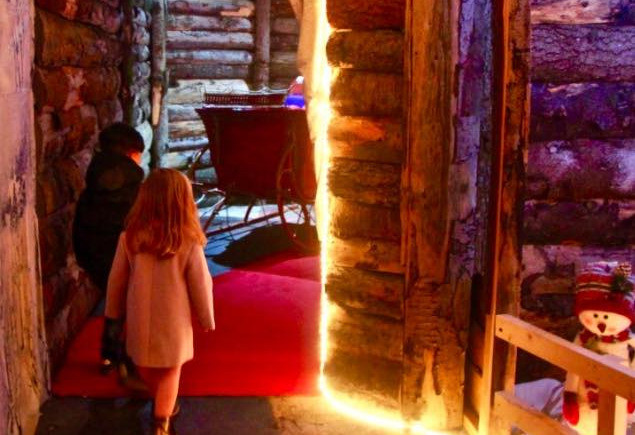 A visit with Santa and Mrs Claus and all the elves with a special present for all the good children. You can also relax and enjoy the festive Christmas atmosphere in the cosy play centre.
Enchanted Forest Santa Experience
Slane | until December 22nd, 2019
Enjoy a wondrous journey, with magical elves, to visit Santa, deep in our Enchanted Forest, where you and your family will have a truly extraordinary Christmas Experience; full of festive spirit.
Iontas Theatre | Snow White
Iontas Theatre | 6th - 11th January, 2020
This coming January, Íontas Theatre teams up with Born2Perform Stage School to bring you timeless classic 'SNOW WHITE' - OH YES IT IS!
Magic of Christmas
Birr Castle Gardens & Science Centre | Until 21st December, 2019
Be greeted and entertained by the Castle elves, before taking a trip to the enchanting Birr Castle where you will find Mrs Claus in the elegant dining room preparing for the big day. Your visit continues in the stunning library where you will meet the man himself… Santa Claus!
Christmas @ Playtown
Playtown, Tullamore | December, 2019
Tullamores multi award winning play centre and creative rooms are open throughout the Christmas holidays with lots of fun and imagination for children of all ages and imaginations, the perfect way to burn off some Christmas energy. They are also hosting a specatular Children's New Years Eve Party at 4pm with games, food, prizes and a countdown and balloon drop.
Santa's Underground Grotto
Arigna Mining Experience | Until December 22nd, 2019
Once again, Arigna Mining Experience comes alive with a festive atmosphere. The visit to Santa in Arigna is a unique, exciting fun-filled day out for all the family with a magical underground Christmas kingdom, traditional nativity scene, Mrs Claus and lots of entertainment.
A Victorian Christmas
Strokestown Park | Weekends until December 22nd, 2019
The annual Strokestown Park Victorian Christmas Experience is back for 2019! There will be lots of festive attractions for all of the family including meeting with Mrs Claus, traditional crafts, hot chocolate and petting animals. The highlight is a visit to Santa in the traditionally decorated library of Strokestown Park House.
Festive Workshops
Lough Key Forest Park | December-January, 2020
Enjoy Christmas activities for 5-12 year old with various workshops at Lough Key including make a beautiful Christmas table centerpiece on December 8th make your own 2020 calendar on 30th December or Science lab with "Planet Science Kids" on January 3rd & 4th.
Santatown
Sligo Folk Park | December 14th & 15th, 2019
Enjoy the Christmas Show specially put on by Santa's Elves and join in storytelling time with none other than Mrs Claus herself. Make your own Reindeer Food to leave out for Santa on Christmas Eve. Write your own letter to Santa and put it in the special post box with deliveries going straight to the North Pole
Santa at Tearaways
Tearaways Pet Farm & Activity Centre | December 21st & 22nd, 2019
Enjoy unlimited playtime in the festive surroundings, book a scheduled visit to Santa and every child gets a selection box. Yum!
Santa's Sensory Grotto
South Tipperary Arts Centre | December 21st, 2019
Santa's Sensory Grotto is designed for children with sensory needs. Experience that important visit in a quiet, non-threatening environment. Due to the limited capacity at this event, booking is essential.
Aladdin | The Burnavon
Burnavon | 4th January, 2020
The Wicked Abanazer is seeking the magic lamp that contains the all– powerful genie, so that it can rule the world! The innocent Aladdin, his brother Washee and their fearsome mother, Twankey intervene and save the day!
Waterford Winterval
Waterford | Until December 23rd, 2019
Events at Winterval include Enchanted Christmas Santa Experience at the Old Postal Sorting Office, the Winterval Illuminates festive lights show, Waterford Eye, Christmas markets, craft fairs, workshops, brand-new interactive Wizards and Dragons exhibition and lots more.
Waterford Panto Society | Cinderella
Theatre Royal | December 6th - 30th, 2019
Waterford Panto Society presents a Forest Load Of Fun in the Theatre Royal this December with their production of 'Robin Hood And The Babes In The Wood'. Featuring all the spectacular lighting, costumes and scenery you have come to expect as well as a full live band, up to date pop numbers and guaranteed family fun - this is one show you will not want to miss this Christmas season.
Enchanted Garden Winter Light Festival
Lafcadio Hearn Japanese Gardens | December 6th - January 5th, 2020 | Wed-Sun 5pm - 8pm
The Enchanted Garden Winter Light Festival is fast becoming one of the most stunning light displays in the country. This amazing winter wonderland at the Lafcadio Hearn Japanese Gardens, Pond Road Tramore runs until January 5th. The Enchanted Garden inspires the imagination of adults and children and includes a visit to the Winter Fairy in her magical dome.
Green Santa | Belvedere House
Belvedere House & Gardens | weekends until December 22nd, 2019
Enjoy a flavour of Christmas' past with natural decorations on the grounds of the estate, 160 acres of parkland and playgrounds, make a wish in the Magical Fairy Garden and meet Santa in his Grotto. The Green Santa may be based on the Santa of Victorian times but he has the usual accessories including boots, belt and beard and each child will receive a natural gift of a potted Holly Tree, a Wild Flower seed shaker with instructions for planting and the customary Victorian Candy.
Santa at Mollies
Mollie Moos Pet Farm |weekends until December 22nd, 2019 | 1- 5pm
Feed the animals, hold some rabbits, meet the face painting elves and visit Santa, while the grown-ups can enjoy some mulled wine and mince pies.
Santa at Wells House
Wells House | daily until December 23rd, 2019
Visit Santa in the beautiful setting of the Great Hall of Wells House this Christmas and be sure to create precious memories for you and your loved ones. You will also meet Mrs Claus and the Wells Elves who are busy making toys in their workshop. Decorate your very own Christmas Bauble to take home and enjoy a yummy hot chocolate!
Cinderella
National Opera House | December 27th - 30th, 2019
This Christmas you shall go to the ball with the spectacular rags to riches family pantomime Cinderella at the National Opera House.
Brought to you from the creative team behind last year's smash hit Sleeping Beauty and starring George McMahon (Fair City) and RTÉ JR favourites Clara Murray and John Sharpson, Cinderella has all the traditional elements of a fabulous festive outing for all the family.
Magical Christmas Experience
Kia Ora Mini Farm | December 7th - 23rd, 2019
From start to finish, a visit to Kia Ora Mini Farm during the festive season is filled with sparkle and wonder: Thousands of twinkling lights musical light show, live stable of Bethlehem, post your letter in Santa's post box, feed the reindeer and other animals, visit Santa & Mrs. Claus and lots more.
Christmas Island
Hidden Valley | November 23rd - December 23rd, 2019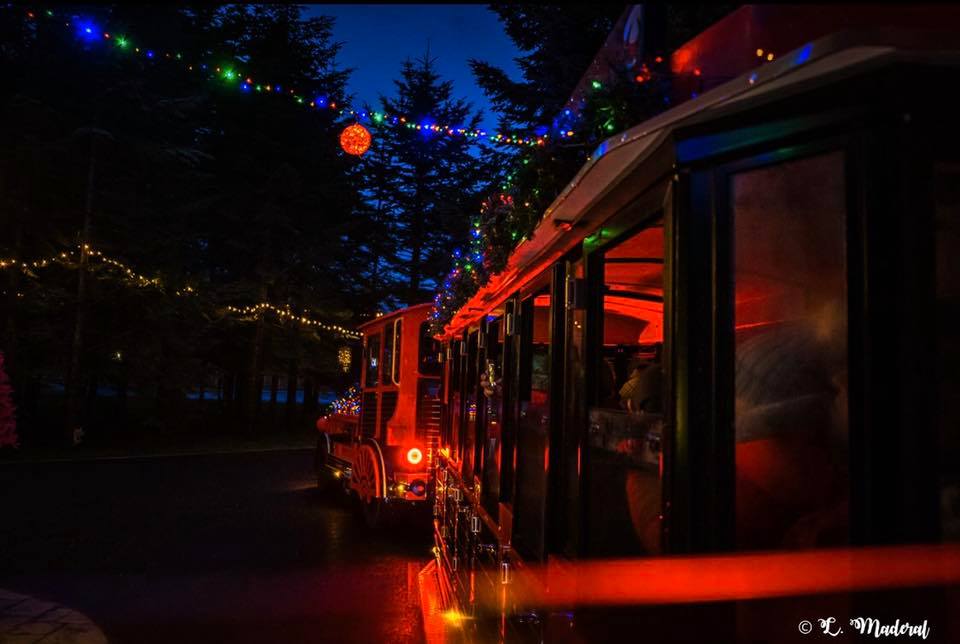 Your experience will include an exciting journey on The North Pole Express, a trip to Christmas Island where you'll meet the Elves who will try to bring out your creative side and also your wild side with a bit of singing and dancing.
You will then visit with the mischievous elves before you head into their new secret portal to visit the big man himself in Santa's Grotto.
Circus Panto | Cinderella
Rathwood | December 28th - January 4th, 2020
For the first time ever in Ireland, Circus meets Panto. Experience the theatrical high jinks of the Panto, combined with the thrill of the circus in Rathwood's very own production of Cinderella.
Wilde Christmas House Tour
Russborough House | November 30th - December 22nd, 2019
Russborough is transformed this Christmas into a Winter Wonderland inspired by Oscar Wilde's Stories for Children. The Happy Prince, The Selfish Giant and The Nightingale and the Rose all feature as you enjoy a festive adventure through Russborough's elegant interiors, specially tailored for the youngest yuletide visitors.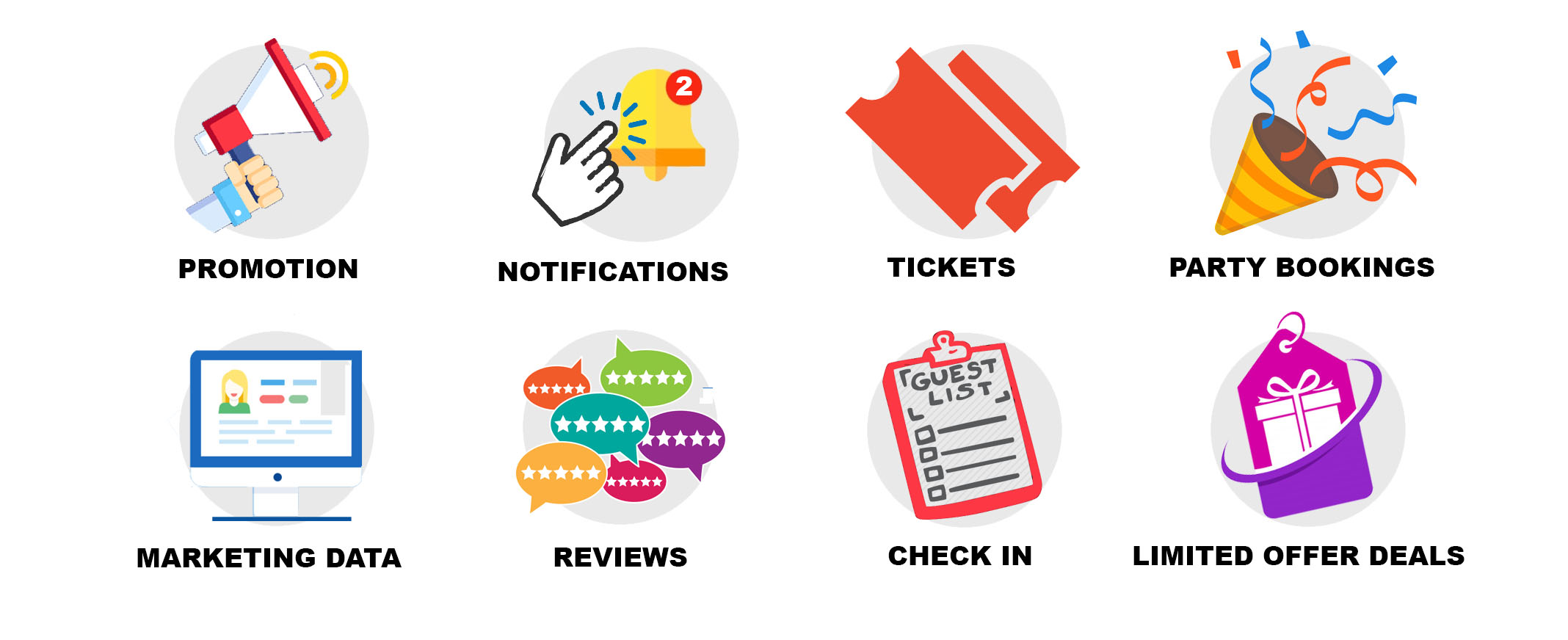 Read Next