The Round Tower | Clondalkin
3 followers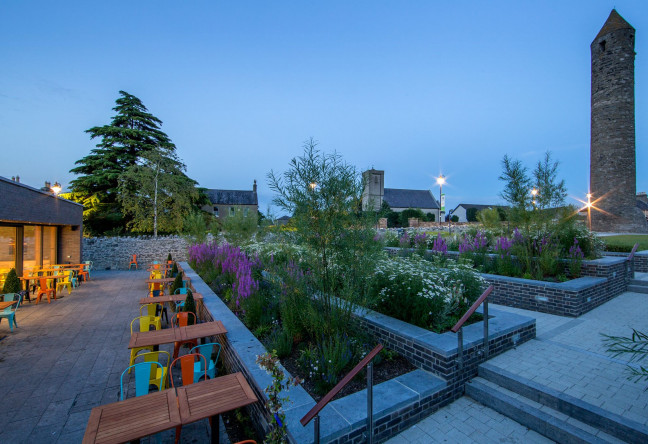 Clondalkin Round Tower, Tower Road, Clondalkin, Dublin, Ireland
Mon–Thurs: 09.30 – 16.30 | Fri – Sun: 09:00-18:00
Suitable for:
Facilities:
The Round Tower is an Interactive Visitor Centre telling the story of over 1000 years of Clondalkin's history and Heritage.
Clondalkin Round Tower is about 1000 years old. It was built in the centre of an early medieval monastery, which was originally founded by St Crónán Mo-Chua in the late 600s or early 700s.
No one knows for certain why round towers were built or what they were used for. But most likely, they were mainly used as bell towers.
The tower is 27.5 meters high and just four meters wide at the bottom. Like others around the country, Clondalkin Round Tower has a raised doorway and four windows at the top, which face towards the four compass points: north, south, east and west.
Inside there were once six floors, which were all connected with ladders. There are now five floors, and the original openings for the door and windows all survive.
Exhibition
The Round Tower Exhibit is suitable for all ages, the interactive multimedia exhibition tells the story of over 1,000 years of Clondalkin's history and heritage. The exhibition delves into Clondalkin's medieval origins from the foundation of St Crónán Mo-Chua's monastery to revealing intriguing clues to the town's Viking past.
There is lots to see and do, touch and feel, including an exciting multiscreen animated film experience where visitors can experience a whirlwind tower's-eye view of the dramatic and colorful history of Clondalkin.
Discover what life was like in Clondalkin during the 1800s, when the visitor centre buildings were originally constructed. Find out what makes the round towers of Ireland unique, and have your say about what you think makes them so special. Have a go at building your own round tower, dress up in costume and imagine what Clondalkin was like in days gone by.
Cafe
In addition to the fantastic Round Tower Café and food store, there is a beautiful herbaceous gardens with a stunning outdoor dining area. And, to top it all off, Clondalkin is home to one of Ireland's most unique historical and cultural features, the mighty Round Tower!
School Tours
The Round Tower Education and Interpretation Centre is an ideal venue for school tours, combining fun with education to make an ideal day out! Free historic guided interactive tours can be arranged. There is lots to see and do. Meet exciting characters, build your own Round Tower, or dress up in costume and imagine what Clondalkin was like in days gone by.
Gardens
The Round Tower's landscaping and planting at the Visitor Centre is inspired by the cultural and historical significance of the site. It alludes to the past in terms of its narrative and planting, while also serving a functional purpose in the life of modern-day Clondalkin.