Joey's Play Centre
4 followers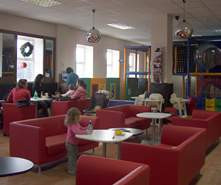 1st Floor, Naas Town Centre, Sallins Rd, Naas, Co. Kildare, Ireland
Monday - Saturday: 9:30am - 5:00pm; Sunday and bank holidays: 1:00am - 5:00pm
Suitable for:
Facilities:
Joey's is the first of it's kind in Ireland. An urban play centre with state of the art facilities focussing on young families, where the needs of the parents are taken every bit as seriously as those of the children.
We want to provide a venue where the children can have the best of fun, within sight of mum and dad, while you can sit back and relax for a while with a decent cup of tea or coffee and the paper.
Babies and Toddlers
• Padded soft play area within easy view - giving you the opportunity to engage with your little one or watch from an arms length.
• Weekly singing classes (see schedule)
• Food preparation area including bowls and cutlery as well as microwave and bottle warmer.

Over 3's
• Playframe
• Fun, interactive games
• Reading area
• Weekly activities e.g. music and painting classes (see schedule)
• Healthy food/drinks
Over 5's
• Playframe
• Interactive games
• Weekly activities, e.g. arts and crafts (see schedule)
• After school/holidays activities and events
• Reading area
• Internet access (access & content controlled)
• Healthy food/drinks