Wexford Swimming Pool & Gym
1 follower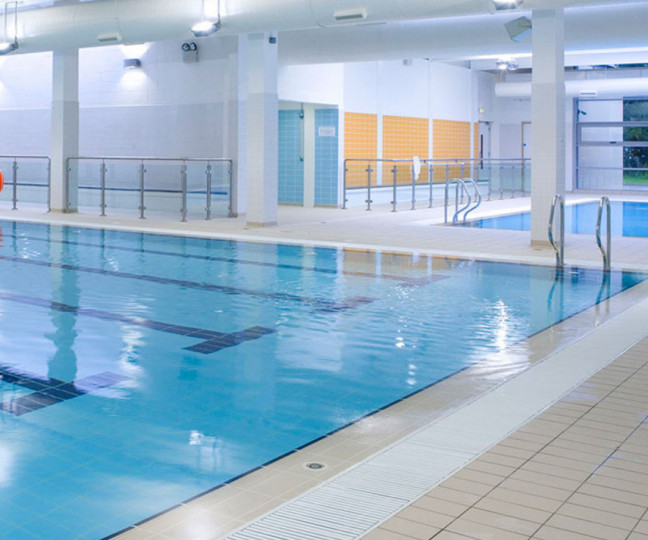 Ferrybank South, Co. Wexford, Ireland
Mon-Fri: 09:00-21:00; Sat-Sun: 11:00-17:45
Adult
- EUR 5.00
Child
- EUR 4.00
Suitable for:
Facilities:
Wexford Swimming Pool & Gym boasts the only 25m, 5 lane pool in the town with depths varying from 1m to 1.8m which makes it the perfect location if you are up for some serious swimming or just wanting to splash around with the kids.
We also sport a 10m learner pool especially for those small children and/or nervous beginners. With depths of only 0.6m-0.9m and a temperature of 29°C this pool becomes the perfect location to bring small children or just to get used an aquatic environment.
A Sauna and Steam Room are also available to those over 16 upon entry to the pool.
Our promise to you is to guarantee fully qualified lifeguards on deck at all times to assure your safety and answer any questions you may have regarding our facilities or your time spent with us.
Wexford Swimming Pool and Gym offers a pay as you go option as well as block tickets and memberships.
We often have promotions running so please be sure to visit our special offers page to ensure you don't miss out. Our wonderful facilities are available to the public between the hours of 9.00 a.m. and 9.00 p.m. Monday to Friday and 11.00 a.m. to 5.45 p.m. at weekends and bank holidays.
Parent & Toddler
Wexford Swimming Pool & Gym offer parent & toddler classes for children from 6 months up to 3 years of age.
Parent and toddler is an interactive class where the parent is in the water with the child and the instructor. Our class aims to provide the parent with the information and skills needed in a fun and relaxed manner in order to give their child the best possible introduction to the water.
Parents will be shown, by our fully qualified and experienced instructors, the best ways to hold and support their baby in the water while reassuring the child.
The parents will be taught the best ways to introduce leg movements and getting the child comfortable on both their front and back. The class aims to build both the parents and child's confidence in the water.
Alongside of learning new skills the class is also a great social experience for both the parents and the children.
Parents get to meet and chat to other parents and the instructor about improving their child's water confidence and the children get to interact with each other in an aquatic environment.
Time & Day: Mondays 10.30 a.m Duration: 30 minutes Cost: €6