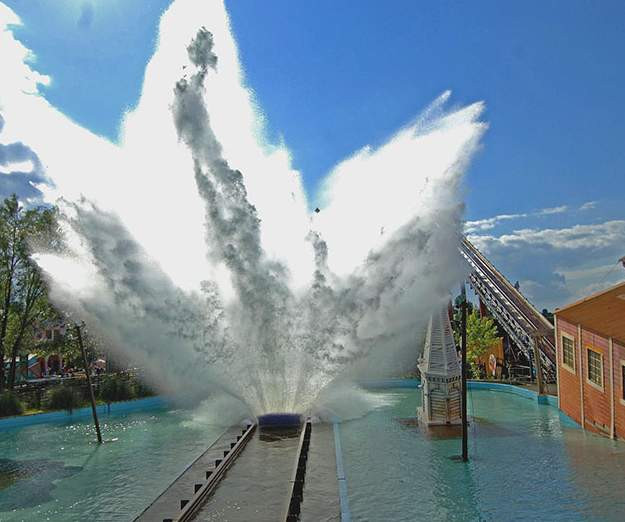 THORPE PARK Resort, Staines Road Chertsey KT16 8PN
Mon-Sun: 9:30 am - 6:00 pm
Suitable for:
Facilities:
One of the first theme parks in the UK, THORPE PARK is located in Surrey, near London, and features the new ride Colossus, with 10 inversion
THORPE PARK is split into themed areas: Port & Basecamp, Amity Beach, The Jungle, Old Town, Lost City, Swarm Island, Angry Birds Land and Thorpe Junction.
With over 30 thrilling rides, attractions and live events, THORPE PARK Resort is an island like no other and the UK's must-visit destination to share endless fun with family and friends.
NEW for 2016, get on board a world's first, as Derren Brown's Ghost Train arrives this season at THORPE PARK Resort.
Prepare to derail your mind on a Ghost Train reinvented for the 21st century that will leave you questioning where perception ends and reality begins. Crafted by the master of mind control Derren Brown, this one-of-a-kind 13-minute experience promises to blow your mind by fusing five multi-sensory experiences of grand illusion, live action, next generation technology, 4D special effects and physical transit.
Then fly into ANGRY BIRDS LAND, home to the world's first ANGRY BIRDS 4D experience, where the feathered flock roost on the 100ft rapid drop tower ride Detonator, while Red Bird and the Bad Piggies go bump to bump on a classic dodgems attraction.
Enjoy world-class rides such as the UK's first winged rollercoaster THE SWARM, Stealth, one of Europe's fastest and tallest roller coasters, and the 100ft 'beyond vertical' drop of the movie themed coaster SAW-The Ride. PLUS five water rides including the super-soaking Tidal Wave, Storm Surge and Logger's Leap guarantee the thrills and fun.
And after an action-packed day at THORPE PARK Resort why not stay and chill at the THORPE SHARK Hotel, featuring 90 bite-sized rooms only a fin away from all the action.