Gulliver's Land
0 followers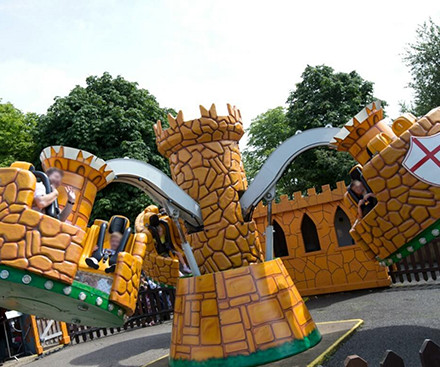 Livingstone Dr, Milton Keynes MK15 0DT, UK
School Holidays & Weekends 10:30 - 17:00
Suitable for:
Facilities:
Best Family Day Out in Buckinghamshire
Looking for a family fun - filled day out for you and your little ones?
With over 70 attractions including rides and shows to enjoy each day, Gulliver's Land is without doubt one of the best value kids' days out in the UK.
Unlike most other theme parks in the UK, Gulliver's caters especially for younger children.
This means that if you are looking for great days out for toddlers and youngsters, then we are the park for you. We're a family-run attraction, designed for families with children aged between 2 to 13.
From the Runaway Train in Discovery Bay to the Jungle River Ride and classic Dodgems there are plenty of exciting rides to ensure that all the family have a fun day out.
There are also a number of rides designed for the Under 5s, as well as shows!
We take pride in giving you great value for your money and it's worth following Gully Mouse on Facebook and subscribing to our exclusive online special offers.
To ensure that you have an affordable family day out, our guests are welcome to bring their own lunches to enjoy in our picnic areas.
On top of this, parking in our park is completely FREE.
Book online in advance for the cheapest tickets!
Christmas at Gulliver's
Celebrate Christmas at Gulliver's this year and book one of our fantastic festive packages.
We'll transport you into a winter wonderland with our great selection of Christmas rides, shows and attractions throughout the theme park.
Look out for some festive favourites returning this year, including the popular Elf School.
Don't miss the chance to become an honorary elf or come and visit Mrs Christmas' Kitchen for the chance to cook up some delicious treats.
Children's Birthday parties at Gulliver's
Here at Gulliver's we've been making children's birthday party dreams come true for over 35 years!
With so many birthday party experiences on offer, whatever your child is mad about, we'll have the birthday party that suits them perfectly!
Theme Park Parties!
For the most memorable birthday party experience, our theme park parties include all the great rides, attractions and shows plus special birthday activities, a party tea and a guest appearance from one of the Gully Gang!
Parties from just £8.50 per child - Up to 20 adults FREE* - Loads of optional extras and treats to choose from!
*Number of free adults ranges from 0 up to 20, depending on the party type