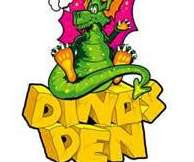 Dinos Den at Comber Leisure, Castle Street, Comber, County Down, BT23 5DY
Weekdays: 9:00am - 10:00pm; Saturday 9:00am - 6:00pm; Sunday: 1:00pm - 6:00pm
Suitable for:
Facilities:
Dino's Den has exciting activities including slides, a biffbash forest, ball juggler, climbers, roller squeeze and log ramp - a great way to thrill and amuse toddlers to ten year olds.
Dino's Den includes a seating area for parents or guardians to relax while children enjoy independent play in a safe environment.
Come and relax while the children amuse and tire themselves out.