And Patrick came to Howth
0 followers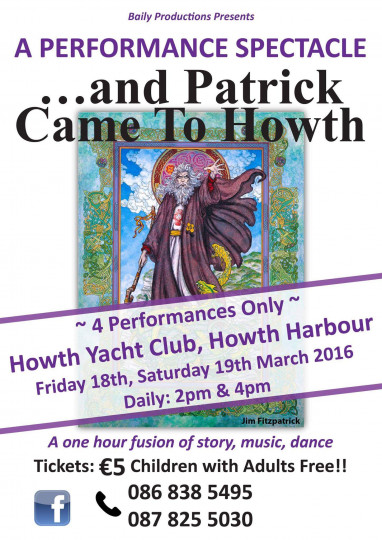 Howth Yacht Club, W Pier, Howth, Co. Dublin, Ireland
Mar 18, 2016 2:00:00 PM - Mar 19, 2016 6:00:00 PM
Suitable for:
Facilities:
The Communities of Howth and Baldoyle have joined together in this entertaining production to mark the 1916 celebrations on our peninsula. Special thank you to Heidi, and her team at 'Baldoyle Forum Ltd' for facilitating and supporting this exciting venture. We also welcome the support of the Baldoyle Men's Shed team for their skilled craftmanship in making our props.
This time Patrick arrives into the luxurious interior of the HOWTH YACHT CLUB, out of consideration for the 21st Century inhabitants who may be washed out of it on Howth Harbour next week.
FRIDAY 18th. and SATURDAY 19th of MARCH at 2.00 PM and 4.00 PM. A total of 4 performances only with limited seating.
Booking strongly advised.
Cover charge only-€5 per Adult, with accompanied Children free of charge.
Bookings at 086 838 5495