Car Free Day 2019
0 followers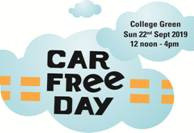 College Green, Dublin, Co. Dublin, Ireland
Walking & Hiking
,
Interactive Exhibits
,
Cycling
,
BMX
,
Bike Hire
,
Guided Tour
,
Fair
,
Fitness Classes
,
Family Fun
,
Sport Activities
,
Exhibition
,
Talks & Discussion
,
Visual Stories Available
Sep 22, 2019 1:00:00 PM - Sep 22, 2019 5:00:00 PM
Suitable for:
Facilities:
Walk with us this year as part of European Mobility Week
On Sunday the 22nd of September, College Green will go car-free as part of European Mobility Week, which runs from the 16th to the 22nd of September 2019. From 12pm to 4pm, College Green will be closed to motorised traffic to demonstrate the environmental and health benefits of a more sustainable urban mobility culture.
The theme of this year's European Mobility Week is "Safe Walking and Cycling", which focuses on the importance of walking and cycling and the positive impacts they can have on our health, our bank balance and our environment. This is a free event for the whole family with lots of fun activities, including e-bike and cargo bike demos, Spokeswoman cycle tour, and a live BMX stunt show.
Attendees will also have an opportunity view a photo display of the changing city landscape, as well as taking part in Mindful Walking and Sculpture Building with The Dublin Culture Company.
Car Free Day is a FREE family event brought to you by Dublin City Council.
What: Car Free Day on College Green
When: Sunday 22nd September 2019
Time: 12:00pm – 4:00pm
Where: College Green, Dame Street
Admission: FREE
For more details visit our Facebook page Car Free Day Dublin