Full Moon Walk
0 followers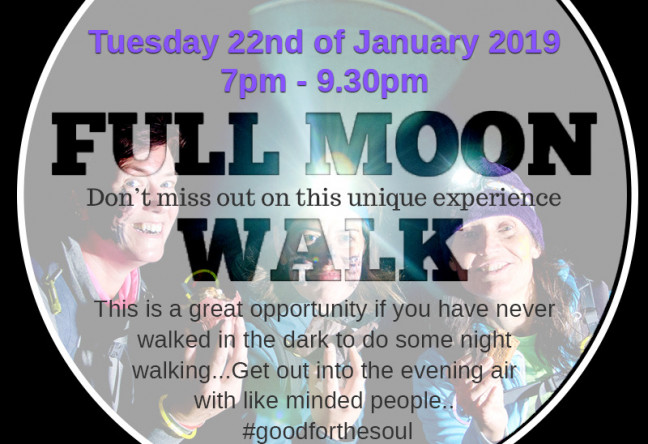 Lone Field, Kilmashogue Ln, Rathfarnham, Dublin 16, Ireland
Feb 19, 2019 7:00:00 PM - Feb 19, 2019 9:30:00 PM
Suitable for:
Facilities:
Date: Tuesday 19th of February 2019
Time: 7pm - 9.30pm
Location Meeting Point: Meeting at Kilmashogue Forest Car Park (Click here for Google Link to location)
Pre Book Essentail - Book here (https://www.cpadventure.ie/product/full-moon-walk-feb-19/)
Our Full Moon Walk is an excellent opportunity to get out in the evening time with a group of like minded people. To see the beautiful landscape by the light of the moon. To lift the spirits and help follow through on positive plans made for the year. Have the chats and the laughs with us....
The walk is approx 2.5 hr and suitable for most levels of fitness (A certain level of fitness is required..)
There will be uphills but at a leisurely pace. Don't forget - for every uphill there is a downhill!
This is a great opportunity, if you have never walked in the dark to do some night walking.
Don't miss out on this unique experience.
What to bring
Walking boots / Walking shoes or Good trainers
Water
Raingear
Extra layer (We will be on open top at some stage and exposed to the cold elements. Hats, Gloves, extra Layer)
Snack
Camera
Meeting at: Meeting at Kilmashogue Forest Car Park