Ghosts of Dublin: Night Walk
0 followers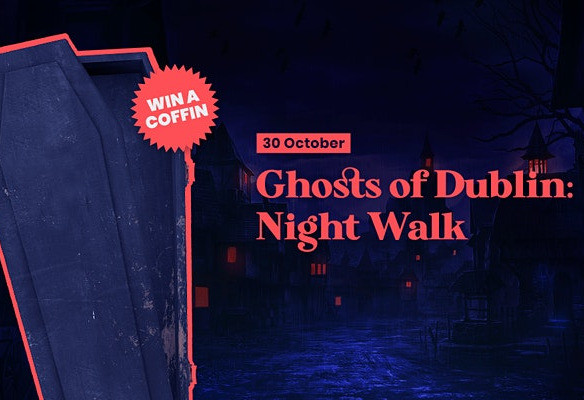 National Museum of Ireland - Archaeology Kildare St Dublin 2 Ireland
Oct 30, 2021 7:30:00 PM - Oct 30, 2021 12:00:00 AM
Suitable for:
Facilities:
Join the world's biggest ghost hunt and visit the most haunted places in town, hand-picked to deliver your worst nightmare.
The world's most popular haunted city exploration games are now coming to Dublin after delivering chills in cities all around the world.
Learn the terrifying true stories behind places you've never noticed and be gobsmacked by the true histories of places you see and visit every day.
All this while solving bespoke puzzles, riddles, and cryptic codes that will test your nerves and wits at every step.
Try to keep your hair on through the fear and join this uniquely dark event.
Don't forget to bring that mate who's scared of everything for an experience they won't forget!
This is an interactive activity where you will be guided by an award-winning app.
Step 1: Book your spot here
Step 2: Download the app for free
Step 3: Arrive at the set starting location
Step 4: Follow the simple instructions in the app which will take you to each haunted hotspot
Date and time: 7:30 PM, October 30
Duration: it usually takes about an hour and a half to complete, but you can go at your own pace, too.
Starting location: National Museum of Ireland - Archaeology
Safety: this event is all-outdoors and doesn't involve contact with people, but please follow your local COVID-19 guidelines.
Find more information in your booking confirmation email.
More than 20.000 people have hunted ghosts with us before. Are you ready to be the next hunter?