Super Milk Wild Air Run
1 follower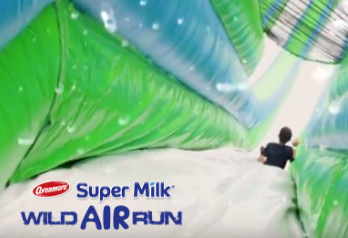 Malahide Castle Malahide Demense, Dublin Rd, Malahide Demesne, Malahide, Co. Dublin, Ireland
Adventure Centre
,
Fitness & Gym
,
Show
,
Bouncy Castle
,
Assault Course
,
Fitness Classes
,
Adventure Playground
,
Family Fun
,
Running Race
,
Sports Event
,
Sport Activities
,
Inflatables
Jul 7, 2018 11:00:00 AM - Jul 7, 2018 4:00:00 PM
Jul 8, 2018 11:00:00 AM - Jul 8, 2018 1:20:00 PM
Adult
- EUR 25.00
Child
- EUR 15.00
Family
- EUR 66.00
Suitable for:
Facilities:
Super Milk Wild Air Run is an award-winning family fun run that features 10 of Europe's biggest inflatable obstacles as part of a 5K course. 2018 brings new features such a water guns to the course. Each runner gets a powerful foam water gun, which they take home, to complete new fun tasks around the course, and of course, to give each other a soaking.

At the Super Milk Wild Air Run the focus is on fun. From fitness fanatics who will find the run a genuine challenge, to the armchair athlete and everyone in between who will enjoy things at a more relaxed pace. The 10 massive obstacles combine agility, creativity and a vast amount of fun. While spraying your fellow competitors with the free water gun, you will be faced with tasks to earn your 'winners wristband'.

Tickets for Super Milk Wild Air Run are on sale at www.wildairrun.com. Early bird tickets are NOW on sale at €25 for adults and €15 for children. Family tickets (€66) and group rates are also available. Spectators can cheer from the side-lines for free. For more information and to buy tickets visit www.wildairrun.com.