The Eatyard Crisp Festival
0 followers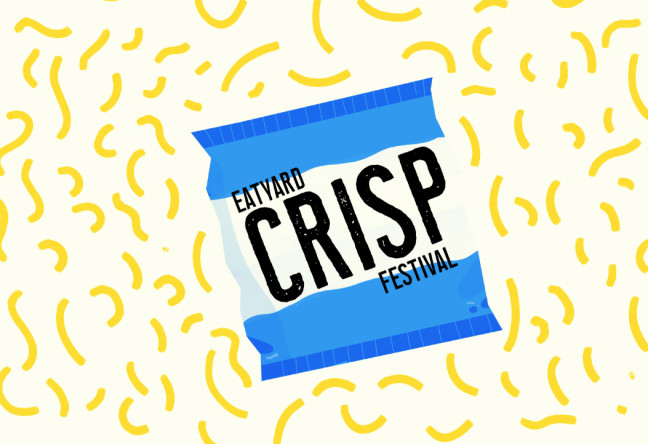 Eatyard, Richmond St S, Saint Kevin's, Dublin, Ireland
Jun 14, 2018 1:00:00 AM - Jun 17, 2018 1:00:00 AM
Suitable for:
Facilities:
Why didn't we think of this before?
Where: Eatyard + The Bernard Shaw, 9-10 South Richmond Street, Dublin 2
What: The BEST Crisp Menu Ever featuring all your old favourites
Tayto – Hunky Dorys – O'Donnells – King – Chikatees – Chipsticks – Waffles – Snax – Mighty Munch – Johnny Onion Rings – Waffles – Wheelies – Meanies – Rancheros – Skips – Hula Hoops – Hot Lips – Onion Rings – Burger Bites – Banshee Bones – Bacon fries – Scampi Fries – Keoghs – McCoys – Quavers – Wotsits – Discos
Open Gate Brewery's latest range of tasty beers including the juicy Open Gate Citra IPA (5% ABV), the zingy Open Gate Pilsner (4.5% ABV) and the full flavoured, non-alcoholic lager Open Gate Pure Brew
Crisps + Cans (together at last) with cans of juicy Open Gate Citra IPA (5% ABV)
Brennans Bread Crisp Sambo Station
O'Donnells Spin The Wheel
Hunky Dory Cheeky Chipper
Crisp_London – Gourmet fresh made crisps
Packets – A Crisp Art Exhibition by Bex Nally
Crisp inspired Cocktails
Tayto Vs King – A serious debate
Crisps specials from our Eatyard vendors
Loads & Loads & Loads of crisps
Plenty more stuff TBA
How much? Free entry, but you can buy e10 tickets in advance too.
What does ticket get you?
Guaranteed entry to event. Its free anyway, but a ticket means you get in quickly and fast and you also get a can + packet of crisps on arrival AND e10 worth of Eatyard vouchers (our currency). 1 voucher = 1 euro worth