Women's Tours at Glasnevin Cemetery Museum
0 followers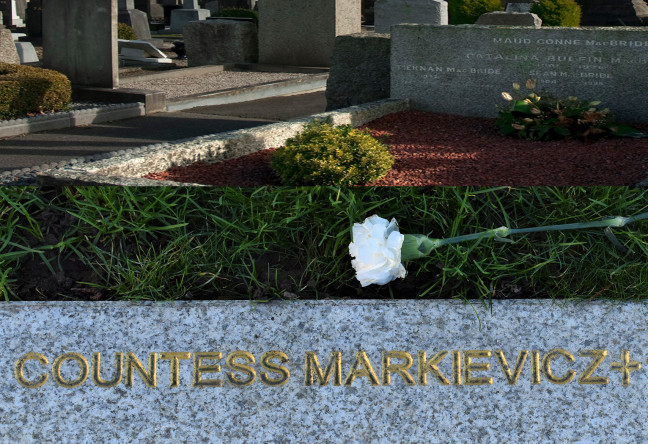 Heritage Building, Finglas Rd, Botanic, Dublin 11, Ireland
Sep 29, 2019 3:00:00 PM - Sep 29, 2019 4:30:00 PM
Oct 27, 2019 2:00:00 PM - Oct 27, 2019 3:30:00 PM
Nov 24, 2019 2:00:00 PM - Nov 24, 2019 3:30:00 PM
Adult
- EUR 13.50
Child
- EUR 10.20
Family
- EUR 36.00
Suitable for:
Facilities:
Last Sunday of every month at 2:00pm (June-November)
We will be hosting tours which focus on the legendary women who played a pivotal role in shaping Irish culture and history to whom Glasnevin is home to.
On this tour, you will hear the stories of some of the following incredible women:
Maud Gonne Mac Bride – Maud Gonne joined the IRB (Irish Republican Brotherhood) and founded a women's republican movement – Inghindhe na hÉireann (Daughters of Ireland). She organised relief during the War of Independence and assisted republican prisoners and their dependants during the Civil War. She was imprisoned in 1923 and released after going on hunger strike. In 1938, she published an account of her early life, A Servant of the Queen. She died in Dublin in 1953.

Delia Larkin – Delia was the younger sister of the famed Trade Union leader, James Larkin. She played a pivotal role in the development of the Irish Women's Workers' Union, and during her lifetime she worked hard to earn equal pay and the right to vote for women. During the 1913 lockout she took charge of Liberty Hall and arranged for 3,000 children to be fed every morning. After the lockout, many women were not reinstated in their jobs. Larkin turned them into a theatrical troupe and went with them on a tour around Europe.

Charlotte Despard – Despard was born in Kent in 1844. In 1910, she moved to Ireland. She met Ghandi the year before and was impressed with his theory of passive resistance. Despard founded the Women's Franchise League with Hanna Sheehy Skeffington. She also encouraged suffragettes to boycott the 1911 census. She supported the workers during the lockout of 1913. In 1914 when war broke out, she refused to become involved in the arms recruitment campaign. Ironically her brother was Chief of Staff of the British Army. During the 1920s when her brother was Lord Lieutenant, she joined Sinn Féin. She joined Hanna Sheehy Skeffington on a tour of the Soviet Union in 1930 and was inspired to become a communist after that. She died in 1939.

Madeline ffrench Mullen – Madeline was born in Malta, her father was a Fleet surgeon in the Royal Navy. She came to Ireland after her father retired. She was a member of Inghinidhe na hEireann (Daughters of Ireland). She wrote for the organisation's newspapers Bean na hEireann. She played an active part in the campaign to provide school dinners for children. During the lockout of 1913, she worked at the soup kitchen in Liberty Hall. She also joined Cumann na mBan and the Irish Citizen Army. During the Easter Rising, she was part of the St Stephen's Green/Royal College of Surgeons Garrison.

Jennie Wyse Power – In the 1880s, she joined the Ladies Land League and found herself immersed in their activities during the Land War. She helped set up the Irish Women's Franchise League and was also a founding member of Inghinidhe na hÉireann and Sinn Féin becoming Vice-President of both organisations. She was later on the Provisional Committee that set up Cumann na mBan. In October 1914, she was elected the first President of Cumann na mBan. The 1916 Proclamation was signed in her home at 21 Henry Street, Dublin. She was subsequently elected as one of five women members onto Dublin Corporation in 1920 for the Inns Quay – Rotunda District. Cumann na Saoirse (The League of Freedom), the pro-Treaty women's organisation and became its Vice President. She was a Free State Senator from 1922 until 1936 and was also a member of Cumann na nGaedhal.

Elizabeth O'Farrell – O'Farrell was a member of both Inghinidhe na hEireann and Cumann na mBan. She played a key role in the Easter Rising. She had the difficult task of delivering the news to British forces that the rebels were surrendering. After a short period of imprisonment, O'Farrell was released. She worked as a midwife in the National Maternity Hospital and remained an ardent republican for the rest of her life.

Hanna Sheehy-Skeffington - Sheehy Skeffington was a tireless campaigner for women's rights amongst many other things. She lived and incredible and fascinating life by anyone's standards much less a woman of her time in Ireland. She was one of the first women to graduate from an Irish university. She was well-versed in domestic and international affairs as well as being as very talented orator. Her efforts to advance the rights of women saw her incarcerated a number of times throughout her life. She was also an avid supporter of Irish independence, raising awareness and funding for the cause. Although she initially she rejected the Anglo-Irish treaty, in 1937, she objected to the place of women in de Valera's constitution. She actively stood up for workers and women's rights until her death in 1946.