Galway Aboo Halloween Festival
0 followers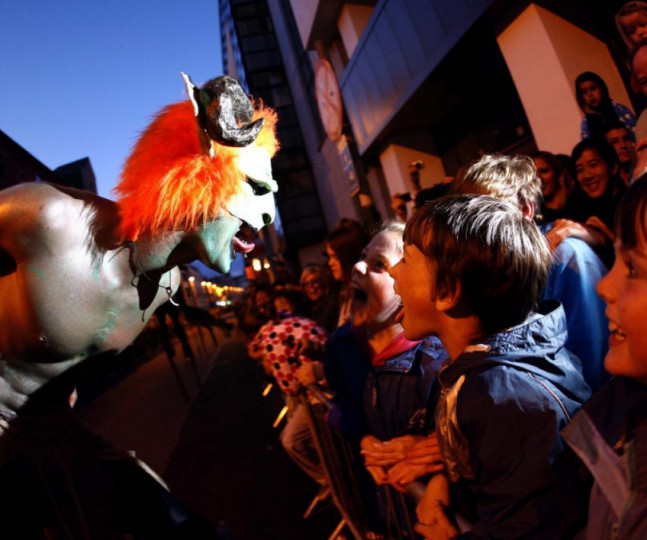 Galway, Ireland
Oct 28, 2016 1:00:00 PM - Oct 31, 2016 10:00:00 PM
Suitable for:
Facilities:
Galway Aboo Halloween Festival (28th - 31st October 2016)
Galway Abooo Festival - Halloween 2010The Galway Aboo Halloween Festival takes place in the medieval streets of Galway's Latin Quarter from Friday 28th to Sunday 30th of October 2016. It is the country's largest Halloween Festival and plays host to a number of activities and events so promises to be a superb weekend for all ages.
Parade
The annual Hallowe'en parade by Macnas, will take place on Sunday 30th October 2016 at approximately 5.30pm. This years parade is called 'Saving Grace' and as you would expect from the internationally renowned street theatre group, Macnas will be putting on a street-hopping, traffic-stopping party with a host of new giants, performances, bespoke costumes and live original music all drenched in their award-winning design. Spectators are encouraged to wear costumes too!
Carnevil
Carnevil is dubbed as "the west of Ireland's first scare attraction", located in the haunted former Connacht Tribune printing press on Market Street. Carnevil runs until midnight on Halloween night. The opening times are 4pm to 11pm (October 28-31). The event is strictly over 16s.
Galway Ghost Ship
There will be ghosts by the coast this weekend as a spooky ship docks at the Claddagh Quay over Halloween. The Galway Bay Ghost Ship is calling on brave trick-or-treaters to have their imagination ignited by the haunted fishing trawler on the scariest night of the year. The Bonny Roy (the Claddagh culture ship), which was built from oak in 1945, will emerge from history on Monday, 31 October to display a powerful image from a mystical after world, where kids and adults alike can visit the ship to get a sense of Halloween and the ghosts of this historical old fishing trawler. The ghost ship will be viewable all day, with a seanachai recounting scary stories at 5.30pm. Kids are invited to arrive dressed up in their Halloween costumes and will also be invited to trick-or-treat at The Ghost Ship before they make their rounds that evening. This spooktacular event is free of charge.
Rocky Horror Skeff Show
If you like horror then you can rock it like it's going out of fashion on Saturday night 29th October. The Skeff are giving away a €250 Skeff Golden ticket to the best dressed on the night. You can also try some deadly cocktails – Bloody Bloody Mary, Terror Tonic, Dacquiri of Doom, Underworld or the The Rocky Horror. Move your zombie-body to our terror classics with DJ Dave from 8pm-2am.