Eddie Lenihan-An evening of story telling
0 followers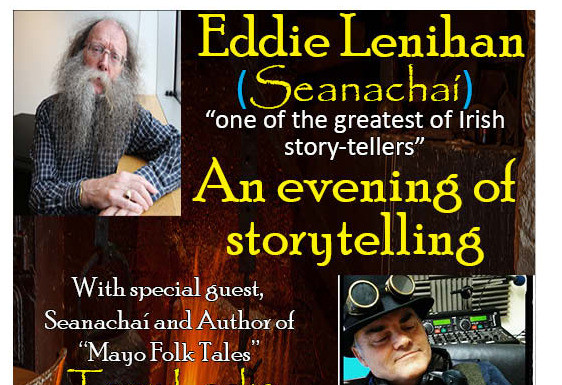 Mosaic Centre, Harlequin Plaza, Stephen Garvey Way, Garryduff, Castlebar, Co. Mayo, Ireland
Nov 17, 2017 7:00:00 PM - Nov 17, 2017 10:30:00 PM
Repeat: Daily untill Nov 17, 2017
Suitable for:
Facilities:
Eddie Lenihan comes to Castlebar, Co.Mayo on Friday, November 17th for an evening of storytelling, folk lore and Irish traditions. Eddie is known as a national treasure and one of the few working Seanachaís in Ireland. He is joined by local Seanachaí Tony Locke for this unique event.
TF Royal Hotel, Castlebar, Co.Mayo
Friday, November 17th at 7:30pm. (Doors open from 7pm)
Tickets available from: Atlantis Holistic store, Linenhall St, Castlebar-Downtown Records Castlebar & Westport or pay at the door. Adm:€20.
Tel 086 3750250