Mini Maestros
0 followers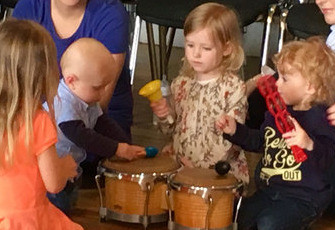 Cornmarket, Ferrybank South, Wexford, Ireland
Sep 19, 2018 11:30:00 AM - Sep 19, 2018 12:30:00 PM
Repeat: Weekly untill Dec 19, 2018
Suitable for:
Facilities:
Ages: 1-5 years with parental participation
A wonderful opportunity for parents to join their child in the discovery of music and singing. Instruments include drums, bongos, chimes, castanets, maracas, claves, bells, glockenspiel, boomwhackers, piano and percussion from around the world. Children join their first orchestral experience, learning to play in time with a variety of instruments, sing and recognise musical notation. MINI MAESTROS offers a progressive, fun and interactive curriculum and is taught by trained professional musicians Aileen Donohoe and Peter McCamley.
Aileen Donohoe. Aileen trained at The Royal Academy of Music, London. Aileen is a professional singer and music teacher.
Peter McCamley is a graduate of Rose Bruford College of Music and Drama and teaches Guitar, Flute, Drums and Percussion.