The Little Museum of Dublin
7 followers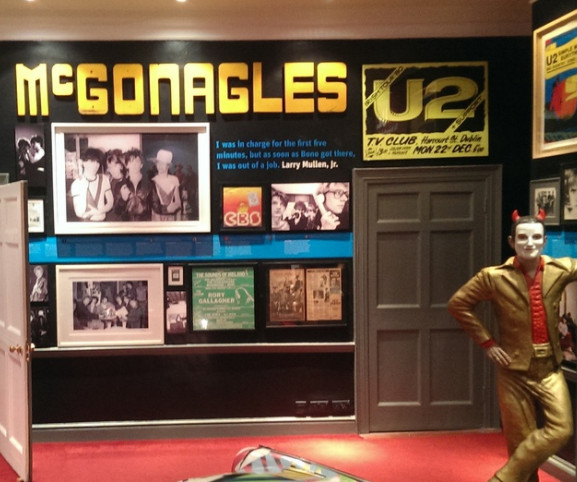 15 St Stephen's Green, Dublin, Ireland
Daily from 9.30am until 5pm. Late opening Thursday until 8pm.
Adult
- EUR 8.00
Child
- EUR 5.00
Family
- EUR 14.00
Suitable for:
Facilities:
The Little Museum of Dublin tells the story of Ireland's capital city in the 20th Century.
This new non-profit museum was formally opened by the Lord Mayor of Dublin, Councillor Andrew Montague, in October 2011. The collection boasts over 400 artefacts, reflecting the generosity of ordinary Dubliners, as well as many cultural institutions and local luminaries.
The social, cultural and political history of Dublin is chronicled in the Little Museum. There are simple artefacts that encourage contemplation of the past, alongside items related to famous visitors such as President John F Kennedy, Marlene Dietrich and Muhammad Ali.
The museum occupies the first floor of a fine Georgian townhouse, 15 St Stephen's Green, near the corner of Dawson Street.
The most popular way to see the museum is on a guided tour with our exceptional tour guides, each one a gem in and of themselves!
Our goal is not to sell an ideology but simply to remember the past. We look forward to welcoming you to the museum.
Admission is by guided tours every hour that sell out early so visitors are advised to book on-line in advance.
Kids and Families
Children are welcome in the Little Museum.
If you are visiting with children, we have worksheets available at the museum for children of all ages that can help you get more out of your visit. Ask any staff for a worksheet and we will be happy to oblige.
There are tour guides in the museum at all times who can give you and your children some special attention. Feel free to let your children ask our guides questions about the museum artefacts, we are always happy to encourage an interest in the history of the city.
There are some interactive artefacts in the museum, feel free to let your children handle these and ask a tour guide to point them out to you. You can also take a picture of your child in our old Dublin school desk, or making a speech from JFK's lectern. The more they get involved, the more they learn.
U2: Made in Dublin
Ireland's greatest rock band has finally got the exhibition it deserves.
U2: Made in Dublin charts the story of the band over the last 40 years. This fan-curated exhibition features musical rarities, signed albums and some great photography, alongside delights such as a Trabant car, an oversize Gibson Explorer, a life-size sculpture of MacPhisto and even a pack of U2 condoms.