Playbarn New Ross
4 followers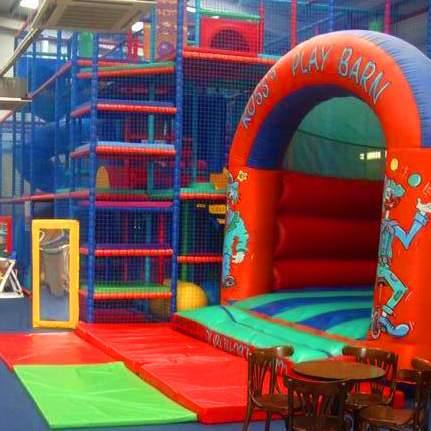 The Bosheen, Ring Road, Irishtown, New Ross, Co. Wexford
Monday to Saturday: 10am – 7pm; Sunday: 12 noon – 6pm
Suitable for:
Facilities:
Fun for children, toddlers & babies - we also have facilities to keep parents/adults occupied at Playbarn New Ross while your little ones play in a safe and fun environment.
Conveniently situated on the outskirts of New Ross, County Wexford,soft play facilities provide children from birth to 10 years with a safe, supervised and comfortable centre for play, exercise and socialisation in a warm, dry and fun environment.
If you think we can do more to make Playbarn New Ross more attractive we are always happy to listen.
At Playbarn, fun is number one!
Parents, who must remain and supervise their children, are provided with
Free Wifi
Modern café facilities,
Spacious comfortable seating area
TV & Air Con
​Offering over 6,400 sq ft Play Barn will keep your little ones entertained for hours on end!
Playbarn Children's Area includes:
Fallsoft safety flooring and colourful floor pads throughout
A number of large bouncy balls
Horizontal and vertical roller squeeze
Tri-deck climb (up to 4.2m)
Numerous dangly snakes
Spiral tube slide from 4.2m
A number of V rope bridges
Crawl tubes
Foam peaks
Balance beam and padded obstacles
Baby & Toddler Area
At Playbarn, we have created a great Tiny Tots and Toddler's facility. You and your baby will love our specially built play area self-contained, safe and clean for your precious little one to play, socialise and have fun.
Baby Area includes:
Fallsoft safety flooring and colourful floor pads throughout
Low foam walls
Step slide
Ball pool
Soft play shapes
​Toddler Area includes:​
Fallsoft safety flooring and colourful floor pads throughout
Spider's web
Wobbly mirror
Triple rail slide from 1.2m deck
Splat pad
Roller challenge
Tri-deck climb
Pyramid deck
V rope bridge