Alltech Craft Brew & Fair
0 followers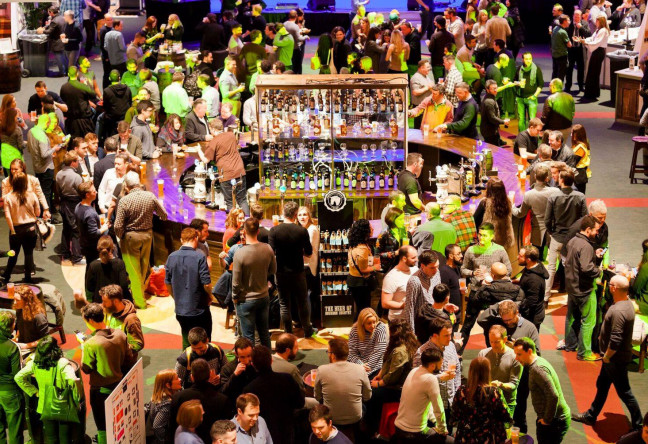 Convention Centre, North Dock, Dublin, Ireland
Mar 14, 2019 12:00:00 AM - Mar 16, 2019 12:00:00 AM
Suitable for:
Facilities:
Join us at the 7th Alltech Craft Brews and Food Fair, Ireland's largest craft brews festival!
Enjoy all the latest and best of Ireland's craft beers, ciders and spirits.
Be entertained by live musical talent, enjoy Six Nations rugby and tempt your taste buds with delicious artisan food.
Thursday, 14th March: 5pm – 11pm
Friday, 15th March: 5pm – 11pm
Saturday, 16th March: 12.30pm – 11pm
Every year our live entertainment line-up offers something for all tastes — from bluegrass, rock and soul to the downright cheesy tunes of the 80s and 90s!

Thursday

Mamo (trad band) and Buck Taylor band (soul).
The Dublin Craft Beer & Cider Cup winners will be announced at ~9pm on our main stage.

Friday

The Prickly Pears and Pop Gods.

Saturday

The Molly Maguires (trad band) and Smash Hits.

Three of the largest screens in Dublin will be showing the last three matches of the 2019 Six Nations Rugby.
12:30pm Italy v France (Stadio Olimpico)
2:45pm Wales v Ireland (Cardiff)
5:00pm England v Scotland (Twickenham)
Do you have a social committee or work get together planned in the new year?
Working in the trade?
We have special rates for groups (10+ people) and those working in the industry. Email the team on [email protected] if you have more than 50 people in your group and for more info on these promotions.

www.alltechbrews.ie

See you there!

Please always drink responsibly!