Easter 1916 Rising Tour
0 followers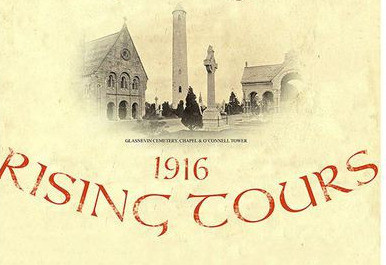 1 R135, Botanic, Dublin, Ireland
Apr 19, 2019 3:00:00 PM - Apr 22, 2019 3:00:00 PM
Adult
- EUR 13.50
Child
- EUR 10.20
Suitable for:
Facilities:
Tours running at 2:00pm from April 19th - 22nd.
The battle of Easter 1916 raged for six days and nights, and resulted in the destruction of many parts of our fair city. Many who participated in Ireland's fight for independence were laid to rest here within the walls of Glasnevin Cemetery.
This Easter, Glasnevin Cemetery Museum will hold guided tours of the graves of combatants and civilians involved in, and affected by the 1916 Rising, telling the story of the dramatic events of a century ago that shaped Ireland as we know it today.
Our 1916 Easter Rising Tours visit the graves of Daniel O'Connell, Charles Stewart Parnell, Éamon DeValera, Michael Collins, Harry Boland, Countess Markievicz and many more. Tours also include a re-enactment of Patrick Pearse's oration at the graveside of Jeremiah O'Donovan Rossa.