All Ireland Wheelbarrow Championship
0 followers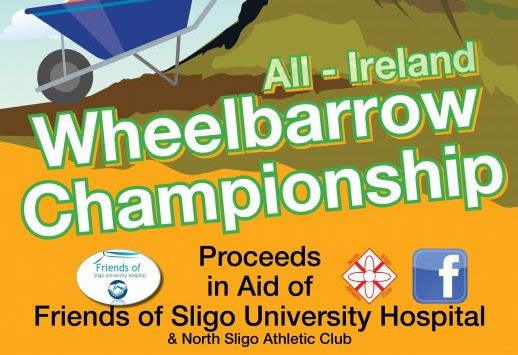 Sligo IT, Ash Lane, Bellanode, Sligo, F91 YW50, Ireland
Sep 23, 2018 1:00:00 AM - Sep 23, 2018 1:00:00 AM
Suitable for:
Facilities:
The hotly anticipated All Ireland Wheelbarrow Championship is now open for entry.
The event, in Association with North Sligo AC and Friends of Sligo University Hospital, is to raise funds for a Bereavement Room for the Maternity Ward in Sligo University Hospital.
Demand is massive and spaces are limited so do not hang about.
Teams will be made up of a male and a female with both parties pushing the wheelbarrow for 100m.
For safety reasons and because of the substantial costs involved the wheel barrow will be empty.
This is a straight forward dash 100m in both directions. Competitors will be required to wear their county colours. They will also be required to participate in the pre-race parade so the punters can size them up.
There will be 8 races of 12 teams with the top three progressing to the semi-finals and the final where we will crown The All Ireland Wheelbarrow Champions. This is a fun event and all shapes and size are welcome to participate.
This event is free for the general public to attend and support. There will be different activities for all ages, bouncy castles, kids races, face painting, ice cream, sweets, food, coffee/tea, DJ and lots of fun for all.
Wheelbarrows provided on the day. Cost per team €50, please secure your place by purchasing your ticket, as entries are very limited.
Please support this great event on the day for a good cause.