Inishowen Quad Safari
1 follower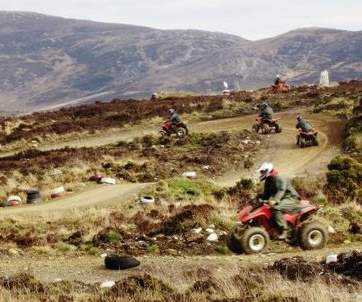 Drumfad, Linsfort, Buncrana, Co. Donegal, Ireland
Suitable for:
Facilities:
Set in the dramatic landscapes and the wilds of Inishowen, Inishowen Quad Safari was set up in 2008 by the Mc Laughlin family. Owning their own forestry area in Drumfad allows their customers to experience high adrenaline levels and to discover the sheer enjoyment of riding our easily handled quad bikes over a variety of tracks and obstacles.
Quad Safari
You will find here challenging terrain of the forests, hill climbs and river crossings that will create an exhilarating cross country experience for you and your companions.
We provide two types of quads, one suitable for 10 year olds or over and the other one for 16 year olds or over depending on the capacity. Both our tracks are set up to challenge skills and ability of each level.
The "Easy Run" is a track that prepares everyone for the back track. Having a lot of jumps and bends and long straight parts, it remains a challenge for racers that find it difficult to pass Caoimhe's Corner.
"A Trek in the Wild" is a slightly more difficult back track that has sudden bends, dips, jumps, steep-inclines and knife-edge.
Laser Wars
Fancy the fun of paintballing but without the bruises?
Inishowen Quad Safari is the only company in the North West offering this alternative. Supplying an unlimited amount of bullets, the activity offers an experience to be remembered.
Catering for parties between 6 and 19 people, Inishowen Quad Safari provides a personal escort from the site to the forest while supplying camoflage overalls and hats.
We can tailor competitive scenarios and fantastic team building ideas for you and your guests.
Packages
Because we love entertaining all ages we put our imagination into action and came up with customised packages for you.
Our range of activities comprise of:
Lazer Wars - everyone fitted in army gear
Quad Biking

Individual Activities
Quad Safari
90cc Honda Quad (10yrs-16 yrs) €30 Each (45 Mins)
250cc Honada Quads (16yrs +) €40 each (45 Mins)

Lazer Wars
1hr (allow 1,5 hrs ) €20 Each
Customised Packages
Package 1 Junior Trek Combo: 90cc Quads & Laser Wars (min age limit 10) €45 Each - Save €5
Package 2 Pro Trek Combo: 250cc Quads & Laser Wars (min age 16) €55 Each - Save €5