Brennanstown Riding School
0 followers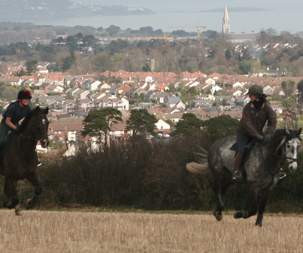 Brennanstown Riding School, Hollybrook, Kilmacanogue, Co Wicklow, Ireland
Suitable for:
Facilities:
Brennanstown Riding School is an AIRE, Failte Ireland and BHS approved, located 3km from Bray and 25km from Dublin on the N11.
Our school has excellent facilities, including 3 outdoor manages, an indoor arena, full cross-country course and access to the magnificent adjoining Killruddery Estate, with panoramic views from the Little Sugarloaf Mountain.
Brennanstown offers a variety of different services for those who wish to learn to ride:
Lessons are available on a private basis or you can join one of our group lessons
We cater for both adults and children aged six and upwards
We cater for a range of groups from corporate events to children's birthday parties
We also provide riding instruction to several schools, foreign students groups and universities
Childrens Pony Camps are available throughout the summer and during school holidays
During the Summer months Brennanstown Riding School run The Little Sugar Loaf Explorer.
This ride is suitable for riders of all standards even those who have never ridden a horse before. On this trek we ride through the forest of our own Hollybrook Estate passing a Granite Round Tower erected during the famine and out through the old gates of the Estate onto the Little Sugar Loaf Mountain.
We follow the trail up the side of the mountain until we get to our vantage point with beautiful views over Dublin Bay in one direction and the Glen of the Downs to the South.
This trip usually takes just over an hour but we can extend or reduce this to fit into your itinerary if needed. The Little Sugar Loaf Explorer is on Tuesdays, Wednesdays and Thursdays at 2.30 pm and on Friday mornings at 11.00 am.
Costs are just €33 per rider