Cheeky Chimps
0 followers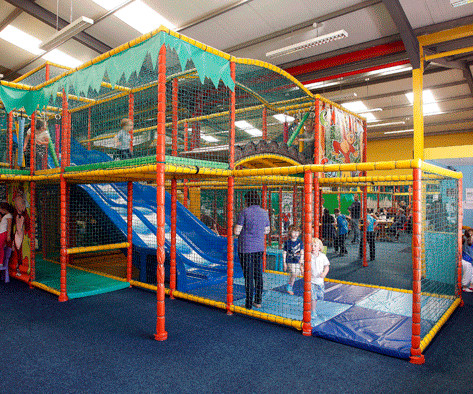 24C&D, Northbrook Industrial Estate, Coleraine, BT52 2JB
Mon-Sat: 10:00-18:00 | Sun: 12:00-18:00
Suitable for:
Facilities:
Let your kids enjoy a fun filled adventure at Cheeky Chimps Coleraine
Cheeky Chimps Coleraine is the perfect place for your own little monkeys to run riot. Your children will have a great time, filled with adventure and learning possibilities.
While the kids are letting off some steam and enjoy a fun-filled adventure the adults can relax and de-stress in our café area. Comfy sofas, good coffee, scrummy chocolate things, delicious treats, and the latest magazines – you can unwind while the kids play.
In our secure, clean and safe environment, your kids can have fun and you can take it easy.
For the little ones, there's a specially equipped toddlers area, enabling your little one to play safely and securely. Children aged up to 12 (or 150cm in height), are welcome to come along to the adventure play centre anytime which is open daily.
Cheeky Chimps Coleraine is located between Ballymoney and Portrush / Portstewart on the North Coast, near the Giants Causeway and Bushmills Distillery.
Our priorities are cleanliness and security, and the centre is now in tip top condition. All of our staff are fully trained, ensuring your child has a safe and enjoyable time at Cheeky Chimps.
Prices
Two hours of fun-filled adventureCheeky Chimps play frame
1-4 years £3.40
5-12 years £4.00
Under 1's free
Family Pass £22 – 2 kids play plus 2 Adult meals & 2 kids meals
Breakfast Club (term time only)
Monday – Friday 10am – 12pm
£3 with cereal, toast and juice
After School (term time only)
Monday – Friday 3pm – 5pm
£3 play
£5 play and eat
PARTY PACKAGES
Cheeky Chimps has a host of birthday packages which take the hassle out of your child's big day!
PARTY PRICES
Both packages are two hours with us and include kids play, bouncy castle, juice, use of party area, freshly cooked food, ice-cream for afters and a dedicated member of staff to ensure your party is as fun filled and stress free as possible.
Standard Package £7 per child
Superior Package £8 per child, which also includes face painting and party bags
All parties must have a minimum of 8 children to avail of the entire package and a small deposit is required within one week of booking.
Private hire – Monday – Thursday 6pm – 8pm
Minimum charge of £120, which includes the first 15 children and any additional children are charged at £8 per child
Friday / Saturday / Sunday 6pm – 8pm (Sunday 10am – 12pm)
Minimum charge of £150, which includes the first 15 children and any additional children are charged at £8 per child
We can also cater for large parties and group booking, please call us or call in for more information